News > Spokane
Requests outnumber coupons for television converter boxes
8,700 homes in region on federal waiting list
Thu., Feb. 12, 2009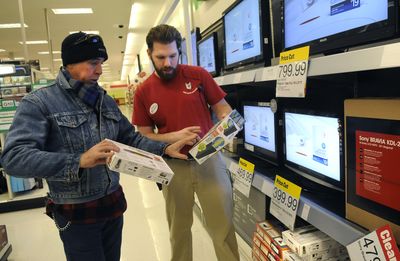 More than 8,700 homes in North Idaho and Eastern Washington are on the federal DTV coupon waiting list, but few will get those coupons before most local stations switch to all-digital television next week, officials said Wednesday.
High demand for the coupons, which offer a $40 discount toward digital TV converter boxes, has swamped the agency handling requests, the National Telecommunications and Information Administration.
As of this week, the agency said it has requests for 3.7 million coupons from viewers. In January, as demand peaked, the agency started a waiting list, said spokesman Brad Forbes.
The digital converter boxes receive digital TV signals and make them usable by older, analog TV sets. Those with cable or satellite TV service don't need boxes, unless they also have spare sets that use over-the-air antennas.
Congress voted last week to delay the signal switch from Feb. 17 to June 12.
Even so, four Spokane TV stations – KHQ, KXLY, KAYU and KSPS – will make the switch Tuesday as scheduled. They are among more than 490 stations that notified the Federal Communications Commission they won't wait until June.
Three Spokane stations – KREM, KSKN and KGPX – will switch later, station managers said.
National Telecommunications and Information Administration data show 4,824 households from Idaho's 1st Congressional District are waiting for coupons. In Washington's 5th Congressional District, which includes all of Spokane County, there are 3,931 households on the list.
Only 53 percent of the 47.5 million coupons sent out have been redeemed by consumers. As unredeemed coupons expire (after 90 days), the government can reissue them to people on the waiting list, Forbes said.
Congress originally set aside $1.3 billion for the coupon program. Under federal law, Congress can't authorize more money for coupons without new legislation. Congress has considered at least two new bills that would add more money to the DTV coupon fund.
Local journalism is essential.
Give directly to The Spokesman-Review's Northwest Passages community forums series -- which helps to offset the costs of several reporter and editor positions at the newspaper -- by using the easy options below. Gifts processed in this system are not tax deductible, but are predominately used to help meet the local financial requirements needed to receive national matching-grant funds.
Subscribe to the Coronavirus newsletter
Get the day's latest Coronavirus news delivered to your inbox by subscribing to our newsletter.
---
Subscribe and log in to the Spokesman-Review to read and comment on this story