News > Washington Voices
Shaw Middle School's principal grew up in neighborhood
Thu., Feb. 12, 2009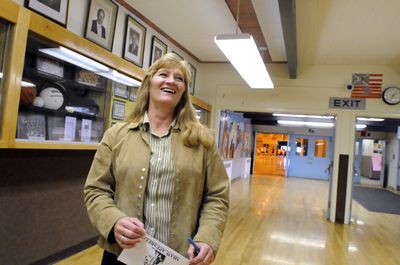 Growing up on the other side of the tracks in Hillyard, Christine Lynch was the 10th of 11 children. Like everyone else she went to Shaw Middle School and then on to Rogers High School.
As the first in her family to continue on to college, first at Spokane Community College then Eastern Washington University, her life has come full circle, as she's been the principal at Shaw for the last six years.
"I know this community so well," said Lynch, sitting in her office at Shaw last week. "Growing up here, I still feel at home here."
Last week Lynch was awarded the Middle Level Principal of the Year award by the Association of Washington School Principals, for doing what she says is the best job in the world.
"I'm so honored, and I'm not big on over-recognition of myself," said Lynch. "I've gotten so many cards and e-mails and flowers from so many different people."
Lynch suspects her assistant principal nominated her, but no one will fess up, she said.
Among the many congratulatory notes was one from a former colleague who wrote that she knew for sure that Lynch would be sharing the glory with her staff.
"Nobody can do this alone," Lynch said. "It's about the success of the school. And that's about rigor, high standards and it's about building relationships both in the school and in the community."
There are about 620 students , 45 teachers and numerous support staff at Shaw, and it's a school that has some unique challenges.
"Our halls are reflective of our community; there are so many nationalities here," said Lynch. "But I got to tell you it's a mix I really appreciate."
About 35 percent of the students are students of color and 78 percent of Shaw's kids are on the free or reduced-price school lunch program.
"We don't use poverty as an excuse here, the kids know the rules and expectations," said Lynch. "It's about consistency and predictability. When life isn't always as predictable at home, the kids do better when they know what's expected here in school."
Succeeding at Shaw is not all about academic rigor: Lynch is a firm believer in middle school dances.
"All the kids come. The brightest and the highest-need kids, the popular and the not so popular," said Lynch. "And it's a good time where all can have fun. I think that's very indicative of the kinds of kids we have here."
In her tenure at Shaw, Lynch has worked diligently to get parents involved in the school through – among other things – student-led conferences twice a year. Lorna L. Spear, executive director of teaching and learning for Spokane Public Schools, told the Association of Washington School Principals that Lynch is a district leader in the areas of special education, English Language Learners and low-income students
"Chris has created a shared sense among students, parents and staff that all Shaw students can achieve at high levels and excel in school and beyond," Spear said in the letter announcing Lynch's award. "She is a courageous leader when it comes to doing the right things for her students. Chris's careful planning for implementation focuses teachers on collaborating to improve student learning."
Lynch walks the halls and often drops into the classrooms during teaching.
"The students are used to seeing me, and the teachers, too," said Lynch. "I believe it's about proximity – they are more likely to talk to me when I'm right there, than to come into my office."
Clearly dedicated to her school, Lynch takes a break from education when she comes home at night.
"I don't watch educational TV," she said, almost apologetically. "And I only read very light fiction – nothing too serious."
Come tomorrow, she'll once again be submerged in schedules, budgets, instruction plans and long-range goals for her school.
"My motto is powerful instruction for all students," said Lynch, who likes the concept of "no child left behind" as long as it applies to all students, to special education and to English Language Learners and to the children who can't pass the WASL.
"I look at it this way: who are you going to leave behind?" Lynch said. "You put a name and a face on that kid. We can't leave anyone behind."
Local journalism is essential.
Give directly to The Spokesman-Review's Northwest Passages community forums series -- which helps to offset the costs of several reporter and editor positions at the newspaper -- by using the easy options below. Gifts processed in this system are not tax deductible, but are predominately used to help meet the local financial requirements needed to receive national matching-grant funds.
Subscribe to the Coronavirus newsletter
Get the day's latest Coronavirus news delivered to your inbox by subscribing to our newsletter.
---
Subscribe and log in to the Spokesman-Review to read and comment on this story