News > Washington Voices
Spangle Saloon reopens
Restaurant remodeled after fire damage
Thu., Feb. 12, 2009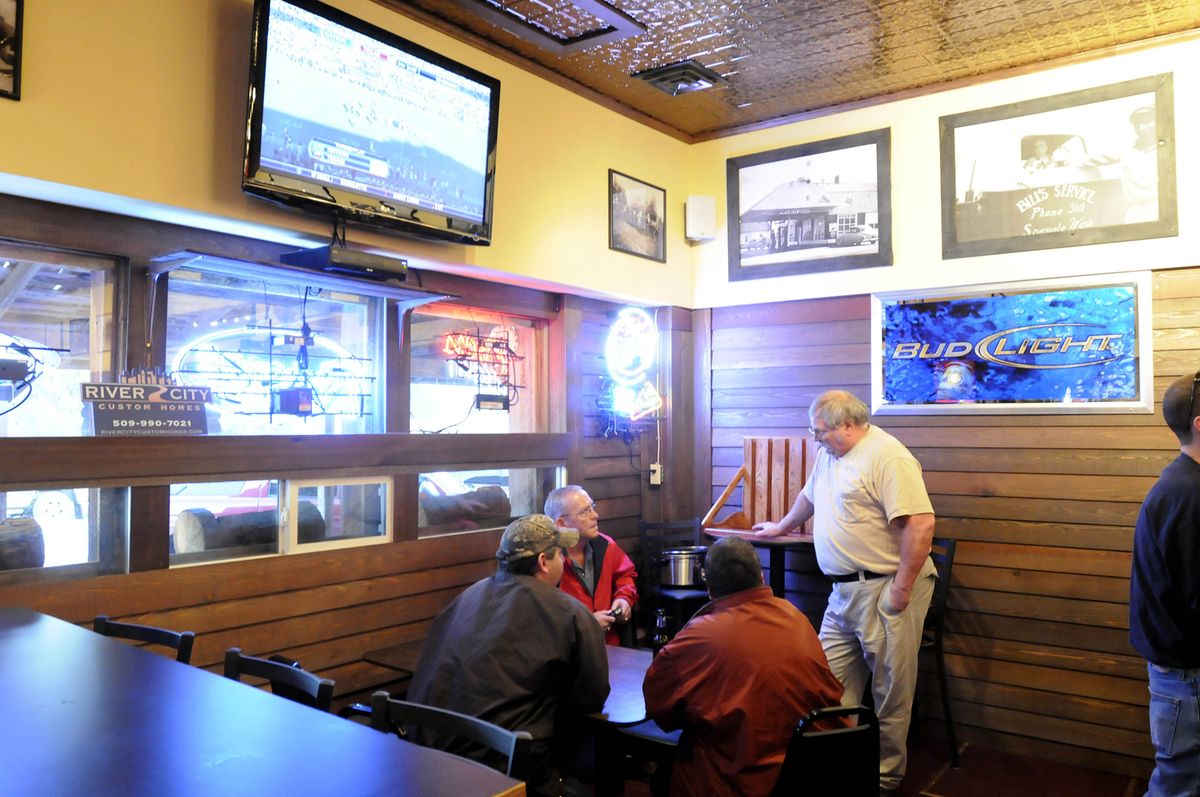 Patrons sit inside the newly remodeled Spangle Saloon. (Jesse Tinsley / The Spokesman-Review)
It's been eight months since the Spangle Saloon was open for business. Eight months without friends gathering and laughing over beers or a dinner of broasted chicken.
Owner Linda Zimmerman tells a story of a little boy who rode his bike to the saloon with his mom trailing behind him.
"You got corn dogs yet?" Zimmerman said the boy demanded of her. "I haven't had a corn dog since you burned."
The saloon had a grease fire in its kitchen last June. Although the suppression system kicked in, a hole in the stove sucked the fire into the wall of the kitchen. No one was hurt in the blaze.
Since then, Zimmerman and her partner Dennis Wederspahn have been hearing from folks all over Spangle, from Cheney, Spokane, Colfax and Rosalia. They are all wondering the same thing: When will the Spangle Saloon be open for business again?
The answer came Jan. 31, when the newly remodeled and furnished saloon opened its doors, just in time for the Super Bowl.
"It was nice to see the same faces again," Zimmerman said.
"We were stuffed," Wederspahn added.
Originally, Zimmerman and Wederspahn thought to have the saloon back up and running by August, but remodeling a building that has been around from anywhere between 108 to 112 years can pose some challenges.
"There was more damage than what we thought," Zimmerman said. She and Wederspahn also found about five layers of roof and three layers of flooring to tear out and get up to today's building codes. They also found asbestos and needed to do a lot of re-wiring.
The pair also had a friend who recorded the whole process of getting the saloon back open – from the fire through the pre-opening parties. They keep the movie, which has been given a soundtrack with the song, "This Town Needs a Bar," by Jeremy McComb, queued up in the DVD player to show their friends who helped them re-open.
"You kind of forget how bad things were until you play this," Zimmerman said. The pictures in the film show the firemen there to put the fire out, the clean-up after the fire. Groups of folks gathering for a good time after working on the saloon or during what Zimmerman called a "branding arty."
One of the features in the saloon before the fire was a large wooden column that extended from floor to ceiling that had been marked with brands of farmers in the area.
Zimmerman and Wederspahn invited farmers for a party while they branded a new column – one that had been set up outside the building to avoid smoke damage to the inside which had already been cleaned since the fire.
Friends, neighbors and employees all helped with the remodel, along with contractor, Rick Earley. Earley said he was very impressed that the couple chose to keep going, even though the project took longer than expected.
"There's been some testy times," Zimmerman said.
The saloon has a whole new look to it — the false ceiling is gone. The new ceiling is higher, and covered in pressed tin. Track lighting lines the ceiling as well. There are also big-screen televisions and a juke box.
The walls now sport historical pictures of Spangle. Zimmerman borrowed them from a local historian and had the photos enlarged and framed. There is a picture of the old post office, with a horse-drawn sleigh parked in front. Another picture features the1948 flood in downtown Spangle and one of the frames is an enlarged copy of the receipt for the old school bell.
"This is kind of like everyone's bar," Zimmerman said. "Let's bring back Spangle."
The kitchen is much larger — Zimmerman said she added an area 24 feet by 26 feet to the back of the building.
"All of the equipment is bigger than we had before," she said. Now, employees can cook up to 40 pieces of chicken at a time. They could only cook 16 before.
There is also an area where Zimmerman has plans to prepare pizzas. In the coming months, both take-and-bake pizzas and pizzas to dine in will be available.
The owners are planning a Valentine's Day menu which will include prime rib and cheesecake.
Zimmerman said she was very grateful that all of her employees were able to come back to the Spangle Saloon when it re-opened. She said she had to reorganize some of their schedules, since many of them had to find other jobs after the fire.
"We got a great town," she said. "That's why we're here and why we're staying."
Local journalism is essential.
Give directly to The Spokesman-Review's Northwest Passages community forums series -- which helps to offset the costs of several reporter and editor positions at the newspaper -- by using the easy options below. Gifts processed in this system are not tax deductible, but are predominately used to help meet the local financial requirements needed to receive national matching-grant funds.
Subscribe now to get breaking news alerts in your email inbox
Get breaking news delivered to your inbox as it happens.
---