Blind woman uses texture, imagination to create jewelry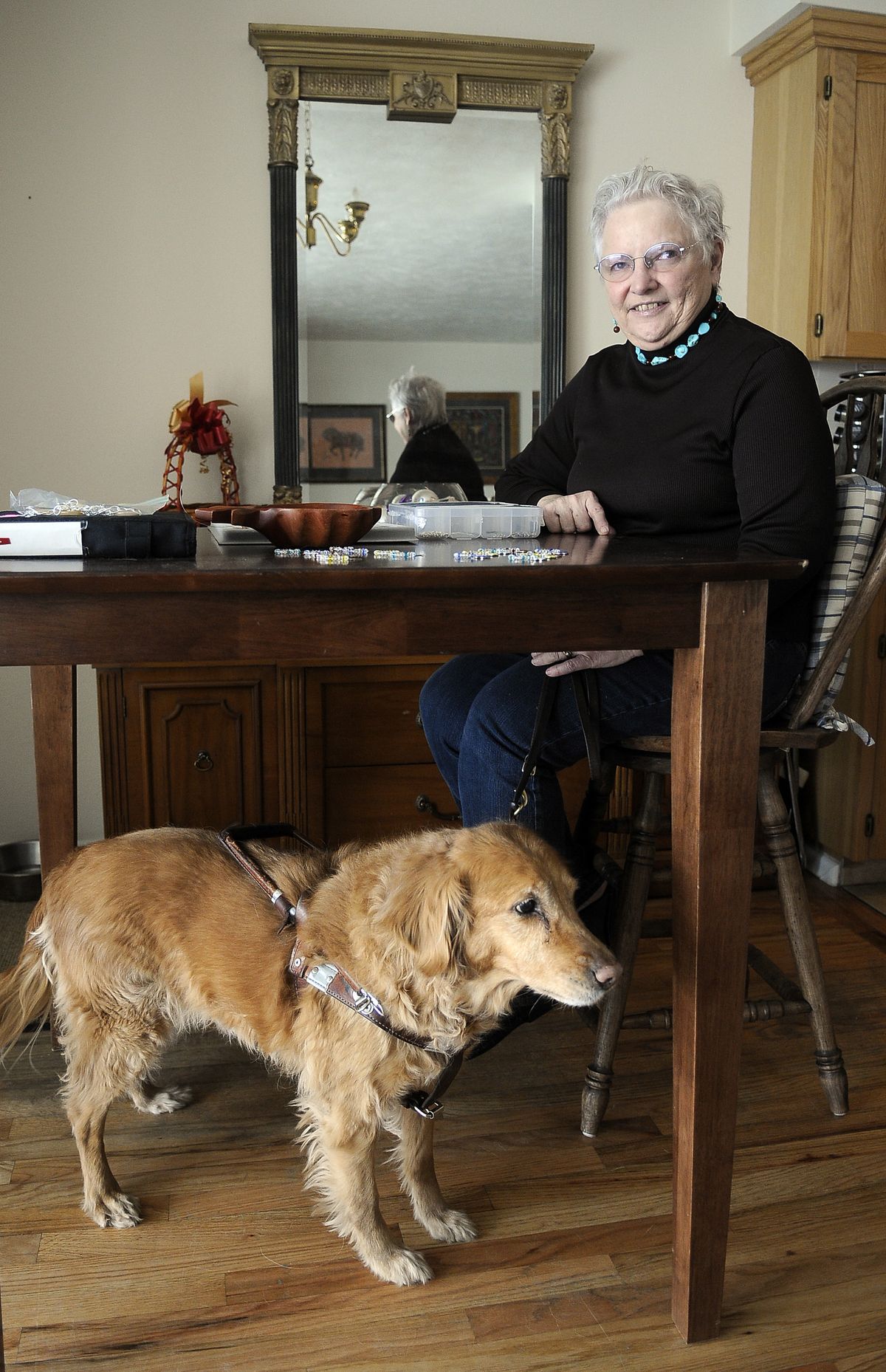 Picture this. He is a 67-year-old cancer survivor and she is a 65-year-old blind woman, and together they are riding a tandem bicycle 2,000 miles cross country to raise money to help fight multiple sclerosis. They are wearing matching headsets so he can describe the countryside to her as they pedal.
Then, 540 miles into the trek, a major wreck brings about injuries and the end of that particular adventure.
"If we ever start up again," said Jon Louis, now 71, "she now wants to ride in front."
She is his wife, Katharine Surette, now 69, a woman determined not to let total blindness define her.
After that bike accident and with the assistance of a friend, she set about learning to make jewelry – even after acknowledging that "I never really had good tactile abilities and pretty much flunked knitting and crocheting."
But she seemed to have a knack for jewelry and has parlayed it into a new adventure, a business called Blind Mice Designs (blindmicedesigns.com).
She sells her jewelry at craft fairs and other events in the Inland Northwest, such as at Friday's ISAAC Foundation fundraiser for autism in Spokane, and at mini-shows in people's homes (called Mouse in the House events). Ever mindful of how disabilities affect lives, she also makes many artful awareness bracelets, such as those for autism, heart disease, breast cancer and others. She creates decorative lanyards for medical professionals to wear to display their ID cards. Her snowman and Christmas tree earrings were popular this winter.
So, how does making colorful jewelry work for a woman who began losing her sight at 11 and was completely blind from retinitis pigmentosa by 40?
"I have color memory, but I go by feeling and texture to figure out what looks OK," Surette said. "It's hard to explain, but I love textures and can picture in my head how it looks. As weird as it seems, I am a visual person."
And something of a perfectionist. She will take a piece apart and remake it, many times if necessary, if it doesn't feel right. "The No. 1 thing is that when I finish it, it looks like it should," she said.
Louis, who manages the business end of Blind Mice Designs, said his wife puts together colors that he sometimes doesn't understand, like in a necklace she made using two shades of turquoise. "I didn't get it, but she vetoed me, and she was right," he said. "Everyone loved it."
Surette buys the material in person and online ("you should see me feeling all the beads in a bead store") and gets pendants from a friend in the South. Louis separates the stones and beads by color and places them into plastic containers marked with barcodes, which Surette reads with a talking barcode reader, letting her do her work even when he is out of town on business.
The pair moved to Spokane from York, Pa., in 2007, to be near Louis' children. Surette's children are back East. She is retired from a career recruiting, training and supervising volunteers in nonprofit agencies, and he is a semi-retired business skills trainer whose consulting work keeps him on the road many days each month. Each was married before, and they met at the home of a friend in the late 1980s.
Wait for it. "It was a blind date," Louis said.
Surette works hard not to look "blind." She wears glasses with very lightly tinted lenses and deliberately moves her eyes and head toward the people she is speaking with. "Of course, I'm blind," she said, "but I want you to first see me as a person. I don't want you to see my blindness first."
They have had many adventures during their marriage, with jewelry-making her latest enterprise, one that relaxes her, gives her a sense of acceptance in a seeing world and "gets me as close to being an artist as I can ever be," she said.
Still, it seems kind of counterintuitive to take on a craft that normally requires keen eyesight. Where did this ability to make beautiful jewelry with only inner sight come from?
"In truth, I don't really know," Surette said, "but I give God the credit. I didn't expect it, but I do appreciate it."
---