News > Nation/World
Dramatic final vote ends tense day
Senator leaves mother's wake, honors her with aye
Sat., Feb. 14, 2009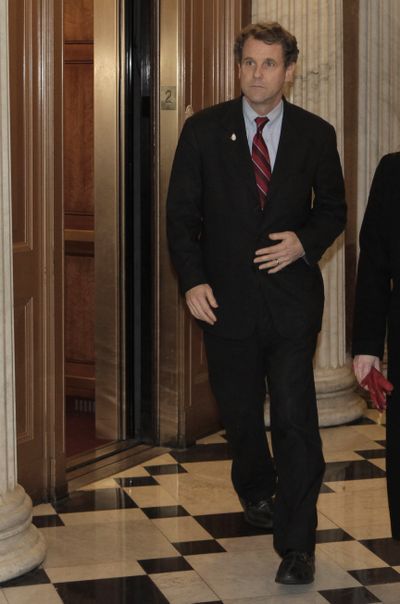 WASHINGTON – It was a marathon day in Congress, marked by historic action and political theatrics.
The House Republican leader dropped a printout of the 1,100-page stimulus bill on the House floor, claiming it was overweight with spending. The Democratic House speaker likened the bill's passage to Abraham Lincoln's preservation of the union. By dusk, after the $787 billion economic recovery package had sailed through the House and 59 senators had voted in favor, the nearly empty Senate chamber fell silent. The proceedings remained open for five tense hours as Congress awaited the climactic return of Sen. Sherrod Brown, D-Ohio, to cast the decisive 60th aye vote. He was the only available senator who had not voted.
Brown, whose 88-year-old mother died of leukemia last week, dashed from her memorial viewing in Ohio on Friday night and boarded a government aircraft provided by the White House that was headed for Andrews Air Force Base. Brown's was the critical vote Senate Democrats needed to ensure that the signature legislation of President Barack Obama's young administration passed without a Republican filibuster. Three Republicans broke ranks to support the president.
Brown's journey illustrated the extraordinary steps Democrats took to guarantee a major victory. For Brown, the moment turned on the memory of his mother, who was raised in a small Georgia town during the Great Depression. A champion of social and racial justice, Emily Campbell Brown read and reread Harper Lee's "To Kill a Mockingbird" and insisted her boys address African-American adults not by their first names but with "Mr." or "Mrs." She cast her first vote in 1944 for Franklin D. Roosevelt, but even as she lay dying, she wanted to live long enough to see Barack Obama in the White House. And so it was a poignant moment last night for the son, who knew that his vote would make a difference.
"I know she would want him to be there for the vote," said Brown's wife, Connie Schultz. "There was just no question that Sherrod would have to cast his vote."
Brown was to rejoin his family in Mansfield, Ohio, where his mother, who died Feb. 2, will be buried after a funeral this morning at a Lutheran church.
On Tuesday, the Senate passed its original version of a stimulus bill with 61 votes, including that of Sen. Ted Kennedy, D-Mass., who has a malignant brain tumor. But Kennedy did not return to Washington for Friday night's vote on the compromise bill worked out with the House, meaning every other Democrat needed to be present.
Senate Majority Leader Harry Reid, D-Nev., who spoke with Brown throughout the week while he tended to his family in Ohio, held the vote at 5:30 p.m. and kept it open until Brown could make it back.
Local journalism is essential.
Give directly to The Spokesman-Review's Northwest Passages community forums series -- which helps to offset the costs of several reporter and editor positions at the newspaper -- by using the easy options below. Gifts processed in this system are not tax deductible, but are predominately used to help meet the local financial requirements needed to receive national matching-grant funds.
Subscribe now to get breaking news alerts in your email inbox
Get breaking news delivered to your inbox as it happens.
---