News > Spokane
Teen's death in crash prompts calls for intersection upgrade
Mon., Feb. 16, 2009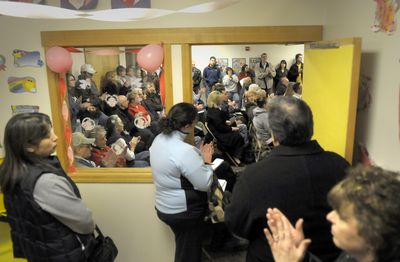 The pain of losing a daughter in a car crash is driving Debi Hammel to do something.
She and other members of her family are joining an effort to pressure state officials to improve the highway intersection where Cheney High School student Lorissa Green was killed one month ago today.
Described as a smart and motivated kid, the 16-year-old died after her vehicle collided with a southbound pickup at the intersection of U.S. Highway 195 and Cheney-Spokane Road.
She was pulling away from a stop sign where Cheney-Spokane Road meets the highway and was about to make a left turn when the accident occurred. More than 16,000 vehicles a day drive through that intersection.
"We need to work together as a community to make sure that this doesn't happen for another family," Hammel said. "I want something positive to come out of Lorissa's death."
Her eyes glistening from emotion, Hammel stood in front of a meeting with more than 100 area residents last week and told them that something has to be done quickly.
Lorissa had just left work about 5:30 p.m. and was on her way to her aunt's home when the accident happened. She worked at Giggling Guest Childcare Too, 4120 S. Cheney-Spokane Road, one of two child care centers Hammel operates.
The aunt, Chris Barry, said the family has been devastated by Lorissa's death as well as the deaths of Lorissa's father, Bill Green, in an accident last August and of Hammel's grandfather, Elvin Vee, earlier this month.
Barry said they have been touched by the community's kindness, including the compassion of David L. Blyton, of Spangle, the driver of the vehicle that struck Lorissa's. Barry said Blyton attended Lorissa's service and was in the audience at the meeting last Tuesday, which was held at Hammel's child care center.
During the meeting, Keith Metcalf, the regional administrator for the state Department of Transportation, said the best solution is to build a $14 million partial interchange with a bridge across the highway so that motorists turning left from Cheney-Spokane Road to go north on the highway won't have to be exposed to southbound traffic. The speed limit there is 55 mph.
Residents said they think a traffic light and reduced speed limit are better answers, but Metcalf said that the highway through Spokane is a limited-access roadway that the DOT wants to preserve as a high-speed corridor. He said that traffic lights don't necessarily prevent accidents because drivers may fail to stop at red lights. Other intersections with lights have high accident rates, he said.
As a short-term fix, Metcalf said he is seeking about $200,000 to realign a southbound deceleration lane so that drivers coming south and turning onto Cheney-Spokane Road won't block visibility for drivers waiting to make the left-hand turn to go north.
The partial interchange is included in a list of statewide projects that might be eligible for federal stimulus money.
"I am working hard to get some funding, get some commitments," Metcalf said.
Late last week, 6th District state Reps. John Driscoll and Kevin Parker were reportedly planning to introduce a bill in the Legislature to force the state to fund a fix for the intersection.
Barry said that her sister has agreed to testify on the bill in Olympia, and likely would be accompanied by other residents who use that highway. A hearing date has not been set.
Al Gilson, spokesman for DOT in Spokane, said the intersection has had 27 collisions dating back four years, 13 of them injury accidents, including the one that claimed Lorissa's life. That makes the intersection the fourth most dangerous one on a state highway in the Spokane region, he said.
The regional DOT office in 2002 proposed building a series of interchanges and access roads along U.S. 195 between Interstate 90 and Hatch Road, at a cost of nearly $120 million. The Cheney-Spokane Road interchange would be part of that project, which has been held up by a lack of funding and higher priority for other projects, including a north Spokane freeway.
Noteworthy
The rehabilitated Sullivan Road interchange on I-90 in Spokane Valley has been recognized with a national award for excellence by the American Concrete Pavement Association. The design team was headed by DOT engineer Darrell McCallum and was built under a contract with Acme Concrete Paving of Spokane in the summer of 2007.
Around town
•Spokane parking meters do not have to be paid today because of Presidents Day. All city offices will be open, however.
•Browne Street from Sixth to Seventh avenues is being temporarily narrowed to one lane southbound to accommodate a garbage bin for demolition materials from a project at Sacred Heart Medical Center.
Local journalism is essential.
Give directly to The Spokesman-Review's Northwest Passages community forums series -- which helps to offset the costs of several reporter and editor positions at the newspaper -- by using the easy options below. Gifts processed in this system are not tax deductible, but are predominately used to help meet the local financial requirements needed to receive national matching-grant funds.
Subscribe now to get breaking news alerts in your email inbox
Get breaking news delivered to your inbox as it happens.
---