News > Nation/World
California has budget after three months
Parts of proposal will go before voters
Fri., Feb. 20, 2009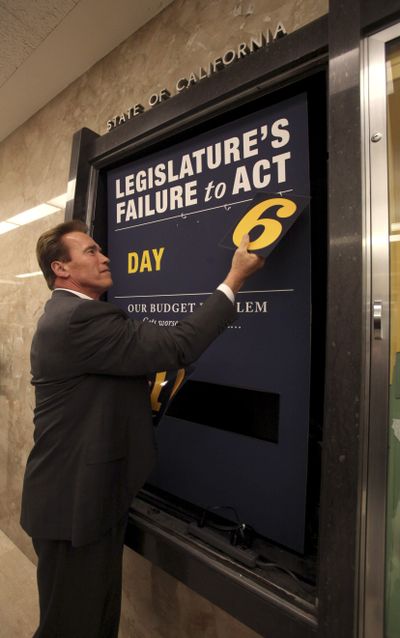 SACRAMENTO, Calif. – California lawmakers on Thursday finally ended the three-month stalemate that brought California to the brink of financial collapse – but now it is up to voters to keep the budget package from unraveling.
The spending plan, which wipes out a $42 billion deficit with tax hikes, deep program cuts and borrowing, hinges on $5.8 billion contained in several ballot measures that voters must approve in a special election May 19. Gov. Arnold Schwarzenegger is expected to sign the package today.
There are any number of reasons voters may not cooperate. The four temporary tax hikes in the budget are substantial, and the ballot proposals would prolong them. Polls show voter disgust with the Legislature has reached all-time highs. Some well-funded special interest groups are already plotting campaigns against the measures.
"Given how disaffected voters are and how really disgusted they are, you might find all the ballot measures could get swept away," said Democratic strategist Darry Sragow.
Voters will be asked to wrest money from future lottery receipts, mental health services and children's programs. They will be offered the opportunity to constrain future state spending – but only if the tax hikes just passed stay in place for four years instead of two. The failure of one or more of these measures could reopen a deficit.
Lawmakers and the governor are already looking nervously toward the campaign for the measures, even as they breathed a sigh of relief Thursday when the Legislature, in lockdown for a third straight day, finally passed a budget. The plan's approval halts the state's slide toward insolvency and allows officials to once again begin paying tax refunds, vendors and public assistance recipients, though those checks could be delayed several more weeks.
The budget would temporarily raise the state sales tax by 1 cent per dollar and nearly double the vehicle license fee, to 1.15 percent. It would also reduce the dependent credit Californians are allowed to claim on their taxes. The package would increase personal income tax rates by 0.25 percent. A 12-cent-per-gallon increase in gasoline taxes that was initially part of the package has been eliminated – replaced with federal economic stimulus money.
An average family of four with an income of $75,000 a year would pay about $963 more a year in taxes, according to a legislative analysis.
The majority of GOP lawmakers had tried to block the increases, which would remain in effect for two to four years.
Howard Jarvis Taxpayers Association President Jon Coupal predicted "the beginning of a new California tax revolt. … Our phones are ringing off the hook. People are upset."
Those Republicans who did vote for the plan were enticed by roughly $1 billion in tax breaks for businesses. They include tax credits for film companies that keep their production in California and small businesses that hire new employees. And GOP lawmakers were also wooed with a $100 million tax credit aimed at home builders and millions of dollars in subsidies for horse racing tracks.
The restraints on government growth that voters will consider in May were also key to winning support from Republicans, who have been pushing such a policy for years.
Local journalism is essential.
Give directly to The Spokesman-Review's Northwest Passages community forums series -- which helps to offset the costs of several reporter and editor positions at the newspaper -- by using the easy options below. Gifts processed in this system are not tax deductible, but are predominately used to help meet the local financial requirements needed to receive national matching-grant funds.
Subscribe to the Coronavirus newsletter
Get the day's latest Coronavirus news delivered to your inbox by subscribing to our newsletter.
---
Subscribe and log in to the Spokesman-Review to read and comment on this story