News > Spokane
Venues' needs drive new meter rules
Signage, confusing to many, reflects time limits for parkers with disabilities
Fri., Feb. 20, 2009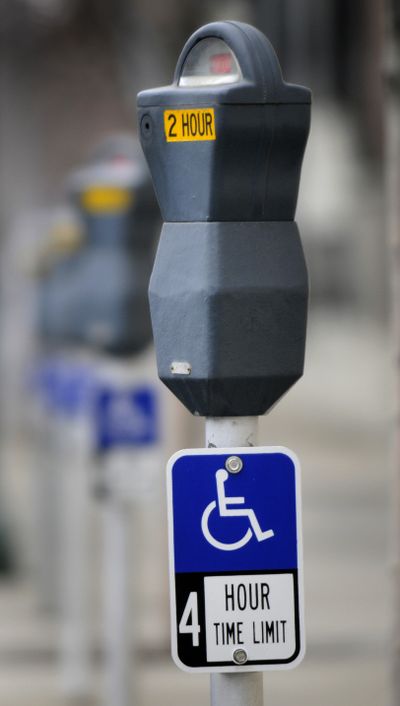 In trying to alleviate one parking problem in downtown Spokane, the city has created another: confusion.
New signs limiting parking for people with disabilities to four hours near the Fox, Bing Crosby Theater and Knitting Factory have left parkers baffled about whether they can park at meters in the area.
Every meter in the three-block area has a new sign showing the universal blue wheelchair symbol and announcing the four-hour time limit.
The signs mean that disabled motorists, who can park at meters for free, can use the spaces for only four hours at a time. The signs went up last week in an effort to open up larger blocks of meter space for equipment trucks and tour buses coming to the three theaters.
The confusion caused Frank Sieh, a visitor from Vancouver, Wash., to be late.
He said he arrived in the area for a noon lunch Thursday and was hesitant to park because of the signs, so he drove around the posted area several times before making a decision "to take a chance."
He wasn't the only one confused. One pedestrian stopped meter reader Jerry Halladay on Thursday and asked him what the new signs meant. "Everybody is asking about it," Halladay said.
Larry Quiroga, manager at Carr Electric Supply Co., 919 W. First Ave., said his customers are telling him they think the signs mean that all of the meters are reserved for disabled parking only.
"We've had a few people call back here in frustration," he said.
People expect the blue wheelchair symbol to indicate a restricted space for disabled parkers only, not as a limitation on how long those motorists can use the space, he explained.
Dave Shaw, the city's traffic control supervisor, said disabled parkers sometimes left their vehicles for extended periods in spots needed for moving trucks as well as buses or vendors coming to shows.
He acknowledged, however, that only a few disabled parkers use the area.
One lives in an apartment in the area, and others work at nearby businesses.
Managers of the entertainment venues can create temporary loading zones by putting meter bags over the meters in the slots they need. The problem was that disabled drivers weren't moving in time for shows, sometimes forcing semi-trucks to park in travel lanes, Shaw said.
The problem was studied by a committee of downtown business representatives.
With the city, the committee came up with the idea of creating a new Entertainment Parking District and limiting disabled parking in the district to four hours, which is legal under state law. If the vehicles don't move within four hours after a meter is "bagged," they can be towed.
But now, disabled employees are forced to move their vehicles at least once during an eight-hour work shift, a chore that for some involves loading and unloading a wheelchair. Shaw said the city had received calls from at least two disabled workers.
Matt Judge, general manager at the Knitting Factory, said the parking problems had to be addressed to make sure the city's emerging entertainment district is successful.
"For me, it's more about providing a place for the artist," he said.
He said his concert venue pays about $12,000 a year in fees to create the temporary loading zones needed for larger vehicles.
Ann Deasy, spokeswoman for the city's street department, said the city has received a lot of calls from confused residents, but there were no plans to clear up the confusion.
Local journalism is essential.
Give directly to The Spokesman-Review's Northwest Passages community forums series -- which helps to offset the costs of several reporter and editor positions at the newspaper -- by using the easy options below. Gifts processed in this system are not tax deductible, but are predominately used to help meet the local financial requirements needed to receive national matching-grant funds.
Subscribe to the Coronavirus newsletter
Get the day's latest Coronavirus news delivered to your inbox by subscribing to our newsletter.
---
Subscribe and log in to the Spokesman-Review to read and comment on this story