News > Washington Voices
Lifelong artist has started sharing her talent, works
Sat., Feb. 21, 2009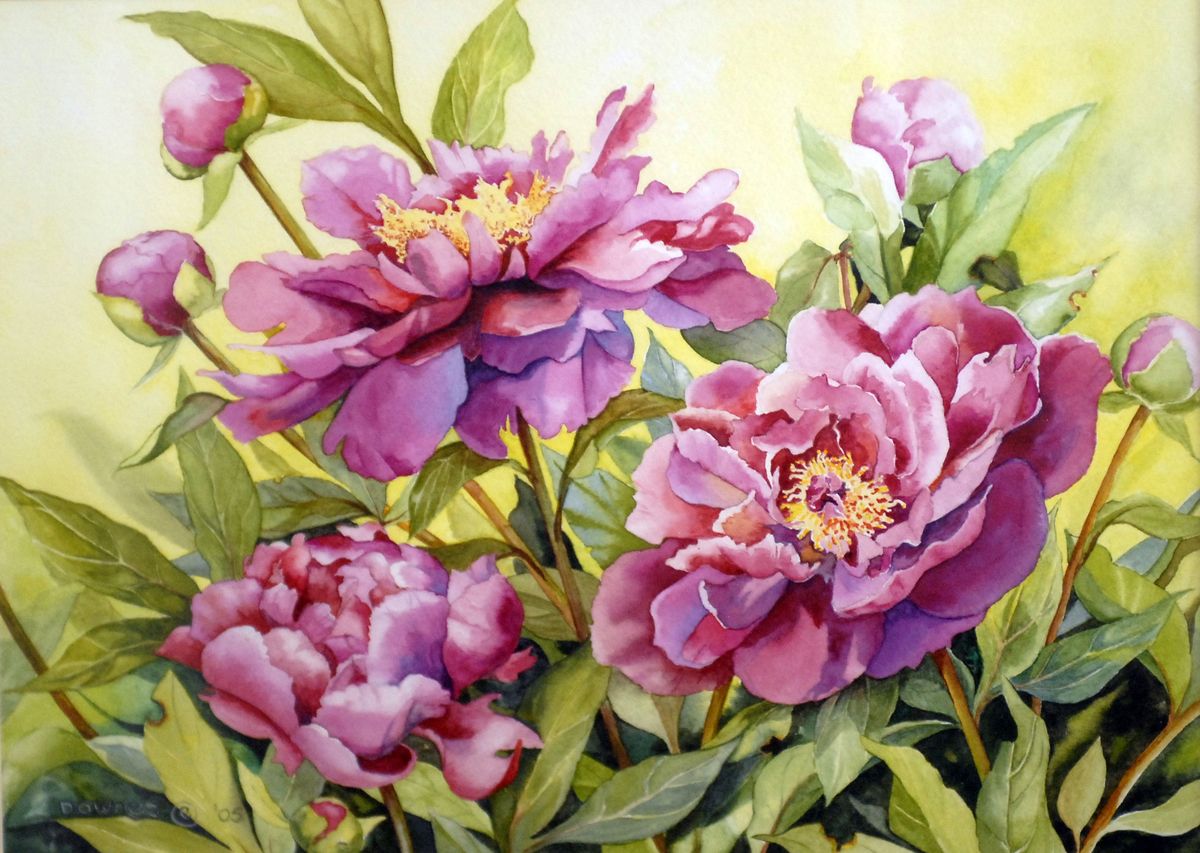 This watercolor by Susan Downes is called Peonies #1. (Jesse Spokesman-revi / The Spokesman-Review)
Some artists are driven to make a living off their craft while others find a profession far removed from their creative expressions in order to fund their artistic urges.
Some find venues to show their work and others are content to decorate their own homes and give hand-made gifts to close friends and family. The common thread that connects all artists is the need to create.
Susan Downes never really thought about her motivation; she creates simply to create, a habit that began in her youth when she drew clothes for her paper dolls and decorated her dollhouse. She then began gardening and appreciating the colorful beds and what came to fruition.
Natural progression led her to painting. When she was about 19, Downes painted her first piece in oil. It was of a woman wearing a sun dress and sun hat and enjoying the day in the shade of a tree.
Downes married and had five children, all the while gardening and painting without a goal in mind but to nurture her family and her own creative spirit. She read books on painting and recreated the vivid colors in her gardens.
Completely self-taught, Downes perfected her craft by doing. Currently she paints in watercolor. "It's tidy," she said, "You can take it with you wherever you go." She also takes a camera with her wherever she goes, often stopping the car and jumping out to snap a picture of an inspiring scene.
Her paintings are lovely and thoughtful, documentations of her life and the beauty she sees around her. She does florals, still life and portraits. Her work conveys nurturing and caring, perhaps because her work is rooted deeply in the things that she loves like animals, gardens and her family. Through word of mouth, others have recognized Downes' talent and requested her work; Downes' swinging monkeys decorate one of the hallways of the Sacred Heart Doctor's Building.
In 2003, Downes published a children's book that she wrote and illustrated. Called "The Forest Noel," it is dedicated to six of her grandchildren (she now has eight). It is a beautiful story of sharing, caring and love and is a good illustration of Downes as an artist who has no drive or motivation other than a need to share what she loves.
Now 70 and living on the lower South Hill, she is beginning to step out of her inner circle and share her talent with others at the insistence of her children. "They keep telling me that I need to get my work out there," she said.
She joined the Spokane Watercolor Society and showed her work at the former Liberty Cafe in Auntie's Bookstore, at the Spokane Club and at Express Employment Professionals on West Main Street. Her son built her a Web site and, through March, Downes will be one of the featured artists at Ink to Media, 523 N. Pines Road.
The Verve is a weekly feature celebrating the arts. If you know an artist, dancer, actor, musician, photographer, band or singer, contact correspondent Jennifer LaRue by e-mail
jlarue99@hotmail.com
Local journalism is essential.
Give directly to The Spokesman-Review's Northwest Passages community forums series -- which helps to offset the costs of several reporter and editor positions at the newspaper -- by using the easy options below. Gifts processed in this system are not tax deductible, but are predominately used to help meet the local financial requirements needed to receive national matching-grant funds.
Subscribe now to get breaking news alerts in your email inbox
Get breaking news delivered to your inbox as it happens.
---