News > Spokane
Getting There: Victim joins call to make road safer
Mon., Feb. 23, 2009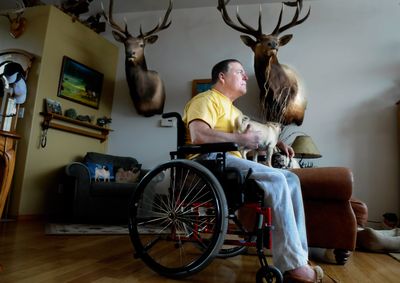 Thomas Grieb doesn't remember much about the warm August day in 2006 when his life changed forever.
The Navy veteran was riding his Harley-Davidson motorcycle toward home when a car pulled out in front of him. He woke up in a hospital bed days later, unable to move his lower body.
A woman driving a sedan had pulled out in front of him from a stop sign at Cheney-Spokane Road. Grieb, who had the right of way, was headed south at 55 mph on U.S. Highway 195 when he slammed into her car.
The impact broke so many bones that it took 17 hours of surgery over three days to patch Grieb up. Worse than that, he suffered a serious brain injury that ended his career as a veterans counselor.
After a 16-year-old Cheney High School girl was killed in January at the same spot where Grieb nearly died, Grieb said, he decided he had to speak out. Last week, Grieb added his voice to a growing number of residents calling for improvements to the intersection.
"I want to do something, whatever I can, in support of getting that intersection safe," he said. "That is a horrible intersection."
There have been 86 accidents there in little more than 10 years, including the one fatality and four serious injury accidents.
Two state House members are asking for money to improve the intersection this year. Reps. John Driscoll and Kevin Parker have introduced House Bill 2225 to free up about $200,000 to build a new exit lane for southbound traffic turning right onto Cheney-Spokane Road. The idea is to separate the turning traffic from the through lanes so that motorists entering the highway from Cheney-Spokane Road can better see oncoming traffic.
Currently, there is a deceleration lane adjacent to the through lanes, and vehicles slowing down to make the right turn onto Cheney-Spokane Road can block the view of drivers trying to enter the highway.
A group of residents living in the area is planning to attend the bill's hearing on March 16.
In addition, lawmakers are seeking more than $12 million to build an overpass and partial interchange there. The new exit lane would be a short-term solution if money is not made available for the partial interchange, officials have said.
About a year after Grieb was nearly killed, he said, he attended a meeting in Spokane in which residents called for improvements at the intersection. He told the crowd that "somebody's going to die there."
His awful prediction came true in January when Lorissa Green, of Cheney, was killed. Grieb said he wants to remind people just how bad a momentary lapse behind the wheel can be.
"I ended up with a broken neck, a broken back, all my ribs were broken on the right. My right shoulder was broken in six places. I had a ruptured liver," he said.
Both legs were broken off at the hips and his pelvis was fractured.
"They put a screw through my hip, through my tail bone and into the other hip, and now my right leg is about a half-inch longer than my left leg," he said. He has no memory of the accident or the initial aftermath. He was wearing a helmet when the accident occurred.
Grieb's wife, Kathleen, quit a lucrative career as a tech company executive because of the amount of time it has taken to care for her husband.
"It's dramatically changed our lives," Grieb said. "If it hadn't been for God and my best buds, the surgeons, I'd be dead."
Riverside Avenue closure
Riverside Avenue from Lincoln to Post streets will be closed to traffic from 11 p.m. Tuesday to 7 a.m. Wednesday for installation of equipment along the street.
Bicycle skills classes
The League of American Bicyclists is offering a pair of skills classes for bicycle riders in March at Room 321 at the Spokane Regional Health District, 1101 W. College Ave. The "Traffic Skills 101" classes will teach the safest ways to ride in traffic; bicycling with confidence; and basic mechanics, including tire changing.
The sessions are March 3 from 5:15 to 8:30 p.m. and March 7 from 10 a.m. to 4 p.m. Participants must attend both sessions.
The cost is $30 for adults or $45 for a parent and teenagers 15 and older. To register, call (509) 747-3778 or e-mail spokanebikebuddy@aol.com.
Local journalism is essential.
Give directly to The Spokesman-Review's Northwest Passages community forums series -- which helps to offset the costs of several reporter and editor positions at the newspaper -- by using the easy options below. Gifts processed in this system are not tax deductible, but are predominately used to help meet the local financial requirements needed to receive national matching-grant funds.
Subscribe to the Coronavirus newsletter
Get the day's latest Coronavirus news delivered to your inbox by subscribing to our newsletter.
---