News > Idaho Voices
Teachers as students
Leadership Academy allows educators to earn master's degree from UI in own community
Thu., Feb. 26, 2009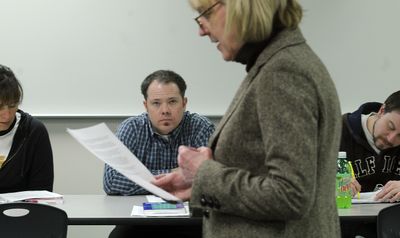 The Lakeland-Post Falls Leadership Academy is off to a great beginning, according to University of Idaho Educational Leadership program coordinator Kathy Canfield-Davis.
"I think this program is off to a terrific start, and we were pleased with the number of people who enrolled," she said of the community-centered program that offers a master's degree in educational leadership and administrative certification to educators.
The idea for this type of program began in recognition of a high number of educators in Sandpoint who wished to pursue a master's degree in educational leadership a couple of years ago, according to Canfield-Davis. Working closely with the school district, the university developed a program offering educators a convenient and easily accessible face-to-face class, which became the prototype for other classes throughout the state.
Opening in January, the Lakeland-Post Falls Academy is the fourth such program, joining similar course offerings in Meridian and the Grangeville area. Classes are held at Betty Kiefer Elementary School in Rathdrum two evenings each week; allowing educators the convenience of staying after class while pursuing post-graduate educational goals. Cost for the program, according to Canfield-Davis, is the same as for any UI classes.
While convenience is the largest benefit of the community-based master's program, Canfield-Davis says other benefits have come to light. One, she said, is that participants can put what they are learning to work right away; applying the theories they are learning to what is happening in their districts.
"Anytime the opportunity is there for people to advance their knowledge and skills in leadership, we're all winners – especially the students they teach," she said.
A less obvious benefit, according to Canfield-Davis, is the support and relationships the students build. "We find the experience of going through the program together builds camaraderie; support for one another and long-lasting professional relationships," she said.
Paul Uzzi, a math and science teacher at Mountain View Alternative High School, is one of 20 local educators who recognized the value of the Lakeland Academy. Hoping to expand his employment prospects, open his career opportunities and gain understanding of the administrator's point of view, Uzzi signed on with the intent to earn a master's degree in educational leadership and his principal's certification by the end of summer 2010.
Barely two months into the program, Uzzi has come to agree with Canfield-Davis. While grateful the class is being offered in town, saving both time and money, he has come to realize the greatest asset is his fellow students. "It is a benefit to draw upon everyone's experience. I enjoy the interaction, and am really getting a lot out of these classes," he said. "I've enjoyed these classes more than any other classes I took in college."
As Canfield-Davis predicted, Uzzi is planning to put his newly developed skills to work right away. He believes knowing how schools and school districts run at an administrative level will help him become a better teacher and a greater asset to the school where he works during the two years he works toward his goal.
"As a teacher, I can be more involved in the administration. I can be a larger asset to the school, able to help with some of the duties and jobs of the current administrator," he said.
As with the other leadership courses, classes are taught by local, qualified instructors. Canfield-Davis teaches one class herself, and Debbie Long, Betty Kiefer principal and recent recipient of the Idaho National Distinguished Principal of the Year award, teaches another class.
Canfield-Davis feels she gains an additional benefit from being an instructor. "It's mutually beneficial – a two-way learning process. For as much as I'm able to share with them, I'm also in turn learning from them," she said of the experienced educators she instructs. "I'm not in a school every day, so the great thing about a program like this, these students are going to challenge my assumptions; and keep me in touch with what they're doing and what they're experiencing … their challenges."
Any educator meeting admission requirements and "wishing to advance in their professional endeavors," is welcome to apply for the program, said Canfield-Davis. The two-year course offers 33 credits to those interested in educational leadership or school administration certification; and includes a year-long internship requirement. Those accepted into the program may join at the beginning of any quarter.
Local journalism is essential.
Give directly to The Spokesman-Review's Northwest Passages community forums series -- which helps to offset the costs of several reporter and editor positions at the newspaper -- by using the easy options below. Gifts processed in this system are not tax deductible, but are predominately used to help meet the local financial requirements needed to receive national matching-grant funds.
Subscribe to the Coronavirus newsletter
Get the day's latest Coronavirus news delivered to your inbox by subscribing to our newsletter.
---
Subscribe and log in to the Spokesman-Review to read and comment on this story