News > Spokane
Beware of changes to credit scoring
Careful consumers should track their ratings
Mon., Jan. 5, 2009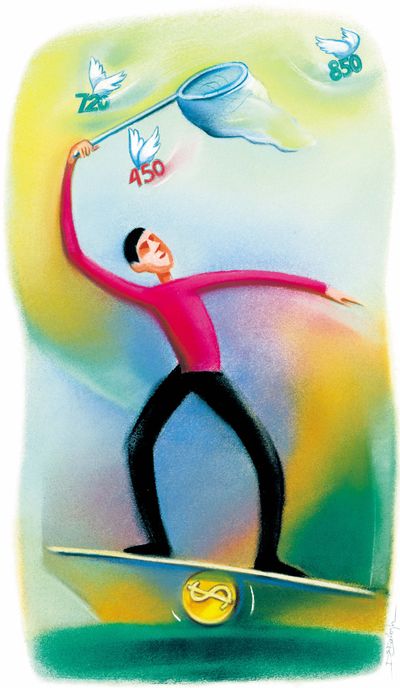 Your old credit score ain't what it used to be.
As lenders tighten the purse strings, a FICO score that might have been considered good a year ago won't be enough to get the best rates today – making it more difficult to buy a home or a car, or to qualify for a credit card.
If your score isn't what you'd like it to be, you can change it. But there aren't any easy fixes. You've got to establish a history of paying bills on time, reduce your debt and make sure the credit-reporting agencies haven't made any mistakes on your reports.
The good news, experts say, is that you can improve your score in a relatively short time – in a matter of months or a year of steady improvements.
Q: How is credit scored?
A. Three major agencies – Equifax, Experian and TransUnion – compile credit reports, and the Fair Isaac Corp. (FICO) prepares a credit risk score, which ranges from 300 to 850. Lenders rely on a combination of this information – as well as other factors – in determining whether to loan you money.
Essentially, the score is intended to reflect how reliably you pay your bills on time and how much debt you're carrying, relative to the total credit available to you. Together, those two elements account for 65 percent of the score.
Q: How do I check my reports and credit score?
A: Under federal law, you're entitled to one free copy of your credit reports each year – though you do have to pay if you want your score. You can get your reports at AnnualCreditReport.com. If you need more copies, you can pay for them at MyFICO.com.
Now is a good time to check your reports, even if you think you know where you're at. For one thing, credit-card issuers are lowering limits for a lot of consumers – which can hurt your score. Credit scorers prefer if you've used half or less of your available credit – a sudden drop in your credit limit can shift that proportion even if your indebtedness doesn't change.
Check your reports for errors, and contact the reporting agency immediately if you see any.
Q: What hurts my score?
A: Paying bills late and carrying too much debt relative to your total credit are the two things most damaging to your credit score. Opening a lot of new accounts at once can lower your score – and even filling out a lot of applications can do so.
One thing you might not realize: If you pay off an account and close it, it could hurt your score. A big part of the score is based on payment history, so it's often better to keep open an account with little or no debt and a solid payment history.
Q: What improves my score?
A: Paying bills on time and reducing your total debt. Those are the two biggest, and they can take a little time – though experts say you can see a change in a matter of months. If you've got old, seemingly minor problems out there – like small unpaid debts, overdue library books, etc. – take care of them.
Q: How big a difference can a few points make?
A: A lot. According to Forbes.com, a swing of 10 points can mean the difference between not getting a loan and getting one at a good rate. Many experts say a year ago, a score of 700 or above would have been getting the "gold standard" interest rates.
"A few years ago, people could get by with credit scores of 700 to 730, no problem," financial planner Sheryl Garrett told Forbes. "Now, if you are not north of 750, you won't get the best rate, and you may not even get a loan at all."
Q: What if I don't have a credit history at all?
A: SmartMoney.com offers a few suggestions: Try applying for a secured credit card, in which you put money into an account to establish a "credit limit." You can try store credit cards, which sometimes are easier to qualify for, though don't overdo it. Become an authorized user on someone else's account. Take out a small installment loan from a bank or credit union – and make the payments on time.
Local journalism is essential.
Give directly to The Spokesman-Review's Northwest Passages community forums series -- which helps to offset the costs of several reporter and editor positions at the newspaper -- by using the easy options below. Gifts processed in this system are not tax deductible, but are predominately used to help meet the local financial requirements needed to receive national matching-grant funds.
Subscribe to the Coronavirus newsletter
Get the day's latest Coronavirus news delivered to your inbox by subscribing to our newsletter.
---
Subscribe and log in to the Spokesman-Review to read and comment on this story