News > Spokane
Griffin Bell dead at 90
Attorney general under Carter had lengthy career
Tue., Jan. 6, 2009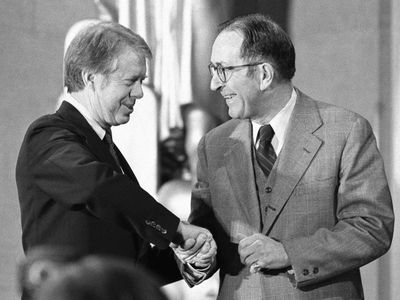 ATLANTA – Griffin B. Bell, the shrewd Southern lawyer who grew up with Jimmy Carter and later became U.S. attorney general after Carter was elected president, died Monday. He was 90.
Bell died around 10 a.m. of kidney failure, said Diana Lewis, a spokeswoman for Piedmont Hospital. He was being treated at the Atlanta hospital for complications due to pancreatic cancer and kidney disease, which he had fought for years, she said.
Carter said he was "deeply saddened" by Bell's death and called him a "trusted and enduring public figure."
"As a World War II veteran, federal appeals court judge, civil rights advocate, and U.S. attorney general in my administration, Griffin made many lasting contributions to his native Georgia and country," he said in a statement. "Our thoughts and prayers are with his family."
Carter's choice of his longtime friend as attorney general was considered the most controversial of his Cabinet appointments after the 1976 election.
The NAACP and other civil rights groups complained that Bell, as a federal judge, didn't force Southern schools to integrate quickly enough. And they cited Bell's tenure as chief of staff for Georgia Gov. Ernest Vandiver, who campaigned in 1958 on a segregation platform.
But Carter called Bell's civil rights record superb, and many black Georgians – including U.N. ambassador designate Andrew Young – came forward to support him.
"Frankly, I prefer a Southerner who has been struggling with the problem of civil rights actively for several years over a Northern intellectual liberal," Young said at the time.
Bell served just 2 1/2 years at the Justice Department, leaving in mid-1979 – at his own request – to return to his Atlanta law firm, King & Spalding. But he called his tenure as attorney general "the best job I ever had," and he remained close to the action in government by maintaining a law office in Washington. He also remained a key adviser to Carter.
As attorney general, Bell promoted judicial reform and supported the Foreign Intelligence Surveillance Act, which limits government spying on U.S. citizens. He also investigated Koreagate, the alleged buying of congressional influence by Korean agents, and set in motion the investigation that led to a bank fraud indictment against fellow Georgian Bert Lance, Carter's budget chief. Lance was later acquitted.
Bell was born Oct. 31, 1918, in the south Georgia town of Americus, 10 miles from Carter's hometown of Plains. Their families were well acquainted even though he was six years older than Carter.
A sharp dresser with a Southern drawl, Bell's reputation for integrity and his status as a former attorney general brought him many high-profile cases.
He was hired by E.F. Hutton to investigate charges that some members of the brokerage firm had engaged in complex fraud schemes. He also headed investigations into the Exxon Valdez oil spill in Alaska, and Procter & Gamble Co. hired him to sue people who circulated false rumors that the company's moon-and-stars logo was a satanic symbol.
In 1986, he went to Nicaragua to help represent captured American mercenary Eugene Hasenfus. And in 1992, President George H. W. Bush hired Bell to be his private lawyer in the Iran-Contra scandal.
Local journalism is essential.
Give directly to The Spokesman-Review's Northwest Passages community forums series -- which helps to offset the costs of several reporter and editor positions at the newspaper -- by using the easy options below. Gifts processed in this system are not tax deductible, but are predominately used to help meet the local financial requirements needed to receive national matching-grant funds.
Subscribe to the Coronavirus newsletter
Get the day's latest Coronavirus news delivered to your inbox by subscribing to our newsletter.
---
Subscribe and log in to the Spokesman-Review to read and comment on this story