News > Spokane
Israel pledges to keep fighting
Humanitarian crisis looms, agencies say
Tue., Jan. 6, 2009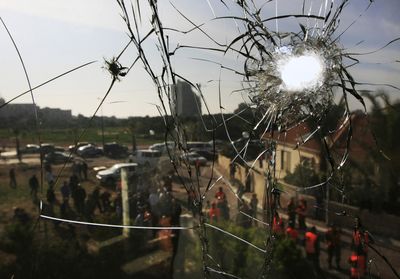 JERUSALEM – Israel brushed aside an intensified effort by European envoys to broker a cease-fire in the Gaza Strip on Monday even as casualties mounted and aid organizations warned of a growing humanitarian crisis.
Diplomatic attempts to arrange a truce between Israel and Hamas failed despite a flurry of meetings across the region and at the United Nations. Most of the pressure was exerted by European leaders, including French President Nicolas Sarkozy and former British Prime Minister Tony Blair. But Israeli officials repeated their vows to keep fighting until they have crippled Hamas's ability to launch rocket attacks from Gaza into southern Israel.
"When Israel is targeted, Israel is going to retaliate," Foreign Minister Tzipi Livni told reporters as she held talks with European diplomats in Jerusalem.
U.S. State Department officials said Monday they also were pushing for a cease-fire. But unlike European leaders, who have been critical of both sides, President Bush stood behind Israel and gave no sign he was unhappy with America's close ally.
"Instead of caring about the people of Gaza, Hamas decided to use Gaza to use rockets to kill innocent Israelis," Bush told reporters at the White House. "Israel's obviously decided to protect itself."
Bush said he agreed with Israel's position that a truce would be a waste of time unless Hamas is somehow prevented from resuming attacks. "I know people are saying, 'Let's have a cease-fire,' " Bush said. "And those are noble ambitions. But any cease-fire must have the conditions in it so that Hamas does not use Gaza as a place from which to launch rockets."
More than 40 Palestinians were killed in Gaza on Monday, almost half of them children, according to local medical workers. Palestinian officials said the death toll in Gaza has risen to about 550 since Israel began airstrikes Dec. 27. More than 2,500 people were reported wounded.
At least eight Israelis have died overall, including three soldiers killed Monday evening when they were struck by an Israeli tank shell outside Gaza City, according to military officials. Two dozen others were injured by the errant shell.
The soldiers were engaged in heavy clashes with Hamas fighters in densely populated neighborhoods in northern Gaza, the military reported. Hamas asserted that it had killed several Israeli soldiers.
Hamas has been defiant in the face of the military invasion and fired about 30 rockets from Gaza into southern Israel on Monday, including one that struck an empty kindergarten in Ashdod, according to the Israeli military. A mortar shell also injured two people in the village of Shaar Hanegev. Such rockets have killed four Israelis since hostilities broke out.
Mahmoud Zahar, a senior Hamas leader, called on Palestinians to "crush your enemy" and urged them to keep targeting Israeli civilians by launching rockets and mortar shells over the fences and barriers that surround the Gaza Strip.
"The Zionists have legitimized the killing of their children by killing our children," he said in a broadcast on Hamas' television station.
As the Israeli military campaign entered its 10th day, Defense Minister Ehud Barak said the operation would continue indefinitely. "Hamas has suffered a very heavy blow, but we have yet to reach the goals we set for ourselves, so the offensive continues," he told Israeli legislators.
Israel launched about 40 airstrikes in Gaza on Monday and targeted more than 150 makeshift tunnels along the strip's southern border with Egypt, said Maj. Avital Leibovich, a spokeswoman for the Israeli military.
Military engineering units also hunted for the smugglers' tunnels from ground level, Israeli officials said. About 300 smugglers' tunnels exist along the border area between Gaza and Egypt, a nine-mile stretch known as the Philadelphia corridor, according to the Israeli military.
Leibovich said Israeli forces also have been targeting weapons caches and the homes of Hamas officials. She blamed Hamas for the rising number of civilian casualties, accusing the Islamist movement of storing explosives in mosques and buildings in densely populated areas.
"We don't have any intention whatsoever to target civilians. The targets we choose are military targets," Leibovich said. "If there were civilian casualties, it would only be under the responsibility of Hamas."
The Israeli army said it allowed 80 trucks carrying emergency supplies to enter Gaza on Monday. But relief agencies said much more was needed. They estimated that two-thirds of Gaza's 1.5 million people were without electricity because several major power lines servicing Gaza from Israel had been cut or damaged.
"Large numbers of people, including many children, are hungry," Maxwell Gaylard, the United Nations' humanitarian coordinator for the Palestinian territories, told reporters in Jerusalem.
"They are cold. They are without ready access to medical facilities. They are without access to electricity and running water. They are terrified. That by any measure is a humanitarian crisis."
Local journalism is essential.
Give directly to The Spokesman-Review's Northwest Passages community forums series -- which helps to offset the costs of several reporter and editor positions at the newspaper -- by using the easy options below. Gifts processed in this system are not tax deductible, but are predominately used to help meet the local financial requirements needed to receive national matching-grant funds.
Subscribe to the Coronavirus newsletter
Get the day's latest Coronavirus news delivered to your inbox by subscribing to our newsletter.
---
Subscribe and log in to the Spokesman-Review to read and comment on this story