News > Spokane
Rain today could raise flooding risk
Tue., Jan. 6, 2009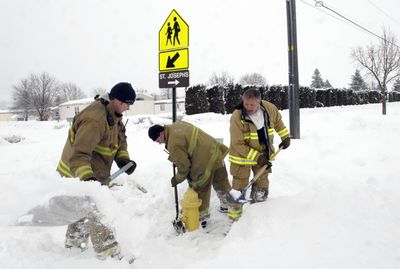 A storm expected to arrive this morning should bring significant precipitation and above-freezing temperatures, adding weight to already-strained roofs and raising the risk of street and small-stream flooding.
Weather officials said the snow on the ground – 25 inches Monday at Spokane International Airport – should absorb much of the new precipitation.
Overnight snowfall was expected to become rain about 10 a.m. in the Spokane region, with rain continuing on and off for 12 to 18 hours, said John Livingston, a National Weather Service meteorologist.
A flood watch was issued Monday afternoon for Spokane, Lincoln, Stevens, Pend Oreille, Garfield and Asotin counties in Washington and Kootenai, Bonner, Boundary, Shoshone, Benewah, Latah and Nez Perce counties in Idaho, to run through Thursday afternoon.
Spokane was forecast to get 1.2 inches of rain (or water equivalent in any snow); Coeur d'Alene, 2 inches; Pullman, 1.7 inches; Sandpoint, 3 inches; and the Silver Valley, 2.8 inches.
The weather service said the greatest risk of small stream flooding will include areas along Latah Creek, which drains a large part of southern Spokane County and the Coeur d'Alene Indian Reservation in North Idaho. Other areas at risk include southern Spokane County, the Palouse region, Potlatch area and Asotin County.
With ice on the ground, water could leak into some basements. In residential areas, officials asked residents to clear street drains.
Motorists were advised to avoid large puddles when possible and to approach them slowly, because deep water can stall engines and cause serious damage.
Temperatures in Spokane were forecast to reach 40 on Wednesday and 42 on Thursday. Lewiston and Walla Walla could reach 50 on Wednesday.
"We're getting into a warmer, more tropical flow," Livingston said.
Snowfall in the Spokane region was expected to start at around 2,000 feet in elevation and rise to 3,500 feet by Thursday. Downtown Spokane is at 1,900 feet.
To the south, near Lewiston and Walla Walla, snow levels could rise to 5,000 feet.
Strain on roofs
The forecast of rain added to concerns about snow loads on roofs.
On Monday, Mead School District lost the building where its mechanics work on buses. A cinder-block wall collapsed under the weight of snow on the building behind the old Mead Middle School, said Wayne Leonard, executive director of business services for Mead.
Leonard said that on the recommendation of a structural engineer, the district last winter put more support beams under the building's roof. But that didn't prevent the wall from giving out.
The Wren Pierson Community Center in Cheney – a part of the parks system – was shut down indefinitely because of structural damage, officials said. Roofs also collapsed at a vacant business at a strip mall at Northwest Boulevard and Ash Street in Spokane, a dentist's office in Colville and a barn in Stevens County, officials reported.
At least 28 structures had collapsed roofs as of last Friday in Spokane, officials said.
On Monday morning, the National Weather Service office near Airway Heights had 28 inches of snow on the ground with a water equivalent of 4.8 inches. That has a weight of 25 pounds per square foot. Residential roofs are built to hold 30 to 40 pounds per square foot, and with pitched designs, they can shed water when temperatures moderate.
By the end of the week, temperatures were expected to be close to normals of 32 for highs and 21 for lows in Spokane, Livingston said.
"We are looking at the light at the end of the tunnel," Livingston said.
On Monday, Spokane Airport reported nearly 8 inches of new snow. Amounts varied across the region with less on the North Side of Spokane and more near Moscow, Idaho.
The weather service offers experimental, online weather alerts at inws.wrh.noaa.gov, and a quick link to the latest forecast at weather.gov/Spokane.
Local journalism is essential.
Give directly to The Spokesman-Review's Northwest Passages community forums series -- which helps to offset the costs of several reporter and editor positions at the newspaper -- by using the easy options below. Gifts processed in this system are not tax deductible, but are predominately used to help meet the local financial requirements needed to receive national matching-grant funds.
Subscribe to the Coronavirus newsletter
Get the day's latest Coronavirus news delivered to your inbox by subscribing to our newsletter.
---
Subscribe and log in to the Spokesman-Review to read and comment on this story