News > Business
Continental Airlines flight powered with biofuel takes off
Thu., Jan. 8, 2009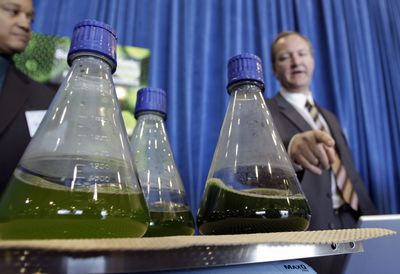 HOUSTON – Continental Airlines on Wednesday became the first U.S. commercial carrier to conduct a demonstration flight powered in part by alternative fuels, though large-scale use of such fuel is forecast to be several years away.
The Houston-based company, the nation's fourth-largest airline, made the flight with a Boeing 737-800 that left from Bush Intercontinental Airport, its large hub. The flight took about 1 hour, 45 minutes and had no passengers.
Continental chairman and chief executive Larry Kellner said the goal was to analyze technical aspects of using biofuels, including effects on the plane's mechanical systems. In this case, the alternative fuel was derived from algae and jatropha plants and used in only one of the plane's two engines.
Kellner and others acknowledged it will likely be several years, a decade perhaps, before biofuels make up a significant percentage of the fuel used by Continental and other major carriers. At present, adequate supplies – and the facilities to make them – simply aren't available.
"The challenge will be to produce it in an efficient way in the quantities we need," Kellner said.
Airlines have been experimenting with alternative fuels as a way to reduce carbon dioxide emissions and lower fuel bills, which hammered carriers in the first part of 2008 when oil prices spiked.
Last week, Air New Zealand tested a passenger jet powered partially with oil from jatropha, a bush with round, plum-like fruit that's found in parts of South America, Africa and Asia. Seeds from jatropha are crushed to produce a yellowish oil that's refined and mixed with diesel.
Continental said its flight was the first to use algae as a fuel source, and the first test involving a two-engine aircraft. One engine ran on a mixture of one-half biofuel and one-half traditional jet fuel. The other ran solely on jet fuel.
The biofuel exceeded specifications for regular jet fuel, and no modifications to the plane or its engines were needed.
Local journalism is essential.
Give directly to The Spokesman-Review's Northwest Passages community forums series -- which helps to offset the costs of several reporter and editor positions at the newspaper -- by using the easy options below. Gifts processed in this system are not tax deductible, but are predominately used to help meet the local financial requirements needed to receive national matching-grant funds.
Subscribe to the Coronavirus newsletter
Get the day's latest Coronavirus news delivered to your inbox by subscribing to our newsletter.
---
Subscribe and log in to the Spokesman-Review to read and comment on this story