News > Washington Voices
Boy Scouts become snow angels
Shoveling service project busting berms, driveways
Thu., Jan. 8, 2009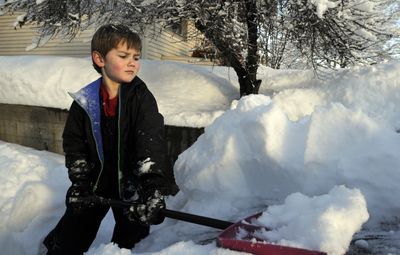 The phones are ringing off the hook at the Inland Northwest Council of Boy Scouts of America. Since Dec. 22 nearly 150 people have called asking for help with snow shoveling and the calls keep coming in.
"We get more frequent calls from people when they get a really big dump," said Steve Yackel, director of field services for the Inland Northwest Council of Boy Scouts of America, and the keeper of the long list. "We've always gotten these requests, but this is the first year we've put it on the Web site and gone directly to the troop leaders for help."
There are 5,860 Boy Scouts in the greater Spokane area and so far about 68 have participated in the shoveling.
"The Scout slogan is to do a good turn daily," Yackel said. "Many scouts help out without being on this list or calling us. No, there is no winter weather or snow shoveling merit badge."
Yackel knows of at least another 23 households that have gotten a helping hand from the Boy Scouts.
"People need help with snow shoveling in driveways and on sidewalks, and we get a lot of specific requests from folks being 'bermed' in by snowplows," Yackel said.
The Boy Scouts also get a lot of calls from people who need help clearing their roofs, but that's a no go.
"We don't put kids up on roofs, period," Yackel said.
The snow shoveling Web link was put up the week of Christmas, when the first big storm hit.
"Now if people want to volunteer they can go to our Web site and look for homes in need," said Yackel.
Since the Boy Scouts are too young to drive, they can't run errands either.
After the holidays, it's become more of a challenge to coordinate the work Yackel said, because many of the scout leaders are back at work during the day.
"A lot of this has to take place at night – we really need all the help we can get," said Yackel. "We'll keep the program running depending on the need."
Local journalism is essential.
Give directly to The Spokesman-Review's Northwest Passages community forums series -- which helps to offset the costs of several reporter and editor positions at the newspaper -- by using the easy options below. Gifts processed in this system are not tax deductible, but are predominately used to help meet the local financial requirements needed to receive national matching-grant funds.
Subscribe to the Coronavirus newsletter
Get the day's latest Coronavirus news delivered to your inbox by subscribing to our newsletter.
---
Subscribe and log in to the Spokesman-Review to read and comment on this story