News > Idaho Voices
Rathdrum Prairie businesses weather storm
For many in Post Falls, relentless snowfall hurt more than economic downturn
Thu., Jan. 8, 2009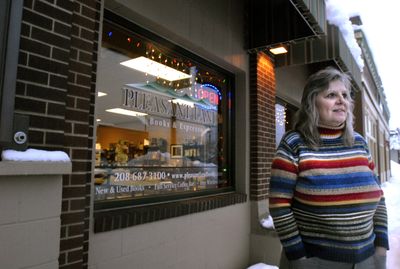 If there's a lesson to be learned by business owners from this holiday season's snowstorm onslaught, it's that Mother Nature can pack more of a wallop than an economic pinch.
Businesses across the Rathdrum Prairie, from off-road vehicle stores to coffee stands to veterinary clinics, shared similar stories of better-than-expected sales given the slumping economy – that is until winter blanketed the Inland Northwest under more snow than most shoppers could handle.
Even though some places reported a dip in holiday season sales as the snowstorms brought the region to a standstill, others said the flurries had little effect on dampening an otherwise record year, or even boosted Christmas sales.
So, while the economic outlook appeared bleak heading into the new year, and with the weather adding to the woes, almost every business felt the combined influence in some form, both the good and bad. The Post Falls Chamber of Commerce doesn't keep any sales statistics for businesses; so all information is based on interviews with local business owners.
"There was a period of time in November when there was some hesitation, where some owners only wanted to do what was absolutely necessary," veterinarian and Kootenai Animal Hospital owner Kevin Rogers said. "But I think that's relaxed a little bit, and now the challenge is the weather."
The amount of patients at Kootenai Animal Hospital has remained steady, Rogers added, which "is kind of a testament to how much people love their pets, because even with the economy they want to do everything they can for them … I think people are a little more cautious, but they still want to do what is best for their pets."
Down the street at Bead It Inc., business was a little better this winter compared to last year, said owner Gayle Long. That's thanks to running a more established store, she added, now that Bead It has been open for more than two years. "The reason, I think, is because I have my clientele built up."
However, the new year has so far started with more of a whisper than a bang, Long said. "As of Jan. 1, they're not coming in here a ton. But that's because of the weather and the economy."
A hallmark of a lot of thriving businesses is a steady stream of repeat customers. And when a place offers something customers will slog through the snow to find, business is on the right track.
"It's been great," said Leopard Latte's owner Melissa Valdovinos, whose roadside stand straddles a downtown corner near the Spokane Street Bridge. "We've been open six years, so we have a really good regular clientele base. I think that people feel like this is one of those things they want to hold on to, and if they have to trudge through the snow, they are going to get their coffee."
Places that offer winter gear such as snowblowers, shovels and snowplows have faired fairly well with the relentless snowfall. All-terrain vehicles equipped with front-end plows have been especially popular, local off-road vehicle dealers said.
Tom Murphy, general manager at Beaudry Motor Sports, said sales "have been very good" for four-wheelers with mounted snowplows. "When we have them set up as a package deal like that, people are interested right now."
Along the northern edge of the Rathdrum Prairie, small business owners such as Jan Conner are keeping their hopes high while they continue to dig out from the deep snow. "It has slowed down, but we're not letting it get us down," said Conner, owner of Pleasant Land Books and Espresso in the heart of Rathdrum. "For us, it really was when the storms hit. … We're just hoping that when the weather finally turns, it will pick back up. I think it was really more the weather than the economy."
As for 2009 predictions, business owners' answers ranged from anxious to optimistic. "I'm nervous," said Long, of Bead It Inc.
Valdovinos, though, said she has record-setting expectations heading into the next 12 months. "Probably our best year yet. Our business grows every year," she said.
Local journalism is essential.
Give directly to The Spokesman-Review's Northwest Passages community forums series -- which helps to offset the costs of several reporter and editor positions at the newspaper -- by using the easy options below. Gifts processed in this system are not tax deductible, but are predominately used to help meet the local financial requirements needed to receive national matching-grant funds.
Subscribe to the Coronavirus newsletter
Get the day's latest Coronavirus news delivered to your inbox by subscribing to our newsletter.
---
Subscribe and log in to the Spokesman-Review to read and comment on this story