News > Nation/World
Fighting rages amid diplomatic efforts
Cease-fire talks progress; rockets fired from Lebanon into Israel
Thu., Jan. 8, 2009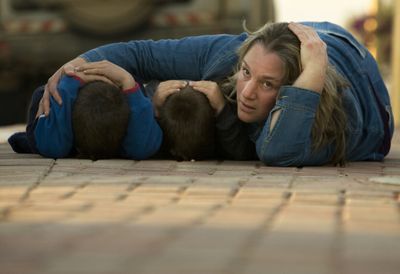 GAZA CITY, Gaza Strip – Israel resumed its Gaza offensive Wednesday, bombing heavily around suspected smuggling tunnels near the border with Egypt after a three-hour lull to allow in humanitarian aid. Hamas responded with a rocket barrage.
Despite the heavy fighting, strides were made on the diplomatic front with the U.S. throwing its weight behind a deal being brokered by France and Egypt.
While the Security Council failed to reach agreement on a cease-fire resolution, Egyptian diplomats said Egypt will host separate talks with Israel, Hamas and the Palestinian Authority in Cairo today.
Israeli airstrikes killed 29 Palestinians on Wednesday after leaflets were dropped warning residents to leave the area "because Hamas uses your houses to hide and smuggle military weapons."
The fighting continued into this morning. Palestinians reported more than 20 airstrikes around Gaza before dawn, killing one person and wounding 10. There were also reports of clashes between Israeli armored forces and Hamas militants in southern Gaza.
At least three rockets were fired from Lebanon today into Israel, lightly wounding at least one person, officials said. Israeli forces responded by firing mortars across the border, Lebanese television reported.
Southern Lebanon was the scene of bitter fighting between Israel and Lebanese Hezbollah guerrillas two years ago in a conflict that killed more than 1,000 in Lebanon and about 160 in Israel. Many had feared that Hezbollah might come to the aid of Hamas by firing rockets, but until now the border had been quiet.
Hezbollah is not the only player in southern Lebanon. Rockets suspected to have been fired by small radical Palestinian groups or Islamic militants with links to al-Qaida in the past have stoked border tensions.
The casualties brought the total Palestinian death toll during Israel's 12-day assault to 689 and drove home the complexities of finding a diplomatic endgame for Israel's Gaza invasion. Ten Israelis have been killed, including three civilians, since the offensive began Dec. 27.
More than 5,000 people have fled the border area, seeking refuge at two U.N. schools turned into temporary shelters.
The fury of the renewed fighting made it appear each side was scrambling to get in as many hits as possible before a truce could materialize.
"I feel like the ground is shaking when we hear the shelling. People are terrified," said Fida Kishta, a resident of the Gaza-Egypt border area where Israeli planes destroyed 16 empty houses.
In Turkey, a Mideast diplomat who spoke on condition of anonymity because he was not authorized to speak publicly said that country would be asked to put together an international force that could help keep the peace. And diplomats in New York worked on a U.N. Security Council statement backing the cease-fire initiative but failed to reach agreement on action to end the violence.
"We are very much applauding the efforts of a number of states, particularly the effort that President (Hosni) Mubarak has undertaken on behalf of Egypt," Secretary of State Condoleezza Rice said. "We're supporting that initiative."
Local journalism is essential.
Give directly to The Spokesman-Review's Northwest Passages community forums series -- which helps to offset the costs of several reporter and editor positions at the newspaper -- by using the easy options below. Gifts processed in this system are not tax deductible, but are predominately used to help meet the local financial requirements needed to receive national matching-grant funds.
Subscribe to the Coronavirus newsletter
Get the day's latest Coronavirus news delivered to your inbox by subscribing to our newsletter.
---
Subscribe and log in to the Spokesman-Review to read and comment on this story