News > Idaho Voices
Goodbye cheeseburgers – for now
Sat., Jan. 10, 2009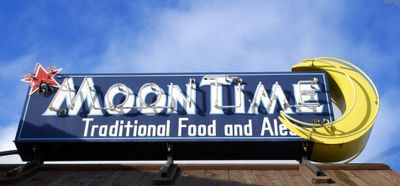 Right before January I start preparing. I make a vow to myself that I will learn to find some tragic kind of delight in plain brown rice and braised tofu. I promise the produce man that he'll be getting sick of my face pretty soon, what with me pestering him day in and day out for the vitamin-rich fruits and vegetables that will be the basis of my new, healthy lifestyle.
I alphabetize the dozens of bottles of salad dressings in the fridge, each a reminder of a long-ago valiant-but-failed attempt at making tossed greens a habit, kept in hope that maybe some fat-free French or a nice raspberry vinaigrette would finally come through as my savior, my way into the clear light of a sensible diet, far away from the lardaceous evil doings of the depraved cheeseburger devil.
In fact, one of the most important parts of the pre-diet ritual is the Dec. 31 "last supper." This year, it was the ultra-classic Paul Bunyan Bacon Double Cheeseburger, a sublime, messy beast known to tear through 20 napkins, and a superb final indulgence before jumping on the wagon of salubriousness.
Conversely, it's almost always my inability to resist the voodoo pull of the bun-encased, cheese-slathered all-American ground beef patty that causes the New Year's diet plan to go rattling violently off its tracks and crash into the nearest Zip's Drive-In.
Brown grease runs through my blood. When I was in grade school, I would leave for lunch every day and walk the three blocks to my grandmother's house where she'd be standing by faithfully with a homemade lunch: a hot, juicy cheeseburger. These burgers were small, simple, just a little ketchup and mayo, but they were pure perfection.
I remember the first time I decided to eat with the other kids in the Harding School gym and how horrified I was by the grey soy-meal patty and slice of cold government cheese that those lunch ladies were trying to pass off as a burger. I told my grandmother I felt sorry for the poor kids who had to eat those awful things and asked if we could invite them over for lunch too, all 300 of them, so they could find out how a real cheeseburger was supposed to taste.
I've explored the back roads of North Idaho for years searching for the perfect burger, and have gone to great lengths to get my fix of ultimate burger satisfaction. I've stood in line for 20 minutes in 100-degree weather behind the entire Sandpoint High School girls' volleyball team in the tiny lobby of Dub's Drive-In. I've traveled the icy, winding road over Dobson Pass to Murray, a living ghost town, and found a plump, 7-inch diameter Bacon Cheeseburger amidst the historic quirks of the fusty Sprag Pole Museum.
I've felt the cold-coffee gaze of the grim waitress at the Gem State in St. Maries, staring unrelentingly, uncomfortably at my partner and I like we were aliens from outer space as I lost myself in one of the best Mushroom-Swiss Burgers known to mankind.
I've even returned incognito, wearing a deerstalker hat and Yoko shades, to Burger Heaven after my review of that five-star drive-in earned me a permanent place on Rathdrum's blacklist when my description of their town caused them to name me as the worst thing to happen there since the old jail was vandalized.
"Pickle and onion?" It's an important question for many of us who grew up in Coeur d'Alene and hold a special place in our tummies for Hudson's Hamburgers. Their tiny menu board has remained unchanged for decades until recently, with the appearance of a small sign reading "bottled water $1.00." This is the one hint of modernity in a place that has remained untouched and untouchable, where tourists from Denmark and Bolivia come to wait in line behind twice-a-day local regulars for single and double Cheeseburgers that are so satisfyingly basic and so unforgettably tasty, they indeed deserve global recognition. People come for the live theater with the spatulas, the slight crankiness of the staff, and the din of the local gossip crackling atop the sizzle of the grill. A true landmark.
I finally had a chance to investigate the recently-opened Riverstone Red Robin for lunch a few weeks ago. Not bad, but nothing to rip your wig off about. The prickly young server took our burger orders and asked, "Do you want that a little bit pink in the middle or not pink at all." The question threw me off somehow. "Are you asking if I want it all the way dead or still mooing a little?" "No raw hamburger for me" announced my Dad, "I want mine cooked!"
I had to agree, I see nothing appetizing about uncooked ground beef no matter how "gourmet" the pretense. My Red Robin Bleu Ribbon Burger turned out just fine, but it was too big to reasonably fit in my mouth, causing me to dissolve into a head-to-toe mess of bleu cheese crumbles and chipotle mayonnaise and napkins.
So as I kick off my latest Leptopril-induced health and wellness kick, I'd like to bid a bittersweet adieu to some of my favorite friends, at least until I drop down a few notches on the belt. To the Double Double at Longboard, I will miss you miss you. To the American Cheeseburger at the Dragon House, those pregnant girls were so right, you're way better than the Chow Mein.
To the Breakfast Burger at Rob's Seafood, you've got egg on your face, my greasy little darling. To the Zip's Wrangler with your doublewide style, your barbecue sauce is my kind of tangy. To the Lamb Burger at Moon Time, you're so delicious I could count you in my sleep. To the Miss Piggy at Nosworthy's Hall of Fame, I'll forever be your Kermit the Frog. Finally, to the Office Burger at the Office Bar & Grill, I like you so much more than Dr. Mayer's office, which is where I'll end up if I eat you. Alas.
Contact correspondent Patrick Jacobs by e-mail at
orangetv@yahoo.com
. For more restaurant and nightlife reviews, music commentary and random thoughts and photos, visit his blog at getoutnorthidaho.com.
Local journalism is essential.
Give directly to The Spokesman-Review's Northwest Passages community forums series -- which helps to offset the costs of several reporter and editor positions at the newspaper -- by using the easy options below. Gifts processed in this system are not tax deductible, but are predominately used to help meet the local financial requirements needed to receive national matching-grant funds.
Subscribe to the Coronavirus newsletter
Get the day's latest Coronavirus news delivered to your inbox by subscribing to our newsletter.
---
Subscribe and log in to the Spokesman-Review to read and comment on this story