News > Washington Voices
Light and color
Emotion guides artist Elizabeth Scott
Sat., Jan. 10, 2009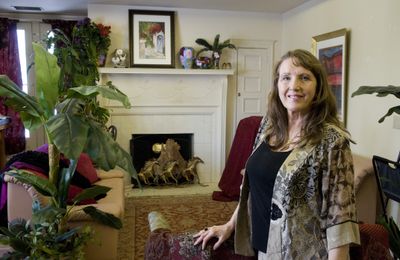 Elizabeth Scott's work is full of light.
Her florals are bouquets of bold and rich colors, layer upon layer of energy and her single flowers burst open like fireworks. Her landscapes are bright depictions of patios, windows and water meeting civilization, and her figurative studies are dreamy and filled with life and passion.
Scott's work is all about color, and she uses it with fervor. "My emotions come out in different colors," she said, "My palette is what I am feeling emotionally when I paint. Color creates emotion for me."
Looking at her work, the layers of color almost envelop a viewer and, like looking at fireworks, one might try to refrain from blinking or else miss the moment of awe. The colors pull you in and that is Scott's goal. "Composition, value, color, light and shadows are very important, but it is the spirit of the artist that connects with the viewer's soul that is remembered."
Scott's "day job" is also all about expressing the color within. For the past 25 years she has been a practicing therapist, helping others connect to their inner colors and voice their feelings. "My clients have helped me grow spiritually and it's really affected my art work."
Scott, 61, has always been creative. In the second grade, she took home first place for her painting of ducks on a pond and flying above. Her father thought she should be a western artist because her family was, and still is, convinced that they are related to artist Charles Russell. "That really spurred my interest in the arts."
Still, it wasn't until about 10 years ago that Scott realized her creative needs. "I really wasn't feeling well. I was tired all the time. I needed something to inspire me to feel better." So, she began painting almost every day. She created an art space in her South Hill home and her health improved. "Now I have to create. It's a compelling force. Art gives me the freedom to express myself."
She has been a part of Avenue West Gallery downtown for the past three years, where she has found a good venue which has shown her that art is valued. "There have been as many as 400 visitors during art events there. It's exciting and shows me that art is happening." She sells well though her true motivation is simply to create and share her colors with others.
Scott also shows at Ink to Media, 523 N. Pines Road where, through February, she will be the featured artist alongside sugar art by Marsells Cake and Desserts. During the opening event on Jan. 30, attendees can enjoy live music, snacks including sugar art, and low initial bids for a silent auction in support of local charities. Visitors will also be able to meet Scott and view her creations which she said are "inspired by capturing the spirit of an intimate moment of time."
The Verve is a weekly feature celebrating the arts. If you know an artist, dancer, actor, musician, photographer, band or singer, contact correspondent Jennifer LaRue by e-mail
jlarue99@hotmail.com
.
Local journalism is essential.
Give directly to The Spokesman-Review's Northwest Passages community forums series -- which helps to offset the costs of several reporter and editor positions at the newspaper -- by using the easy options below. Gifts processed in this system are not tax deductible, but are predominately used to help meet the local financial requirements needed to receive national matching-grant funds.
Subscribe to the Coronavirus newsletter
Get the day's latest Coronavirus news delivered to your inbox by subscribing to our newsletter.
---
Subscribe and log in to the Spokesman-Review to read and comment on this story