News > Idaho Voices
Out in the cold
Arena roof cave-in displaces hockey teams, recreational skaters
Sat., Jan. 10, 2009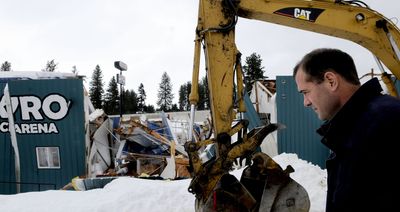 When the KYRO Ice Arena's roof collapsed 13 days ago, it left a trail of heartbreak and uncertainty for the hundreds of hockey fans who made it their home.
As the only indoor ice skating rink in North Idaho, the arena was the playing and practice field for dozens of hockey teams and several hundred players, ranging from 3-year-olds to high school athletes, as well as an entertainment hub for many other ice skaters and recreational users.
What made the Seltice Way facility unique was that it was maintained by an all-volunteer collection of skating fans, the nonprofit Kootenai Youth Recreation Organization that was established in 2000 to save the rink from permanently closing.
Over the years, athletes, coaches, parents and other skating supporters invested hundreds of hours into transforming the original open ice sheet into a first-rate indoor arena. A Zamboni storage room was added to the enclosed facility, and everything from locker rooms and player benches, to the indoor lights and tempered glass-protected spectator seats were remodeled.
"We've put a lot of blood, sweat and tears into that place," said KYRO board president Vince Hughes. As far as what the future holds for the mangled arena, where Hughes estimated almost 70 percent of the metal beams supporting the roof have caved in under the weight of the snow, with only the locker rooms and Zamboni garage perhaps salvageable, he said, "At this point in time, it's too early to tell. It will take a while until we know the full extent of the damage."
In the meantime, Kootenai County teams are working with rinks across the state line such as the Eagles Ice Arena in North Spokane and Riverfront Park for ice time. The time slots, though, are in high demand since the city's three sheets are already in use by the two groups, the Inland Empire Amateur Hockey Association and Spokane Americans Youth Hockey.
For those who learned at KYRO how to lace up their skates, put on hockey gear and take to the ice, the roof collapse dealt a hefty blow, but not an insurmountable setback.
"We were devastated at first, like 'What do we do now?' " said Lindsay Gorrill, president and coach of the Coeur d'Alene Amateur Hockey Association.
Skating sports – and hockey in particular – have seen a surge in popularity in recent years, Gorrill said. Several hundred kids have taken up the hard-hitting sport through the local recreational offerings and clubs, including the Cristeros Hockey Club and the Coeur d'Alene Amateur Hockey Association, which gathers players from as far away as Spokane Valley and Moscow, Idaho, and boasts the only all-girls squad in the area.
"This year, I think, was by far our best year ever. Big time. It's grown in popularity. Really, the big thing for everyone is making it affordable," the coach explained, adding that the Coeur d'Alene association is able to offer athletes used equipment for free to get them started, instead of a roughly $600 bill for new gear. "We try to make a go of it with volunteer funding. The whole point of KYRO was to try to make it affordable … It's an expensive sport."
Then, like so many facets of life across the Inland Northwest, the snowstorms wreaked havoc for area hockey enthusiasts.
"It's been a challenging couple of weeks," said Don Largent, group sales coordinator at Riverfront Park, who has helped schedule playing time for the North Idaho teams, although they'll have to travel more than 30 miles just to practice twice a week.
Speaking about the sport's resurgence that started more than a decade ago, Largent added, "It got to the point that we needed another rink in the area to support all the teams, which I think, in essence, is what created the need for the Coeur d'Alene rink. … Ice skating is becoming more popular in the area and there is more awareness for it."
Ron Lewis, vice president of the Inland Empire association, which is made up of roughly 35 players in teams ranging from the young "Mites" to the high school "Midgets," explained that there is still a need – and even more now than ever before with the KYRO situation. "There is definitely a need for another rink in Spokane, no question." Scheduling practice and playing time, he added, "is a huge challenge. With the roof collapse, we had to reinvent the wheel, I guess you could say."
Fortunately for Kootenai County hockey players, owners of the Washington rinks "have bent over backwards to help us," Coeur d'Alene coach Gorrill said. Even though the North Idaho team only has about half of their hoped-for practice times lined up, he added, "without guys like Don Largent, it would be a nightmare."
Players such as 10-year-old Jacob Fowler and 14-year-old Gil Givens expressed their disappointment at having to travel so far to play, yet remained unbendable in their love for hockey.
"I was kind of upset (to hear about KYRO) because we don't have anywhere nearby to play, so it kind of makes it hard on us," said Givens, an eight-year hockey veteran who plays for the Coeur d'Alene Thunder. When asked what attracted him to the sport, Givens replied, "I like it because it's kind of a fast-paced game, and it's a physical game. … I'm going to continue playing as far as I can."
As for the younger athlete, Fowler, who is in his second year with the club on the "Squirt" squad, he offered a similar take on his favorite sport. "I think it's a really fast-paced game. It's just fun and there's always something to work on," he said. "I'll play hockey as long as I live."
Local journalism is essential.
Give directly to The Spokesman-Review's Northwest Passages community forums series -- which helps to offset the costs of several reporter and editor positions at the newspaper -- by using the easy options below. Gifts processed in this system are not tax deductible, but are predominately used to help meet the local financial requirements needed to receive national matching-grant funds.
Subscribe to the Coronavirus newsletter
Get the day's latest Coronavirus news delivered to your inbox by subscribing to our newsletter.
---
Subscribe and log in to the Spokesman-Review to read and comment on this story