News > Spokane
EWU's leader extends leave
Administrators brace for cuts in his absence
Tue., Jan. 13, 2009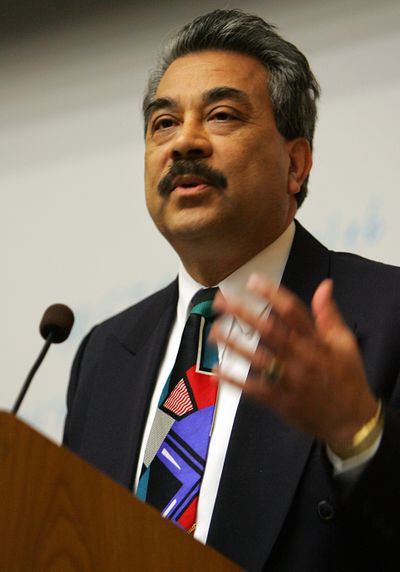 As his colleagues tackle the worst budget crisis in decades, the president of Eastern Washington University remains on leave, continuing his own medical battle.
President Rodolfo Arevalo announced Dec. 1 that he'd be gone from campus for a month as he tried to recover from cancer treatment. John Mason, EWU's provost and vice president for academic affairs, was named acting president.
On Monday, the university's board of trustees voted to extend Mason's appointment as acting president "until the board votes to change it." And they directed him to appoint a full-time acting provost.
No one can say how long Arevalo will be gone – not even Arevalo, "except that he fully expects to return and we're fully committed to have him back," Mason said Monday.
Later, in a Q-and-A session about the budget, Mason told the university community that when he selects someone for the position of acting provost, "it might be for a relatively short period of three months, it might be longer."
Arevalo had a tumor removed during the summer. University officials said in December that doctors believed his cancer had not spread, but that Arevalo underwent treatment as a precaution. In a letter to the campus community, Arevalo said at the time that his recovery had been slower than he expected.
"I believe a one-month break from my presidential duties will speed up my recovery so I can be at my best … when the budget situation with the state comes to its most important points," he wrote in that Dec. 1 letter.
Gov. Chris Gregoire unveiled a proposed budget last month that includes 13 percent cuts for four-year colleges and universities.
The Legislature may come up with something far different from Gregoire's proposal, which would cost Eastern $9.6 million. But no one expects higher education to make it through the state's $6 billion budget crisis without major cuts.
Eastern's vice presidents and deans have begun preparing for the cuts, as Arevalo directed before he left. Mason said he consults with Arevalo "fairly frequently," except during periods of hospitalization.
Terry MacMullan, a philosophy professor who leads the faculty senate, said he's been impressed with the openness of Eastern administrators as they cope with the budget crisis.
Arevalo "is a very good leader and we'd rather he be there, of course. But I think we're handling this as well as possible," MacMullan said. "With Dr. Arevalo or not, this is uncharted territory."
The budget work is preliminary, Mason told hundreds of faculty, staff and students who gathered for Monday's Q-and-A session. Among their worries: job loss, tuition increases and larger classes.
One employee told Mason she worried that those who keep the campus functioning will be cut to save faculty. "Students need safe, clean dorms," she said. "They need food; they need advising."
Another employee asked how the university could justify any potential layoffs when it has spent – or plans to spend – tens of millions on campus improvements. The answer, from EWU Vice President Mary Voves, is that turning down money earmarked for renovations wouldn't help the operating budget, and it would threaten the jobs of people who work on those projects.
Mason, while cautioning that no decisions had been made, was sympathetic to the concerns.
"This is not an extravagant university," he said. "I don't think people are living the high life."
Local journalism is essential.
Give directly to The Spokesman-Review's Northwest Passages community forums series -- which helps to offset the costs of several reporter and editor positions at the newspaper -- by using the easy options below. Gifts processed in this system are not tax deductible, but are predominately used to help meet the local financial requirements needed to receive national matching-grant funds.
Subscribe to the Coronavirus newsletter
Get the day's latest Coronavirus news delivered to your inbox by subscribing to our newsletter.
---
Subscribe and log in to the Spokesman-Review to read and comment on this story