News > Spokane
Storms wrought chaos, complaints and some successes
A rearview look
Thu., Jan. 15, 2009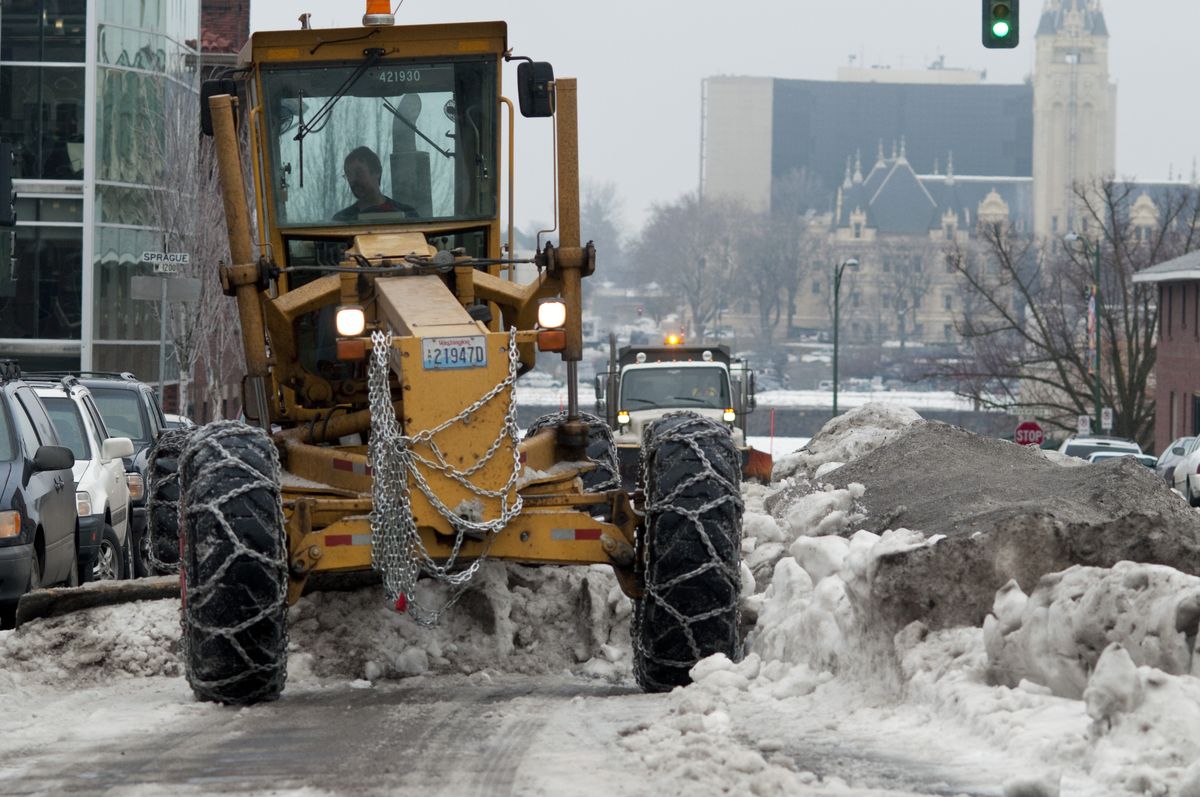 City workers tackle a berm Wednesday on Jefferson Street between Riverside and Sprague avenues. Spokane is considering buying more plows to install on city vehicles. (Colin Mulvany / The Spokesman-Review)
It's already been the toughest winter in Spokane in a generation.
Schools and government offices closed. Businesses shut down during their busiest season. Buses were pulled from streets. Drivers had to depend on chains to traverse even main routes. Pedestrians – and schoolchildren – were forced to walk in traffic lanes because sidewalks were impassable. Roofs collapsed. Even garbage and mail service were delayed.
Last winter, the region got a glimpse of snow-related chaos with a series of storms that brought nearly 31 inches of snow in two weeks. In retrospect, those storms of January and February 2008 seem modest.
Starting Dec. 17, the Inland Northwest received 24 inches in two days and 75 inches in three weeks. December was the snowiest month measured by the National Weather Service in Spokane history.
The weather stretched the abilities of governments to respond, and those responses drew criticism. But there were success stories, too, thanks in part to lessons learned in the earlier snowstorms.
Plowing
•In many cases roads were in worse condition – if they were passable at all – in the early days of December than after the storms of early 2008. Even so, Spokane's city and county officials, in general, were more prepared and faster to respond. One example: The city deployed its grader force earlier and started removing snow in neighborhoods faster. That was partly because, unlike last year, the city had trained its water and sewer employees to use plows and graders before snow began to fall.
•It took five days from the first snowflake of the January 2008 storm before contractors were on the ground moving snow, their efforts supplementing that of Spokane city crews. Over the summer, the city took bids from contractors to be on call. As a result, they were in neighborhoods plowing the day after the first big storm hit in December. Spokane County did not have contracts prepared, but commissioners voted after the first snow to declare a limited emergency to allow the hiring of outside contractors.
•Last winter, Spokane crews did not begin removing center-of-the-road berms downtown until after all the streets were cleared. This time, the city hired dump truck operators to help in an unprecedented assembly-line effort that cost the city about $70,000 a day. •Though some in Spokane viewed the speedy and thorough street plowing in Coeur d'Alene with jealousy, that city's Street Superintendent Tim Martin looked back at the job with some regrets. This year was the first since 1998 that the city suspended use of its snow gates – which prevent berms from blocking driveways – and threw every available vehicle at plowing the city. That meant a fast job, but not a clean job. It also meant city crews had to go back to finish cleaning and clearing after the fact.
•Improvements made last winter, after Spokane city and county officials were showered with complaints, were carried over. From the first day of the December snowstorm, the city regularly updated online maps showing where crews had cleared. City and county spokespeople sent regular updates of progress, road closures and other changes to city services.
Neighborhoods
•John Prosser, a longtime Spokane resident who represents the Rockwood Neighborhood Council on the city's Community Assembly, said city leaders recently asked for neighborhood reaction to the city's clearing efforts: "I would say of the 27 neighborhoods, the general consensus was they felt the city, under the circumstances, did a very good job," Prosser said.
•Some complaints were registered from areas that were last to be plowed. Hillyard was among the last city neighborhoods to see plows – just as it was last winter. Councilman Bob Apple said some constituents speculated that the city prioritized richer neighborhoods. Officials note that Hillyard was among the first to be plowed during the second round of residential clearing and insist that socioeconomics is not a factor in determining where to plow first. City Public Works Director Dave Mandyke, however, said the city is considering changing the priority list, perhaps using population density as an added factor.
•In the past, the city rarely deviated from its snow removal plan. But during a few heavy snowstorms this year, officials sent notice that crews would only work on a few arterials to ensure key routes remained passable. City officials say it's a policy that likely will stick. They are even discussing increasing the public's awareness of the routes, perhaps by marking the streets with snowflake signs.
•A communication breakdown on the first day caused tension between Spokane police and street officials as police closed streets – sending notice that motorists "consider all streets closed" – without informing the street department. That problem was solved for the most part the next day when the city set up a communications center, where a police representative was posted.
Spokane Transit Authority
•The Spokane Transit Authority was hit particularly hard. Last winter, the bus system had to divert some routes because of conditions, but the general effect of the weather was increased ridership as folks abandoned cars for public transportation. This time, however, bus service was cut dramatically – to as low as four of the system's 40 routes.
•On its worst day, STA ridership, usually around 35,000 a day, fell to less than 4,000. Portions of town went without service, including much of the South Hill and Hillyard. STA said the Hillyard route was cut temporarily because its main route in the neighborhood uses Crestline, not Market, which is the street the city prioritized for clearing when conditions were the worst.
•Before the snowfall, STA never used chains because of concerns about damage to buses. But two days into the most recent chaos, officials reversed course and bought chains for the entire fleet. They'll remain in STA's arsenal.
•STA officials said they will work with the city to formulate a plowing policy to improve key downtown routes on which many buses got stuck. They also said before deciding to open a route in the future, they will consider not only if a route is passable at the time, but if it is likely to be so later in the day. That's because closing service midway through the first day of the storm caused some people, especially living on the West Plains, to become stranded downtown.
Idaho
•In the Coeur d'Alene School District, snow on school roofs had not been a big problem until the past two years, Superintendent Hazel Bauman said. Two days of canceled classes because of the snow load on school roofs has the district considering changing its policy. "We will start shoveling sooner rather than later," Bauman said.
•The Coeur d'Alene district spent $100,000 more than it had budgeted for snow removal and has instructed its financial officer to "be generous" with snow-removal budgets in the future, Bauman said. The extra money spent this year means other jobs won't be completed, including parking lot paving and building paint jobs.
•The Lakeland School District in northern Kootenai County is considering placing snowblowers next year on the roofs of schools most vulnerable to heavy snow loads.
•Idaho State Police gave high marks to a new law that requires commercial trucks to chain up on Lookout and Fourth of July passes. That helped ease traffic congestion and accidents on those passes.
Making the calls
•Spokane County Commissioner Mark Richard dinged himself and other county leaders for not making the call to close the county courthouse campus more quickly Dec. 17. The decision was made at 8 a.m. "That decision needed to be made no later than 5:30 a.m. so we could get the message out to our employees and our public," Richard said. •Spokane administration leaders were more visible this year. Last winter, Mayor Mary Verner held her first press conference five days after the storm hit, during which she famously said, "Folks, it's just snow" – a comment arguably taken out of context, but also cited by some as proof that the city wasn't taking snowplowing seriously. This time, Verner held her first news conference on the same day the storm hit and several more in the weeks that followed.
•In general city and county leaders say that doing better would mean adding more resources at taxpayer expense. Still, Verner said the city is considering purchasing more plows that could be installed on existing city vehicles, such as Water Department dump trucks not normally used for winter clearing. Public Works Director Mandyke added the city also is looking at ways to cut the cost of removing downtown berms and is starting to develop parking regulations to keep streets clearer when plows move through.
•Spokane Valley Mayor Rich Munson noted that private contractors cost about twice as much as county employees to do the same job. His city contracts with the county to perform snow clearing. "The problem we face is that if we plan equipment for the 100-year event and we have a normal winter, we would have all that equipment sitting idle and that's a complete waste of taxpayers' money," Munson said.
•Spokane County's Richard said overall he would grade the county's response to last year's snow as a C-plus or B-minus. This year, he'd give it a B-plus. "My grade may be different than a citizen living on a residential street. But just like them, I had to deal with a foot of snow plowed into my driveway just minutes after I shoveled it," he said. "But I think we worked exceedingly well as a community."
Local journalism is essential.
Give directly to The Spokesman-Review's Northwest Passages community forums series -- which helps to offset the costs of several reporter and editor positions at the newspaper -- by using the easy options below. Gifts processed in this system are not tax deductible, but are predominately used to help meet the local financial requirements needed to receive national matching-grant funds.
Subscribe now to get breaking news alerts in your email inbox
Get breaking news delivered to your inbox as it happens.
---