Post Falls senior ready for run
Stronger, faster Justin Carter knows this is his last shot to make mark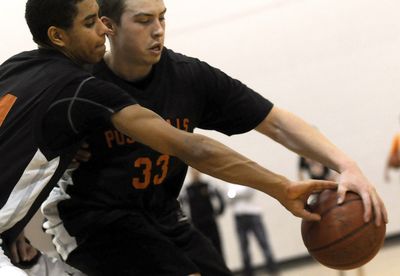 Justin Carter understands what people mean when they say the best days for the Post Falls High boys basketball team are down the road.
After all, two starters are juniors, one is a sophomore and one is a freshman. Carter is the lone starting senior.
Four of the starters, including Carter, picked up immeasurable experience as starters last year. Carter has no problem admitting that the future is bright.
He also believes that the future is now.
"I can't wait until next year. This is my senior year," the 6-foot-2 wing said. "I want to go out with a bang. Me and the other seniors want to leave something to be remembered by."
So far so good. The Trojans got off to an unexpectedly fast start, going 7-0 in December and winning their first game of January – a thrilling 89-87 victory at the buzzer at Pasco.
Carter has been at the forefront of Post Falls' success. He's averaging 15.3 points per game, one-tenth behind junior Shawn Reid, and nearly double his average from a year ago. Carter also is averaging five rebounds per game.
"He's our most improved player," second-year coach Mike McLean said.
And he hasn't had a bad game. "He's been our most consistent player," assistant coach Marc Allert said.
He had to limit his participation in the first week of practice to just shooting after it was discovered he was at the tail end of a bout with mononucleosis.
Carter had his wisdom teeth pulled earlier this fall. Then he noticed he didn't have much energy, and attributed his sickness to the extraction.
Finally, just before the first practice in November, he went to the doctor. An ultrasound revealed he had an inflamed spleen, so he couldn't participate in the first week of practice.
"I was champing at the bit to practice," Carter said. "It was tough to sit out."
Especially considering Carter had dedicated himself in the weight room to get himself as ready as possible for this season.
McLean challenged Carter to make himself a better player by starting in the weight room.
"We sat down and talked – talked about his expectations," McLean said. "He wants to play in college. So I told him he had to get stronger and more explosive.
"He's really transformed his body," McLean said. "He's always been a big-bodied, big-shoulder kid. But from last year to this year he's worked as hard as anybody in the high school in the weight room."
In the process, Carter dropped some baby fat and turned it into muscle.
"I'm in the best shape of my career," Carter said. "I pushed myself hard in the weight room. I realized I needed the extra strength."
Carter's grandparents, who hadn't seen him for a while, noticed the physical change.
"I wasn't in the best shape I could have been last year," Carter said. "I just decided I didn't want to hold anything back."
Not only does he notice the strength, but he's quicker.
The strength has paid dividends offensively. When he posts up, he's usually guarded by a taller player.
"I think my post game is one of my strong suits," Carter said.
McLean agrees.
"He's not only stronger, but he's smart," McLean said. "He really knows how to use his body and work angles. He can seal players off well."
Another thing McLean appreciates is Carter's maturity.
"He understands what he can and can't do on the court," McLean said. "He usually doesn't put himself in situations where he can get in trouble."
His shooting also has improved. He's now comfortable behind the 3-point arc.
"Last year, his shooting was streaky," McLean said. "This year he's a legitimate 3-point threat."
Said Carter: "I'm way more confident this year."
The Trojans, in general, are a more confident team this season, too.
"We've improved a lot," Carter said. "I think we're pretty close to where we want to be. We've taken some big steps forward from last year. There's a night-and-day difference. Our team chemistry is a lot better."
It's started in practice.
"Our practices are no walk in the park," Carter said. "We know we're going to have to play even harder in league."
Carter knows that he and his team must improve more to reach their season goals.
"We have to take it to another level," Carter said. "We're pretty confident right now, but we know we have to get better."
For Carter, it has to happen now. "It's on my shoulders because I'm a senior."
---