News > Idaho Voices
A furry, friendly face
Hospice of North Idaho adds canine to care-givers
Sat., Jan. 24, 2009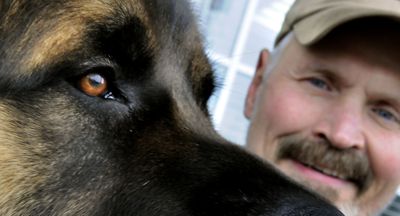 When local veterinarian David DeLong died earlier this year, it seemed fitting to honor him in a way that reflected his love for animals.
Thanks to the generous financial donations from Delong's family, friends and the community, a pet-companion program has been launched at Hospice of North Idaho.
"This program will provide comfort and support for our hospice patients, their spouses, children and extended family as well as honor the caring legacy of Dr. DeLong," according to Mary Neel, Hospice of North Idaho director of volunteer services.
The companionship of a pet provides numerous physiological, emotional and psychological benefits, according to Neel. Companion pets give unconditional love, boost self-esteem, relieve loneliness, and offer comfort and friendship.
Currently, Hospice of North Idaho has one certified pet dog, Caliber, and an owner who is in training.
"Pets encourage smiles and laughter which allow patients to forget their pain and sorrow for a period of time," says Neel. "We consider the companion pet and owner an integral part of the Hospice care team."
Qualifications for Hospice companion teams are stringent. Pets chosen for the program are required to complete a nationally recognized certification test and pass a veterinarian health exam.
Pets must be obedient with friendly, loving and predictable personalities. In addition, pet owners must be sensitive, respectful, and comfortable dealing with issues around dying and loss. The owners are required to complete Hospice of North Idaho's volunteer training program.
Hospice of North Idaho is a nonprofit organization that provides compassionate care to those who have been diagnosed with a terminal illness, and to whom a cure is no longer an option. With more than 170 employees and care-giving and spiritual-care volunteers, the Hospice of North Idaho team has given care to thousands of patients and their loved ones in Kootenai, Benewah and Shoshone counties for 27 years.
Thanks to the generous support of the community, Hospice is able to provide services to anyone in need of hospice services regardless of ability to pay.
"Hospice of North Idaho's charitable case load for 2008 was up 30 percent compared to the previous year," said Executive Director Paul Weil.
In 2008 Hospice of North Idaho provided 2,742 days of free care which equates to more than $270,000 of free services.
"Regardless of the strain on our budget no one who needed our services was denied care," Weil said.
For the last 23 years, a significant portion of fundraising income comes during its annual Winter Wine Taste and Auction. This year's event will be held at the Hayden Lake Country Club, Feb. 7. Tickets are $100 each. Last year's event raised $85,000, and this year's goal is to raise an equal amount.
The wine taste is a community run and sponsored event with little overhead costs. The wine taste committee consists of a group of volunteers, chaired by Alison Pollard Gonsalves, who donate their time procuring auction items and organizing the event.
In addition to charitable care, fundraising income is used to help cover the costs of Hospice of North Idaho's community outreach services.
"Our bereavement program has been able to develop multiple support programs including a grief program for youth thanks to the generosity of our community," says Weil.
Fundraising income was also used to initiate a Community Palliative Care Program. This program fills a gap in our community's medical care system. The program is designed for people diagnosed with a terminal illness and a limited prognosis and who are not receiving hospice care.
According to Weil, palliative care addresses the multidimensional needs and goals outside of the curative model of health care. The current research in end of life care emphasizes the need for a person to understand what they face, what they want most to avoid, and what they want most to happen before a crisis leading to death.
"Often these kinds of conversations never occur and a person's quality of life at the end of their life is adversely affected," says Weil.
Local journalism is essential.
Give directly to The Spokesman-Review's Northwest Passages community forums series -- which helps to offset the costs of several reporter and editor positions at the newspaper -- by using the easy options below. Gifts processed in this system are not tax deductible, but are predominately used to help meet the local financial requirements needed to receive national matching-grant funds.
Subscribe to the Coronavirus newsletter
Get the day's latest Coronavirus news delivered to your inbox by subscribing to our newsletter.
---