News > Spokane
Boy testifies about sister's death
Father let kids hike away from car in snow
Sat., Jan. 24, 2009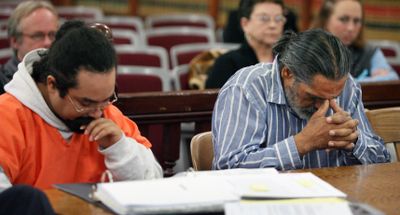 SHOSHONE, Idaho – Before a 12-year-old boy and his younger sister tried to hike 10 miles in the freezing cold on Christmas Day, their father offered them a single caution and then stayed behind to free his car from a snowdrift.
"He said: Be safe and stick together," said Bear Aragon, who testified in 5th District Court on Friday, about a month after his sister died of apparent hypothermia.
Bear was among witnesses who testified at a preliminary hearing as an Idaho prosecutor sketched out his case against Robert Aragon, a 55-year-old laborer who had custody of the children.
Aragon is charged with involuntary manslaughter and felony injury to a child after his son suffered hypothermia and his 11-year-old daughter, Sage, died.
Aragon's cousin, Kenneth Quintana, had been in the car and faced the same charges. But Judge Mark Ingram dismissed the counts against Quintana on Friday after defense lawyer Doug Nelson argued his client did not have custody of the children when they were allowed to walk.
"The root of all of this is a decision Mr. Aragon made to allow his children to walk," said Lincoln County Prosecutor E. Scott Paul. "It resulted in the death of one of his children."
Aragon and Quintana were driving the children to see their mother on Dec. 25 when Aragon's 1988 Buick Century got stuck in a snowdrift.
The children set out in drifting snow, in temperatures that ranged from 27 degrees to minus 5, and winds gusting to 25 mph.
Last week, the prosecutor dropped murder charges he initially filed against both men.
During the hearing, the boy said he decided to walk to his mother's home and find help after the car got stuck.
"I told my sister it was up to her if she wanted to go," he said.
Sage Aragon did go with her brother, and they plodded through the snow-covered desert for several miles before she decided to turn back toward the highway and the children split up.
Sometime after the children began walking, Aragon was able to free his car from the snowdrift and drive back to his home in Jerome.
The children's mother, JoLeta Jenks, called Aragon to say the kids never arrived.
When authorities found Aragon about 10 p.m. that night, he was searching for the children where the car had become stranded. Searchers found the boy about an hour later, huddled in a deserted rest stop more than four miles from where he and his sister started walking.
Early the next morning, a search dog found Sage Aragon's body covered in snow, wearing a down coat, shirt, pink pajama pants and snow boots.
Local journalism is essential.
Give directly to The Spokesman-Review's Northwest Passages community forums series -- which helps to offset the costs of several reporter and editor positions at the newspaper -- by using the easy options below. Gifts processed in this system are not tax deductible, but are predominately used to help meet the local financial requirements needed to receive national matching-grant funds.
Subscribe to the Coronavirus newsletter
Get the day's latest Coronavirus news delivered to your inbox by subscribing to our newsletter.
---