News > Idaho Voices
Charities need your help
Harsh winter, poor economy have dealt blow to organizations that aid the needy
Sat., Jan. 24, 2009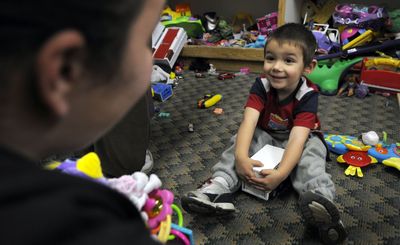 It's typical this time of year for charities to experience a slowdown.
After the rush of holiday-inspired and end-of-year giving, pocketbooks are slimmer and energies are devoted elsewhere. Service providers, however, traditionally stockpile the good will and food and checks, and typically it's enough to carry them through to spring.
This year, however, with the pressures of a hard winter and a bad economy, some North Idaho charities fear the cupboard will be bare long before spring.
"The weather didn't do us any favors," said Jeff Conroy, executive director of St. Vincent de Paul of North Idaho, which serves the five northern counties. "Snow removal killed us. We have senior housings, so we have to keep things clear."
Not just senior housing. The agency provides housing services for women, men and families. In addition to keeping snow clear at the agency's thrift stores in Post Falls and Coeur d'Alene, work needed to be done at the various housing complexes.
"We all have to do the snow removal, just like the city does," Conroy said. "The city blew their budget up, and we're no different.
"Just as the city blew its budget on snow removal, we blew our budget on snow removal," he added.
There also was some damage from flooding at the St. Vincent warehouse, and some product was lost.
Compounding the problem is that the heavy snow kept all but the hardiest shoppers away from the thrift stores, which generate most of the agency's income. The numbers of items donated to the thrift stores declined, too. Traffic, however, has started to pick up.
"It's back to what it was pre-snow," Conroy said.
Like other charitable groups, St. Vincent de Paul of North Idaho looks back at 2008 and keeps a wary eye on 2009. St. Vincent recorded an 18 percent hike in services from 2007 to 2008 levels. The Coeur d'Alene store alone gave out close to $35,000 worth of clothing, shoes, blankets, coats and sleeping bags to those in need, he said.
"I was stunned. It was incredible," Conroy said, reviewing 2008 figures. "Just in client services, rent vouchers and gas vouchers alone was over $37,000."
There also was $19,200 in utility bill assistance. "The numbers are staggering," Conroy said. He doesn't expect those numbers to decline this year.
"We're seeing a lot more families now," he said. "We have families who are working. They're working at the local restaurant or working construction. They just can't afford an apartment."
Conroy said St. Vincent is contemplating additional fundraising campaigns in the spring. In the meantime, one outgrowth of the sour economy offers the agency a slice of hope – more people are likely to shop thrift stores.
"That's where we were headed before the last snow storm," Conroy said. "The middle class has found us. They're checking us out before they head to the mall."
Post Falls Food Bank experiences a significant weather-related loss last month. When snow on the building's roof came off at once rather than in increments in late December, it knocked out the electrical system. That led to the eventual failure of the food bank's four freezers. The contents of the freezers, everything from elk to donated 4H pork, had to be quickly emptied and distributed to area soup kitchens that could put the meat to immediate use. The cost to replace the meat? Roughly $17,000.
"It's a loss, but it's something we can recoup from," said food bank board member Mark Jones.
While little of the meat went to waste, Jones said, the food bank is still in a tight spot. When clients come to get their monthly meat distribution, there's none to give.
"We have nearly 200 cubic feet of freezer space that's near empty," he said.
Beyond catastrophic issue with the freezers, the food bank finds itself in the same position as other area charities – serving more people with fewer dollars. Overall, said food bank manager Cathy Larson, the agency is doing OK, buffeted by the community's generosity over the holiday season. But if 2009 is at all like 2008, it could be a lean spring and summer.
Usually, the food bank does a big fundraiser and food drive in April, and that's enough to get the agency through to November. In 2008, when gas prices hit $4 and the economy started shedding jobs, the agency began to run out of food, she said.
"This (last) year, we were so down, we had to do more fundraisers and get more food by July and August, simply because of increased demand," Larson said. "We were out of so many items this year. We just ran out of them because we're serving so many people."
Many thousand more. In 2007, the agency distributed 53,000 food boxes and food items to clients and area soup kitchens. In 2008, that number jumped to 78,674.
Still, she's optimistic. "We have an awesome community, when they know things are down, they help," she said.
Kevin Kram, executive director of Cherished Ones Ministries, which runs a Saturday night soup kitchen in Coeur d'Alene, said things are slow all over.
"Just talking to people, everybody's down," he said.
In one aspect, his organization's program was down in a surprising way. Fewer people in recent weeks were coming in for Saturday's meal. It's one good thing that can be attributed to the rotten weather.
"Right now the numbers are down a little bit because a lot of the guys that we usually serve have been working, digging snow and shoveling roofs," he said. He doesn't expect it to last long, however. "Within a week they'll be back."
Cherished One served more than 10,000 meals last year. With the economic crisis hovering overhead and layoffs hitting around the region, he doesn't expect that number to go down.
But he also sees people willing to help others. He'll see clients come to the Saturday dinner and share information about available jobs with others. They're helping others with the snow. They're helping however they can.
"One of the things I'm seeing that's encouraging, even with the economy going belly up, is a lot of people are helping each other more," he said.
Local journalism is essential.
Give directly to The Spokesman-Review's Northwest Passages community forums series -- which helps to offset the costs of several reporter and editor positions at the newspaper -- by using the easy options below. Gifts processed in this system are not tax deductible, but are predominately used to help meet the local financial requirements needed to receive national matching-grant funds.
Subscribe to the Coronavirus newsletter
Get the day's latest Coronavirus news delivered to your inbox by subscribing to our newsletter.
---