News > Idaho Voices
Wrestler plans to stay on top
Garret Belgarde of Sandpoint hopes to place at state this year
Sat., Jan. 24, 2009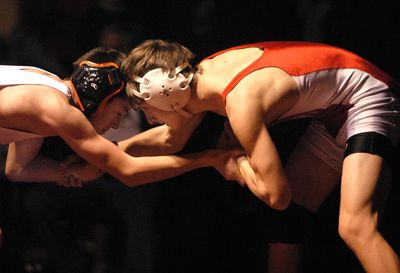 Garret Belgarde started his freshman wrestling season last year at Sandpoint High School ranked No. 1 in the 4A poll at 103 pounds.
He fell one win short of placing at state, finishing the year 29-9 overall.
Belgarde again finds himself ranked No. 1, and that's where he hopes to finish this season.
There are plenty of signs that Belgarde is poised to make a run at a high placing at state, if not win a championship.
"I really thought he could have won a state title last year," Sandpoint coach Mike Randles said. "At the beginning of the year when he was ranked No. 1, I felt my prophecy was going to come true. He ended up losing to some guys he had beaten during the year."
Belgarde isn't sure what happened.
"I was really nervous being a freshman," he said. "I didn't wrestle up to my potential. I was kind of disappointed. I just figured I had to work harder this year if I want to do better."
Belgarde opened this year by winning a title at the traditionally difficult Tri-State tournament at North Idaho College. Unseeded, Belgarde upended top-seeded Coeur d'Alene senior Andrew Palmer, who is ranked No. 1 in 5A, 17-7 in the semifinals. He then pinned Chad Booth of Post Falls in 3 minutes, 16 seconds to secure the title.
"He wrestled very well at Tri-State," Randles said. "I talked to him before his semifinal match and made it very clear that all he had to keep doing was what he had been doing."
In a word, attack describes Belgarde's style.
"As soon as the whistle blows he attacks," Randles said. "An opponent can shoot first on him, but they're still going to be attacked. That's what happened against Booth at Tri-State. (Booth) shot but he ended up being pinned."
Belgarde, who started the week 17-0, followed with a championship at the Riverside tournament and went 5-0 last weekend at the River City Duals.
Randles said that Belgarde reminds him a lot of his older brother, Gale.
Gale Belgarde placed at state once, finishing sixth his freshman year.
"He's the best kid I ever coached that never placed higher than sixth," Randles said. "Nerves always seemed to be Gale's undoing."
Two of the most bizarre incidents Randles has witnessed as a coach involved Gale Belgarde.
One year at state, Gale Belgarde was winning 15-1 but got pinned with one second left in the match.
"It's one of the strangest things I've ever seen," Randles said. "It was unbelievable to watch."
Then in Gale Belgarde's senior year at state, he was manhandling an opponent.
"In the third period he slipped off the top of the kid and got pinned," Randles said. "He beat several state placers in his career. But once you put him on the big stage he was a different kid."
Garret Belgarde has many of his brother's best qualities.
"The aggression is a mirror image," Randles said. "They're both very explosive and aggressive. Hopefully I can get out of Garret what I couldn't get out of Gale. I think it's there. All you have to do is look at Tri-State."
Garret Belgarde credits his improvement to having gone against eventual state champ Tim Pepperdine (112) in the practice room last year.
Most of all, though, Belgarde is thankful to be coached by Randles.
"He's a good motivator," Belgarde said. "He coaches what works. He always encourages you to attack. No matter what position you're in you need to always be attacking."
Belgarde was a little undersized at 103 last year. He stood 5-foot-1 and barely weighed 100 pounds. He's grown three inches and gained about 12 pounds the past year.
When he's not wrestling, Belgarde is usually doing his other passion – hunting.
He killed his second elk this fall. He's bagged four deer not to mention countless ducks, geese, turkeys and grouse.
He has a state title in his sights at the moment.
"He's got a lot of natural abilities to go with being aggressive," Randles said. "That's a lethal combination in this sport."
Local journalism is essential.
Give directly to The Spokesman-Review's Northwest Passages community forums series -- which helps to offset the costs of several reporter and editor positions at the newspaper -- by using the easy options below. Gifts processed in this system are not tax deductible, but are predominately used to help meet the local financial requirements needed to receive national matching-grant funds.
Subscribe to the Coronavirus newsletter
Get the day's latest Coronavirus news delivered to your inbox by subscribing to our newsletter.
---