News > Washington Voices
New coaches find success at Freeman
Freeman boys and girls programs well ranked
Sat., Jan. 24, 2009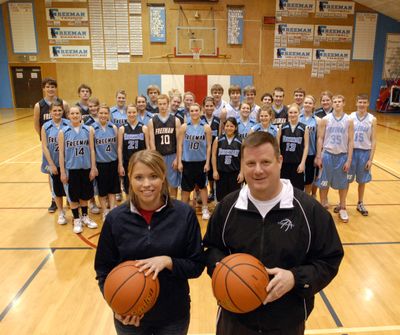 Life is different at the head of the bench.
Ashlee Taylor, the first-year head girls basketball coach at Freeman High School, found out just how different.
"We came back from playing down in Yakima and I couldn't believe just how exhausted I was," Taylor laughed. "I couldn't believe how much energy these girls have. I'm 21 years old and I still had trouble keeping up with them."
Still, the Freeman grad has her Scotties channeling all that energy in the right direction. Freeman was 14-0 and ranked No. 3 among Class 1A teams heading into Friday's game against Lakeside.
Taylor's boys basketball counterpart, Bill Bland, found things a bit different as the first-year coach of the Scotties.
"I had been out of coaching for 11 years, but I had coached for 16 years before that, including being fortunate enough to have coached college basketball," he said. "What's different this time around is that I have a first-grader of my own now."
Bland and the Scotties were 13-1 record and ranked No. 4 in the state heading into Friday's game against Lakeside. The team's only loss was to former Northeast A League rival Northwest Christian, currently undefeated and ranked No. 1 in Class 2B.
"Northwest Christian is one of those schools that has really built a program the right way," Bland said. "We're modeling what we do on them."
Bland's squad has played solid defense, allowing a team to score 40 or more points four times in their first 14 games, including Northwest Christian's 47-38 victory. The only NEA team to score more the than 40 was Chewelah in Freeman's 56-47 road win last week.
Bland began his coaching career at a Catholic high school in Chicago and went on to spend time as an assistant coach at St. Bonaventure in New York and a five-year stint as head coach at Division II St. Joseph in Rensselaer, Ind., before leaving the court to concentrate on a business career.
"I spent a lot of time watching high school basketball," he said. "The thing that impressed me is how hard they work at playing the game. I noticed that the teams that habitually worked the hardest were the ones who enjoyed the most success and I began to apply that observation."
Given a choice between having a steady stream of athletes willing to work hard or the occasional extraordinary basketball player, Bland does not hesitate.
"I wouldn't trade hard-working athletes," he said. "And I like the way our athletes are coming together. We have good balance and we're building good chemistry."
That chemistry applies to his head-coaching colleague.
"Bill is a great coach and he's been a terrific resource for me," Taylor said. "He's been a great supporter of the program."
Taylor has another head coach in her corner: former Freeman head coach Matt Gregg, who left to take over the women's basketball program at Warner Pacific this season.
"It's great to have someone like Matt checking and answering questions," she said. "He drove up to watch the girls play in Yakima and it was great for them to get the chance to see him and be with him."
Taylor said she believes her team's best basketball still is ahead of them, but is pleased with the way the team has grown this season.
"These girls are focused on winning a state championship," she said. "That's why it was good for us to go down and play in Yakima so we could get a taste of what it would be like to play (in the SunDome). It's a whole different atmosphere down there. You have different shooting backgrounds and it takes some getting used to."
The Freeman girls average more than 61 points per game and have a trio of sharpshooters capable of scoring 20 points or more on any given night.
Senior guard Carly Heinen, the league's MVP a year ago, pumped in 20 points against Northwest Christian. Junior Megan McIntyre stepped up big against a pair of Class 2A schools, tossing in 25 against Cheney and another 24 against Deer Park. Sophomore MacKenzie Taylor, the coach's sister, hit for 25 in the season opener against Kellogg and another 22 at Chewelah last week.
With both teams on a roll, the atmosphere in the Freeman gym on game night is impressive.
"We have great fans here," Taylor said. "But when both of our teams are doing so well, it gets pretty loud in there. The great thing about is how the kids support one another. On the nights when the boys play the first game, they're showered and back on the bench by the time we tip-off so they can cheer us on. The girls are the same about supporting the guys."
Local journalism is essential.
Give directly to The Spokesman-Review's Northwest Passages community forums series -- which helps to offset the costs of several reporter and editor positions at the newspaper -- by using the easy options below. Gifts processed in this system are not tax deductible, but are predominately used to help meet the local financial requirements needed to receive national matching-grant funds.
Subscribe to the Coronavirus newsletter
Get the day's latest Coronavirus news delivered to your inbox by subscribing to our newsletter.
---