News > Spokane
Two arrested in Walgreens robberies
Sun., Jan. 25, 2009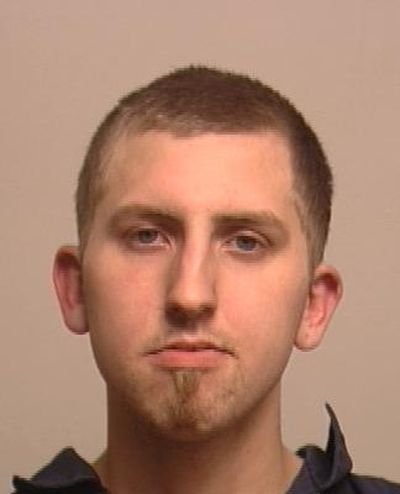 Spokane and Post Falls police on Friday arrested two suspects in connection with separate OxyContin robberies.
Michael Alan Miller, 24, of Coeur d'Alene, was arrested overnight in Post Falls. He was wanted for a knife-point robbery at the North Argonne Walgreens in Millwood on Jan. 13. According to police, he held a knife to a customer's throat and demanded OxyContin and methadone before fleeing the scene.
He was arrested at a Post Falls hotel, based on a tip received by Crime Stoppers in Spokane, said Post Falls police in a news release.
Miller is being held at the Kootenai County Jail in Coeur d'Alene, pending extradition or waiver of extradition to Spokane County, said Spokane County Sheriff's Sgt. Dave Reagan in a news release.
Major crimes detectives with the Spokane Police Department arrested Joshua G. Dixon, 26, and booked him into the Spokane County Jail for first-degree robbery. Dixon and Richard T. Ludvik, 23, are suspected of robbing a clerk Wednesday night at the Walgreens at 29th Avenue and Grand Boulevard. One of the suspects threatened pharmacists with a knife and demanded OxyContin, according to police.
Ludvik is still at large. Anyone with information on his whereabouts is asked to call (509) 242-TIPS.
Lincoln County
Power restored throughout county
The lights are back on in Lincoln County.
After more than week of power failures, Inland Light and Power today got the last of the repairs completed, said company spokeswoman Catherine Markson.
"We're all cleaned up," she said.
The trouble started more than a week ago, when a stubborn system of freezing fog settled over the area. Ice accumulated on trees and power lines, leading to downed lines throughout the county. A number of power poles snapped in the area, as well. At the height of the problem, 3,200 customers were without power, Markson said, adding that at some point, every customer in the county lost power.
"Even the old-timers are telling us they've never seen anything like this," Markson said.
Spokane County
Man on probation booked on meth charge
A man already on probation for manufacturing methamphetamine has been arrested on suspicion of operating another lab.
Two Spokane County sheriff's deputies arrested Jerry Francis McDowell, 47, and Natalie Ann Miller, 37, as they drove away from McDowell's home at 12509  1/2 N. Freya St. on Friday evening. The officers found eight small baggies of meth on Miller, according to Sgt. Dave Reagan.
Reagan said detectives, who had asked the deputies to watch the house, got a search warrant and found a meth lab inside the house as well as about 2 ounces of the drug.
McDowell was booked into jail on suspicion of manufacturing meth; Miller, on suspicion of possession.
Region
Dog biscuits recalled as precaution
Albertsons stores are recalling dog biscuits that may contain peanut butter contaminated with salmonella.
Spokeswoman Donna Eggers said the recall applies to 26-ounce and 4-pound packages of Happy Tails Multi-Flavored Dog Biscuits. She said customers may return the biscuits for an exchange or a full refund.
Eggers said Albertsons voluntarily recalled the dog biscuits as a precaution after Peanut Corporation of America announced a nationwide recall of peanut butter and peanut paste that may have been used in the biscuits. The peanut butter and peanut paste was produced in Peanut Corp.'s Blakely, Ga., plant.
The Happy Tails dog biscuits were sold in Albertsons stores in Washington, Idaho, Montana, Oregon, Utah, Wyoming, Nevada and North Dakota. The biscuits have not been directly linked to the salmonella outbreak that prompted the recalls, Eggers said.
Citing the U.S. Food and Drug Administration, Eggers said salmonella may cause fever, vomiting and bloody diarrhea, but some infected pets may have only decreased appetite, fever and abdominal pain. She said owners of any pets that ate the Happy Tails dog biscuits should contact a veterinarian.
Pets that aren't sick could still carry the bacteria and spread it to other pets or to people, Eggers said.
The recalled biscuits are identified by uniform product codes 41163-42406 and 41163-42403.
For more information, call Supervalu Inc. at (877) 932-7948 or check the FDA's Web site, www.fda.gov.
GRAHAM, Wash.
Mourners recall boy killed at truck show
Baby sitters, classmates and teachers were among those who spoke at a memorial for a 6-year-old boy who was killed at a monster truck show.
About 250 people gathered Saturday at Frontier Junior High in Graham to celebrate Sebastian Hizey's life, support his family and share in the community's grief. The boy was killed Jan. 16 at the Tacoma Dome when he was hit in the head by flying debris.
Mary Morley, the victim's kindergarten teacher, choked up with emotion, saying, "Actually, he was my teacher. To know him was to know an angel."
Fellow Graham Elementary School kindergartner Seth Brown stood before the assembled crowd and remembered his friend. Brown, also 6, said, "I asked him to play with me and he said yes."
From staff and wire reports
Local journalism is essential.
Give directly to The Spokesman-Review's Northwest Passages community forums series -- which helps to offset the costs of several reporter and editor positions at the newspaper -- by using the easy options below. Gifts processed in this system are not tax deductible, but are predominately used to help meet the local financial requirements needed to receive national matching-grant funds.
Subscribe to the Coronavirus newsletter
Get the day's latest Coronavirus news delivered to your inbox by subscribing to our newsletter.
---