Sports
Lakers breeze to easy victory over San Antonio
Mon., Jan. 26, 2009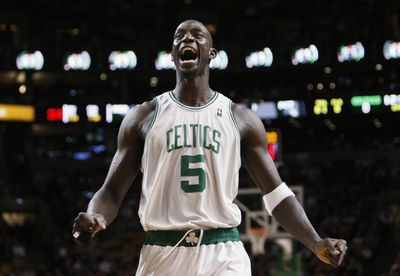 Kobe Bryant scored 22 points before sitting out the fourth quarter, Pau Gasol added 16 points, five rebounds and four assists, and the Lakers routed the San Antonio Spurs 99-85 Sunday at Los Angeles.
The win was the fourth straight and 14th in 17 games for the Lakers (35-8), whose .814 winning percentage is the best in the NBA although the defending champion Boston Celtics (37-9) lead them by a half-game in the overall standings by virtue of their victory over Dallas.
•Celtics blow out Mavericks: Ray Allen scored 20 of his 23 points in the first half when Boston opened a 27-point lead, and Eddie House added seven 3-pointers to help the Celtics beat the Dallas Mavericks 124-100 at Boston and give the defending NBA champions their eighth straight victory.
•Suns snap skid at Atlanta: Amare Stoudemire scored 23 points, and Shaquille O'Neal had 19 points and 11 rebounds to help Phoenix snap a three-game losing streak with a 104-99 victory over the Atlanta Hawks.
•Rockets beat slumping Pistons: Ron Artest scored three of his 24 points at the line in the final 14 seconds, helping Houston hold off Detroit for a 108-105 win at Auburn Hills, Mich.
Luis Scola, who started for Yao Ming, had 21 points, and Tracy McGrady scored 15. The Rockets played from ahead for much of the night after scoring 39 points in the first quarter, but had to withstand a late rally to win.
Cycling
Armstrong confident
Lance Armstrong departed Australia confident that the two key areas of his comeback are on track.
The seven-time Tour de France winner finished 29th overall in the Tour Down Under, 49 seconds behind winner Allan Davis of Australia, but was satisfied with his ability to keep up with top riders after 3 1/2 years out of professional cycling.
Armstrong says that his fitness is more advanced at this stage of the season than at any time in his career, and that after his time away he still has the legs to match younger riders. And his quest for an eighth win in the Tour de France in July this year, the competitive goal of his comeback, is "right on line."
Armstrong believes he also advanced the other focus of his return to cycling, expanding global awareness of cancer through his Lance Armstrong Foundation.
Auto Racing
Donohue wins at Daytona
Forty years after his world-famous father, Mark, won the race, David Donohue earned his own spot in motorsports history by holding off NASCAR Sprint Cup driver Juan Pablo Montoya for the overall victory in the 47th annual Rolex 24 Hours at Daytona in Daytona Beach, Fla. That margin of victory: .167 seconds.
Donohue's co-drivers were former Indianapolis 500 winner Buddy Rice, Darren Law and Antonio Garcia. Montoya's teammates were Indy Racing League champion Scott Dixon, Scott Pruett and Memo Rojas. Their Lexus-powered Ganassi Racing Riley is the defending champion of the race. Montoya was going for his third straight 24 Hours of Daytona win, Ganassi's team for its fourth.
Winter X games
White rallies to win
Snowboarder Shaun White was trailing going into his final run, his tricks betraying him as he wiped out on his first two attempts.
Pressure?
Please. Not for Shaun White.
The "Flying Tomato" put it all together on his final run to become the first athlete to win back-to-back titles in the superpipe at Winter X, edging out Kevin Pearce at Aspen, Colo.
White also won the slopestyle event the day before, capping off a remarkable competition for the boarder known for his flowing red locks.
Stanley Hayer of Canada won the skier X event on a day when the Americans weren't at their best. Daron Rahlves finished fourth and Casey Puckett, a two-time winner in skier X, didn't make it out of qualifying.
Also, Ophelie David of France had to work for her third straight gold in women's skier X, nosing out Magdalena Jonsson at the finish.
Skiing
Albrecht still in coma
Swiss skier Daniel Albrecht remained in stable condition but was still in an induced coma at Innsbruck, Austria, three days after injuring his brain and lungs in a crash during training for a World Cup downhill.
Albrecht had a "quiet and very stable" third night at the Innsbruck University hospital, but doctors postponed the wake-up procedure after his multiple injuries.
Albrecht lost control after flying through the air for about 130 feet, landing on his back and coming to a stop near the finish line of the famously difficult Streif course in Kitzbuehel on Thursday.
•Vonn extends overall lead: Kathrin Zettel led an Austrian sweep in a women's giant slalom at Cortina d'Ampezzo, Italy, and Lindsey Vonn of the United States extended her overall World Cup lead by finishing 10th.
Vonn extended her lead in the overall standings on Maria Riesch, who did not finish the opening run, and Anja Paerson, who placed 18th after nearly skiing off course a few gates from the finish.
•French finish 1-2 in slalom: Julien Lizeroux edged Jean-Baptiste Grange in a 1-2 French finish at Kitzbuehel, Austria, in a men's World Cup slalom in which American Bode Miller went out early in the first run after missing a gate.
American Ted Ligety, who was 19th after the opening run, went out in his second run.
Miscellany
U.S. speedskaters shine
Jenny Wolf of Germany won the women's 100- and 500-meter races at Kolomna, Russia, while Tucker Fredricks of the United States gained his first win this season in the men's 500.
World sprint overall champion Shani Davis of the United States, who sat out Saturday's 1,000 after cutting his leg with one of his skates in a 500 earlier in the day, clocked 1 minute, 9.22 seconds to finish fourth in the 1,000. He earned 60 points and remains on top of the standings.
•Italian dominates luge: Two-time Olympic champion Armin Zoeggeler of Italy won a men's luge World Cup race at Altenberg, Germany, by beating two Germans on their home track.
Zoeggeler has won four of the past five World Cup races and leads the overall standings.
•Bowler lucky in Vegas: Patrick Allen won the PBA H&R Block Tournament of Champions at Red Rock Lanes in Las Vegas, after an errant shot by his friend and roommate Rhino Page.
Allen slipped past Page 267-263, to win his second career major championship.
Local journalism is essential.
Give directly to The Spokesman-Review's Northwest Passages community forums series -- which helps to offset the costs of several reporter and editor positions at the newspaper -- by using the easy options below. Gifts processed in this system are not tax deductible, but are predominately used to help meet the local financial requirements needed to receive national matching-grant funds.
Subscribe to the sports newsletter
Get the day's top sports headlines and breaking news delivered to your inbox by subscribing here.
---