News > Spokane
Shelters full as warming centers
Some directors see new faces with cold weather, may see more with frigid economic climate
Thu., Jan. 29, 2009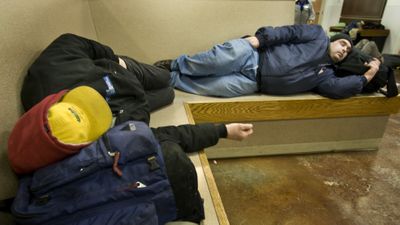 On days when the House of Charity opens its day room as a warming center because of extreme cold, director Ed McCarron has noticed new faces among the homeless seeking shelter.
"We have seen guys we don't know," McCarron said. "They look like it's new to them. You can just see it in their faces."
Homelessness, a chronic problem in Spokane, may become more prevalent in the severe economic downturn as Washington companies shed jobs by the thousands. The annual winter homeless count, which occurs today, will give human services officials a better grasp of the impact on the city's working poor.
"I can't say the economy has had an effect," McCarron said of the number of homeless that seek shelter at the House of Charity. "But if it keeps going like this it certainly will."
At the Truth Ministries homeless shelter on East Sprague, director Marty McKinney has noticed more men staying until they can find jobs, as opposed to the chronic homeless with drug and alcohol problems.
The economy has affected his shelter in another way. McKinney said he's lost two longtime donors this winter – both churches that called to say they could no longer afford to offer support.
The cycle of layoffs and foreclosures comes amid one of the coldest, snowiest winters on record. When the temperature plunges below 15 degrees, the city authorizes selected shelters to open their doors to more people than they have beds for.
This winter, the House of Charity has become a warming center more than twice as often, and to nearly three times as many homeless people, than in any other year since the policy was enacted in November 2005. In those early days, temperatures had to fall to 5 degrees before centers were activated.
So far this season, the House of Charity has become a warming center on 19 days, providing shelter to 737 people. In 2005, the shelter became a warming center on nine days, serving 266 people.
"The guys are so thankful we are open," McCarron said. "We're not pampering anyone. They sleep on the floor and get up in the morning. I regret we weren't open more."
Local journalism is essential.
Give directly to The Spokesman-Review's Northwest Passages community forums series -- which helps to offset the costs of several reporter and editor positions at the newspaper -- by using the easy options below. Gifts processed in this system are not tax deductible, but are predominately used to help meet the local financial requirements needed to receive national matching-grant funds.
Subscribe to the Coronavirus newsletter
Get the day's latest Coronavirus news delivered to your inbox by subscribing to our newsletter.
---