News > Spokane
County jail commander retiring
Brady worked range of jobs for sheriff
Sat., Jan. 31, 2009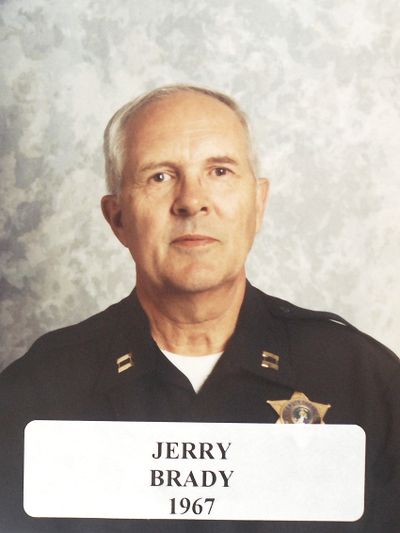 Welds on a jail cell door were a reminder to Spokane County Jail Capt. Jerry Brady of the inmate who kicked it so hard, over and over, it finally fell off.
The 66-year-old also recalls the bank robber who managed to escape the McNeil Island Corrections Center near Tacoma by swimming across the Puget Sound channel, but never found a way to slip out of Brady's jail.
And he'll never forget escorting rapist Kevin Coe to court.
After 41 years with the Spokane County Sheriff's Office, Brady is packing up those memories and headed for retirement.
"I've had every fun job in the world (at the Sheriff's Office)," Brady said from home Friday, a joyful grandson playing in the background. "I ran motors. I ran boats. I was a diver.
"I suppose the biggest highlight was running the jail and working with the people down there," he said.
Brady began at the Sheriff's Office in August 1967. In 2005, Sheriff Mark Sterk appointed him jail commander.
The biggest change was technology, Brady said. When he started, he could be sitting on a street and not hear someone trying to reach him on the radio from a few blocks away. That would never happen today, he said.
One constant, he said, was his high regard for his colleagues. "I can't say enough about the people I worked with. Most of what I've enjoyed in my career is the people I've served, and the people I've served with."
In Brady's final role, he did a lot to merge Geiger Corrections Center and the Spokane County Jail. Undersheriff Jeff Tower credits Brady for the vision of bringing the facilities together.
Tower, who has been with the Sheriff's Office about 20 years, remembers meeting Brady when he was hired.
"At that time he was working the desk. He'd take the new guys under his wing," Tower said. "He was a mentor to many new guys."
Brady also spent several years as a court security officer. Tower said if he went with Brady to a meeting, it would take 30 to 40 minutes to get through the courthouse because Brady would stop and hug people and talk to everyone.
Like most long-term employees in any organization, Brady was considered an institution of knowledge, Tower said. "We are going to miss all the knowledge he brought. And we are sure going to miss him."
Brady has not decided what to do in retirement. With his family living locally, he has no plans to travel, he said.
"Who knows? Hell, I might end up being a Wal-Mart greeter."
Local journalism is essential.
Give directly to The Spokesman-Review's Northwest Passages community forums series -- which helps to offset the costs of several reporter and editor positions at the newspaper -- by using the easy options below. Gifts processed in this system are not tax deductible, but are predominately used to help meet the local financial requirements needed to receive national matching-grant funds.
Subscribe to the Coronavirus newsletter
Get the day's latest Coronavirus news delivered to your inbox by subscribing to our newsletter.
---