News > Spokane
N. Cascades event blurs line between human, fairy realms
Fairy and Human Relations Congress in its ninth year
Sun., July 5, 2009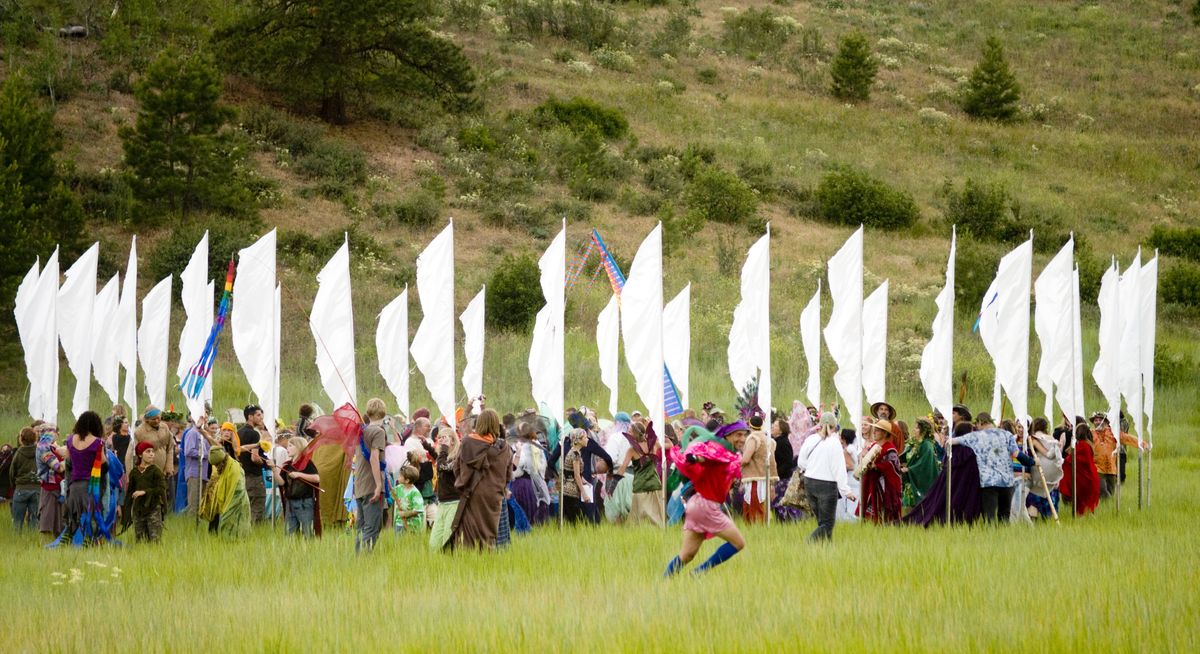 During the fairy parade, participants sing and dance in a circle of prayer flags, where they believe fairy energy and magic are strongest. (Colin Mulvany / The Spokesman-Review)
TWISP, Wash. – In the foothills of the North Cascades, where the veil between dimensions is said to be thinnest, inhabitants of this world gather once a year to coexist with fairies in theirs.
About 250 people came to the Methow Valley June 26 through 28 from as far away as Europe and Hawaii to participate in the ninth annual Fairy and Human Relations Congress, an outdoor festival in a secluded mountain meadow called Skalitude.
A giant crop circle depicting a pinwheel-shaped sun had been cut into the high grass. An open-air tent pavilion stood at the lower end of the meadow. Farther up, white peace banners fluttered in a circular array.
"The purpose of the congress is to encourage communication and cooperation of the fairy realm," said Michael "Skeeter" Pilarski, the event's founder and organizer.
The human world is in crisis and can use all the help it can get, Pilarski said, so why not form alliances with those in other realms?
Entering the fairy realm
Since 2000, the Fairy Congress has been held all but two years at Skalitude, a retreat owned by Lindsey Swope and Will Buchanan. For two years, it was held near Hood River, Ore.
Asked whether she believes in fairies or is merely sympathetic to those who do, Swope said, "I believe in it – life is way more complicated than what we can see, hear and touch."
Skeptics might mock the participants or dismiss them as New Age hippies, but they say their belief system is not much different from Native American animists, or even Christians who believe in angels.
"We might call (fairies) angels of nature," said Pilarski, an herb farmer and writer who also founded the annual Okanogan Family Barter Faire in nearby Tonasket, Wash.
Many people of mainstream faiths believe angels watch over them, he said. "God's love does not just extend to humans, but to all of nature and to all the species on Earth," he said. So why should these spirits not watch over all of creation?
The event draws the kind of crowd that didn't make it to Hoopfest, people to whom alignment refers to chakras, not front ends. Djembes were more numerous than iPods, and dancing was done in circles, not lines.
Revelers donned wings, horns or colorful attire suitable for a euphoric Saturday night romp around the bonfire, but there was no evidence of drugs or inebriation. Voices raised only in song or laughter. The sound of drum and flute carried on the wind. Children frolicked. Adults gathered around a communal outdoor kitchen.
Following morning circle, a hand-holding gathering in the meadow, participants ate fruit and grains, then washed their own dishes. Later, they wandered off to play or attend workshops with titles such as "The Paradigm of the Faery Seer" and "Communicating with Devas" taught by notable New Age teachers from across North America.
Past presenters include "Secret Life of Plants" author Peter Tompkins, Findhorn Foundation founders Dorothy Maclean and David Spangler, as well as R.J. Stewart, composer, author and Celtic mythologist.
Participants – who paid $250 for three days of spiritual workshops, vegetarian food, song and dance – brought with them varying degrees of belief in fairies, but all appeared willing at least to accept the possibility.
"Like anything, whatever you look for is what you find in life," Kathleen McKenty, a retired horticulturalist from Snohomish, Wash., said of the congress.
"This is the way life should be. It's healthy, it's positive. The setting is gorgeous. It keeps alive the possibility of things unknown and larger than yourself, the sense of wonder and magic in your life," said McKenty, who has attended four or five congresses, including the first one.
Perhaps she will keep coming back until she sees a fairy or even a deva, which is a fairy that has grown up and gone to work sustaining the planet.
In "The Complete Idiot's Guide to Elves and Fairies," author Sirona Knight wrote that the fairy realm is "somewhere between this world and the divine."
Joseph Campbell, the late mythologist and professor of comparative religion, said myths maintain our childhood sense of wonder and mystery as they ease our passage through life and prepare us for death.
These themes were repeated by Fairy Congress presenters such as Orion Foxwood, author of "Tree of Enchantment" and a self-proclaimed witch who tends to speak in aphorisms.
"We are here to remove that distance between humanity and divinity," Foxwood said. "We are not humans on the spiritual path; we are spirits on the human path."
Talking to fairies
Pilarski said he has not actually seen a fairy, but that doesn't mean they're not there. Fairies manifest themselves differently to different people. And besides, he said, only about 10 percent of people have "the sight."
One who claims to have seen a rather large deva, much like the Jolly Green Giant only without the peas, is Mary J. Getten, of Olympia, who says she can communicate telepathically with animals and fairies.
It also is possible to communicate with the "unseen realm," Getten said, but it's important to know what you're doing before trying.
"Seeing fairies changes your reality," she said.
Encountering a fairy would be less than satisfying without being able to communicate with it, so Getten's Friday morning workshop, "Opening Your Telepathic Senses," seemed like a good place for a first-time participant to start.
Telepathy is the universal language, Getten said, but like learning any language, it takes a little practice.
"We all have it. It's just that in our society it's not encouraged or supported."
To become telepathic, she said, one has to cultivate silence, honor all life forms, set clear intentions and pay attention to signals we already get telepathically, such as when you enter a roomful of people and know instantly what's on their minds.
When encountering fairies and devas, Getten and others said, people tend to see what they expect to see. One workshop presenter said he once saw what looked like the Rice Krispies elves, Snap, Crackle and Pop.
Apparently the fairies of Skalitude are "light and sweet" as opposed to the rock devas of Hood River, who tend to be grumpy.
Getten said "fairies like for us to be here" and particularly liked the parade Saturday night, in which some participants dressed as mythical fairies and devas to invoke the good will of the devic realm.
"They think that's hysterical," she said.
Magic in the message
As proof that the nature spirits are fascinated with human shenanigans, many at the Fairy Congress cited the existence of orbs: transparent balls of light that appear only in digital photographs taken at happy occasions such as festivals and weddings.
Critics say orbs are reflections of photographic flashes off dust particles in the air, but Hope and Randy Mead, who live north of Colville, say they know better.
Their independent film, "Orbs: The Veil Is Lifting," was shown at the congress.
Hope Mead, who has studied orbs for eight years, said they are beings from another dimension, perhaps from the fairy realm. Such phenomena are becoming more common as the year 2012, the end of the Mayan calendar, approaches, and the veil between the dimensions lifts, she said.
"What we believe is that it's not the end of the world, but the end of time as we know it, and we are going through a dimensional shift," Mead said.
Spiritual adviser, author and recording artist Brooke Medicine Eagle believes fairies and orbs are just incarnations of the nature spirits of Native American animism.
The author of "Buffalo Woman Comes Singing" said participants bring to Fairy Congress their own spirituality, but all have an awareness that they are people of the Earth.
The Creator lives in every one of us, Medicine Eagle said, and as "sacred ecologists" we must care for all things with respect and reverence.
Nature spirits, fairies, devas – whatever you want to call them – Pilarski said more people believe in them than let on.
"Thirty years ago, we would have been called kooks or worse," he said. Now people are more accommodating in their thinking.
Does he believe in magic?
"There is magic everywhere, Pilarski said. "We're magic. But in the sense of things happening that are out of the ordinary? Yes, there definitely is magic here."
Local journalism is essential.
Give directly to The Spokesman-Review's Northwest Passages community forums series -- which helps to offset the costs of several reporter and editor positions at the newspaper -- by using the easy options below. Gifts processed in this system are not tax deductible, but are predominately used to help meet the local financial requirements needed to receive national matching-grant funds.
Subscribe now to get breaking news alerts in your email inbox
Get breaking news delivered to your inbox as it happens.
---