News > Spokane
Shriners avoids closure, for now
National leaders table vote on six shutdowns
Tue., July 7, 2009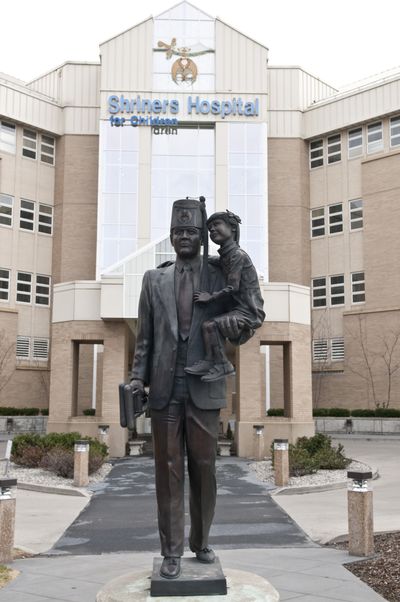 The Shriners Hospital for Children in Spokane received a reprieve as delegates to the charitable organization's annual meeting tabled a vote to close six of its 22 hospitals.
Dozens of patients and supporters rallied last week urging those in charge of one of the nation's best-known philanthropies to keep its Spokane hospital open.
The hospital has about 8,500 patient visits a year and employs 170 people. It serves a large territory, including Washington, Idaho, Montana, Alaska and Canada.
Yet the hospital is underused, national leaders say. The 30-bed hospital has an inpatient count of about six to seven a day.
Local supporters say that the numbers are skewed. They say the hospital shouldn't be measured by how many children are there at midnight, when the patient count is taken. Between 60 and 70 children are seen by hospital staff every day, supporters say.
If the hospital's official inpatient census was increased to 10 or more, Spokane would likely avoid scrutiny by the national board of Shriners, which is attempting to balance the organization's deteriorating financial position with the growing cost of health care and falling donations.
In the past year the Shriners endowment has been hammered by the Wall Street meltdown. The fund has fallen from $8.5 billion to about $5 billion.
One problem has been that many children with bone, joint and muscle problems from the Seattle area travel to the organization's hospital in Portland instead of across the state to Spokane, said Jay Smith, a member of Spokane's El Katif Shrine.
He said local Shriners and employees must engage in better outreach efforts in major cities to attract patients.
This week the Shriners will tackle other issues. Among them: a proposal to bill insurers and Medicaid for treating children. It would be a first for the organization and reveals a split between some members ready to waive tradition in favor of keeping hospitals open to treat more children, and those who have what Smith called "foundation beliefs" in the original mission of the hospitals to fund and provide free medical care to children.
While Monday's development came as relief, Shriners spokeswoman Sally Mildren said it carries an important caveat: Nothing is final until the organization's annual meeting, being held in San Antonio, Texas, is adjourned Thursday.
However unlikely, the issue could be brought up again.
Local staff have been instructed to stay neutral on the issue, Mildren said.
While the Spokane hospital appears to have been spared, she said, executives have been told to hasten more intensive talks with Providence Sacred Heart Medical Center regarding possible collaborations.
Local journalism is essential.
Give directly to The Spokesman-Review's Northwest Passages community forums series -- which helps to offset the costs of several reporter and editor positions at the newspaper -- by using the easy options below. Gifts processed in this system are not tax deductible, but are predominately used to help meet the local financial requirements needed to receive national matching-grant funds.
Subscribe to the Coronavirus newsletter
Get the day's latest Coronavirus news delivered to your inbox by subscribing to our newsletter.
---