News > Washington Voices
Cheney to update tree rules in Tree City USA bid
Thu., July 9, 2009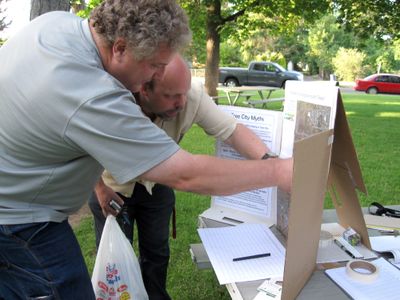 The city of Cheney last updated its tree ordinance in 1938 – back when residents had to be cautioned against letting their trees interfere with telegraph wires.
The city is working to update that ordinance, part of the process to become a Tree City USA. Residents were invited to attend a Tree City USA open house last week at Veterans' Memorial Park to discuss trees, take inventory of the trees in the park and offer suggestions for the new ordinance.
The Arbor Day Foundation runs this program to provide education, civic pride and financial assistance to cities that meet four standards.
Tree Cities must have a tree board or department to take charge of caring for the trees – this might include an arborist, but the city isn't required to hire one. The city must form a community forestry plan with a budget of $2 per capita to care for urban trees. There must also be a community Arbor Day celebration or proclamation, which Cheney held in May.
The city also must establish a tree care ordinance to become a Tree City.
"We're going to need a lot of public participation," said James Caddey, a project planner in the city's planning department.
Trees in Cheney have been under the jurisdiction of several city departments. Right now, it is a concern of public works which is constructing the new entrance to Cheney that will include new trees. But trees also are the concern of the light department when branches interfere with power lines, and the parks department, who must care for the trees in Cheney parks.
Caddey said the participation could help get the word out about tree care.
Caddey also is looking forward to finding out what issues the public has concerning trees in Cheney. Although the open house was sparsely attended, Caddey enlisted volunteers to take inventory of the trees in the park, noting the variety of tree and its diameter at chest height to estimate the tree's age.
He hopes to present the proposed ordinance for City Council consideration in late August.
Local journalism is essential.
Give directly to The Spokesman-Review's Northwest Passages community forums series -- which helps to offset the costs of several reporter and editor positions at the newspaper -- by using the easy options below. Gifts processed in this system are not tax deductible, but are predominately used to help meet the local financial requirements needed to receive national matching-grant funds.
Subscribe to the Coronavirus newsletter
Get the day's latest Coronavirus news delivered to your inbox by subscribing to our newsletter.
---