Sports
Baseball notebook: Moyer wins 250th game
Mon., June 1, 2009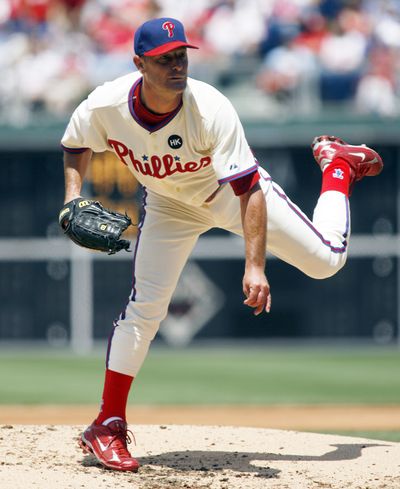 Jamie Moyer reached a rare mark for a pitcher, becoming the 44th to win 250 games. The veteran Phillies left-hander would have been just as happy if it was his first.
Moyer went six strong innings to lead the host Phillies to their third straight victory, 4-2 over the bumbling Washington Nationals on Sunday.
The 46-year-old Moyer is only the 11th left-hander to join the exclusive 250-win list. And despite his teammates' postgame champagne toast, Moyer's words lacked the excitement one might expect after such a rare achievement.
"It's not about the personal things, I'm more excited about us winning," Moyer said. "I really haven't thought about (winning 250). It takes so much effort to prepare and play. I was taught to play the game as a team, not as an individual. When you play 20-some years, some of these things can happen."
Moyer is pitching his 23rd season for his seventh club. It was his sixth try at 250 after going winless in his previous five outings while allowing 38 hits and 26 earned runs in 24 1/3 innings.
Moyer (4-5) had one his best starts of the season Sunday, striking out four and walking none while registering a season-low hits allowed. It was Moyer's first win since April 26.
Said Phillies manager Charlie Manuel, "A guy like Jamie and the type of pitcher he is, what he's had to earn and his ups and downs, it says a lot about the individual."
Texas pitcher no longer perfect
Adam Kennedy of the Oakland Athletics hit his second solo homer of the game in the ninth inning, ending Texas Rangers closer Frank Francisco's 0.00 ERA and perfect start to the season. "Frankie's been lights out all season long," said Rangers third baseman Michael Young. "If we have that situation again, we'll take our chances."
Clearing the bases
New York Yankees pitcher Joba Chamberlain is scheduled to start tonight. It will be his first appearance in Cleveland since 2007, when he was bombarded by a swarm of bugs. … New York Yankee Derek Jeter has batted .397 during a 14-game hitting streak. … Boston's Jacoby Ellsbury had a sacrifice bunt Sunday, the team's first of the season. The Red Sox were the last team in the majors without a sacrifice bunt. … Kansas City Royals pitcher Zack Greinke has stretched his homerless innings streak dating to 2008 to 110.
Local journalism is essential.
Give directly to The Spokesman-Review's Northwest Passages community forums series -- which helps to offset the costs of several reporter and editor positions at the newspaper -- by using the easy options below. Gifts processed in this system are not tax deductible, but are predominately used to help meet the local financial requirements needed to receive national matching-grant funds.
Subscribe to the sports newsletter
Get the day's top sports headlines and breaking news delivered to your inbox by subscribing here.
---
Subscribe and log in to the Spokesman-Review to read and comment on this story