News > Spokane
U.S. border crossings report high passport compliance
Tue., June 2, 2009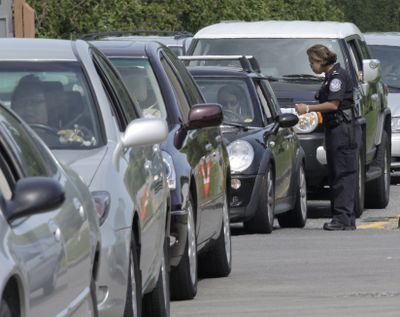 BLAINE, Wash. – On the day that stricter identification rules went into effect for U.S. citizens returning from Canada and Mexico, traffic slogged as usual through the state's largest border crossing at Blaine.
Monday marked the first day Americans were required to show a passport or one of several high-tech forms of identification when returning from Canada or Mexico.
But at the Peace Arch crossing in Blaine, U.S. Customs and Border Protection reported a compliance rate of more than 90 percent, according to their surveys.
The smooth transition to the new rule in Blaine was reflected nationwide. No unusual backups were reported at major crossings on the northern and southern borders surveyed by the Associated Press.
Previously, U.S. citizens could re-enter the country with various types of identification. Now a passport, passport card or special secure driver's license are among a handful of accepted IDs.
The new rule, which also affects sea crossings, is the final implementation of the Western Hemisphere Travel Initiative, a security measure drawn up from recommendations from the 9/11 Commission.
It's part of a gradual boost in security along the northern border that has featured new rules for air and land travel, millions of dollars in upgrades and the hiring of hundreds more customs officers and U.S. Border Patrol agents.
"Traffic is flowing efficiently as we anticipated. It seems passengers are very compliant," said Michele James, director of field operations for the northern border that covers Washington state. She credited an aggressive outreach by her agency, fliers distributed at points of entry notifying of the change, and the state's proactive response to the new rules.
Washington was the first state to develop its own special license that meets federal requirements. More than 60,000 of the enhanced driver's licenses have been issued in the past year and half, according to the state Department of Licensing. At a cost of $15 when upgrading from a regular driver's license, the state has touted its enhanced license as an affordable alternative to obtaining a passport, which costs $100.
For states along the vast northern border, which for decades enjoyed fewer restrictions than the southern border, the changes sparked a wave of opposition when they were first proposed.
Concerns appear to have died down, however. Gov. Chris Gregoire's office said last week it was pleased with the federal government's progress.
Travelers, passports or the high-tech documents in hand, shrugged off or lamented the new identification rule going into effect Monday morning.
"It's overkill," said James French, of Lewiston, after returning from vacation in British Columbia. "I understand the needs of security because of terrorism. But I think (the border) is safe."
Robert and Nancy Yandes obtained their passports shortly after travelers were required to show proof of citizenship in 2008. The couple from Texas often cross the border into Mexico, but Monday they found themselves returning from Canada after visiting their daughters in Bellingham and Vancouver, waiting in a line of cars to return to the U.S.
"If (the new rule) speeds things up, it's working," Robert Yandes said.
His wife, though, disagreed: "I don't care about speed. It's for security," she said.
Travelers who do not have the proper document will get a warning and be delayed for a background check.
The crossing in Blaine, however, will be tested as the summer travel season ramps up. The Peace Arch crossing is also in the midst of a $107 million construction project that will temporarily limit the number of lanes available.
The federal government, however, expects to have 10 working lanes by the time the 2010 Winter Olympic Games in Vancouver begin in February.
Local journalism is essential.
Give directly to The Spokesman-Review's Northwest Passages community forums series -- which helps to offset the costs of several reporter and editor positions at the newspaper -- by using the easy options below. Gifts processed in this system are not tax deductible, but are predominately used to help meet the local financial requirements needed to receive national matching-grant funds.
Subscribe now to get breaking news alerts in your email inbox
Get breaking news delivered to your inbox as it happens.
---