News > Spokane
Feds indict Zehm officer
He'll be tried on civil rights, 'false statement' charges
Tue., June 23, 2009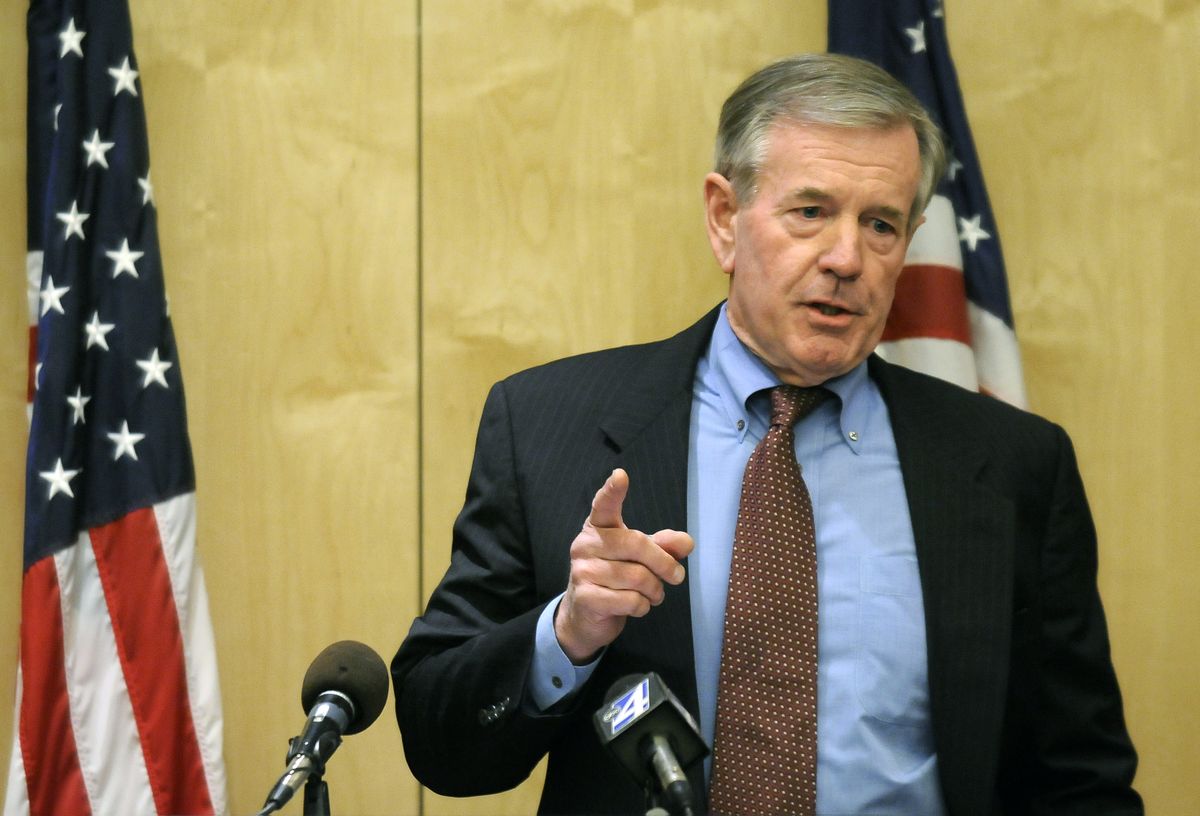 U.S. Attorney James McDevitt announces a two-count grand jury indictment of Spokane police Officer Karl Thompson.danp@spokesman.com (Dan Pelle / The Spokesman-Review)
A Spokane police officer should stand trial on charges of violating the civil rights of mentally ill janitor Otto Zehm and lying about the confrontation that resulted in Zehm's death, a grand jury has decided.
U.S. Attorney James McDevitt announced Monday that a federal grand jury handed down two indictments against veteran Officer Karl F. Thompson Jr., who was the first of several officers to confront Zehm, a 36-year-old Spokane man who had schizophrenia.
Zehm died March 20, 2006, two days after he was beaten with a baton, shocked multiple times with a Taser and hogtied. The case sparked a cry for more citizen oversight of law enforcement.
Police officials believe Thompson's indictment is the first to be brought against a Spokane officer.
Police officials initially said Zehm attacked Thompson, but they recanted that claim months later when surveillance video clearly showed Zehm retreating, holding a 2-liter plastic soda bottle in front of his face while Thompson struck him with a baton.
"These are not matters that we do with any sort of glee," said McDevitt, while also criticizing local media's coverage of law enforcement. "But where there is no local action, or where the results of the state or local proceedings are insufficient to vindicate the federal interest, a federal prosecution may be sought."
If convicted, Thompson, 61, faces a maximum of 10 years in prison and a $250,000 fine for the charge of violating Zehm's civil rights. He faces a maximum of 20 years and a similar fine for the second indictment, which accused Thompson of "making a false statement in an interview" with police Detective Terry Ferguson.
McDevitt said he could not talk about the evidence that produced the charges, saying only that Thompson "used unreasonable force in violation of federal law."
Thompson is scheduled to be arraigned at 1:30 p.m. July 9, said his attorney Carl Oreskovich, who is also being paid by the city to represent Thompson in a civil lawsuit stemming from the encounter with Zehm at the Zip Trip on North Division Street. That federal action was filed on behalf of Zehm's mother, Ann Zehm, by the public-interest law firm Center for Justice.
"We are very disappointed in the fact that an indictment was returned," Oreskovich said. "Karl Thompson is a really kind, decent, reasoned man. We are confident … when Karl is ultimately given his day in court and the full story comes out, that he will be exonerated. Frankly, the community ought to be proud in terms of his service to the community."
But Breean Beggs, who is representing Otto Zehm's mother in the civil suit, said the indictment was a step forward for police accountability.
"I spoke with his mother just before the press conference," Beggs said. "Her words were, 'The hurt never goes away.' But she's hopeful in the end that things will be improved in Spokane. The family is most concerned that there not be another dead citizen like Otto at the hands of police."
McDevitt said the grand jury came to their decision Friday, the day city officials said Zehm was responsible for the events that led to his death. The city's 56-page response to the civil lawsuit said in part that "any injury or damage suffered by Mr. Zehm was caused solely by reason of his conduct and willful resistance."
Beggs pointed out that Zehm, who had been off his medications, had not committed any crimes before Thompson's actions.
"The medical examiner ruled that the police killed Otto," Beggs said. "To blame him … it is remarkable that anyone would even make that allegation."
Police Chief Anne Kirkpatrick said Thompson – who makes $72,203 a year – has been placed on paid administrative leave. A committee will meet to make recommendations to City Administrator Ted Danek, who will decide whether to keep Thompson on the payroll or place him on unpaid layoff status until the criminal trial is complete.
"This is the type of case that creates heartache for everyone," Kirkpatrick said. "I have not lost sight of Mrs. Zehm in all of this. I'm a woman who feels deeply when (people) are hurting, and I see a lot of hurt."
But the chief would not go so far as to blame Thompson, who was hired in 1997. "Open wounds never heal, so there must be closure," said Kirkpatrick. "I'm going to lead us through this storm internally and in this city. I'm going to walk alongside anyone who will let me and say, 'Let's go this way, y'all.' "
The incident began March 18, 2006, when two young women erroneously reported to police that Zehm had stolen their money out of an ATM near Ruby Street and Indiana Avenue, according to police reports.
Zehm, who did his banking at that branch, was acting erratically as he approached the ATM, according to surveillance tapes.
The women called 911, following Zehm, and gave updates as he walked toward the Zip Trip, according to police records.
Thompson was the first to respond and found Zehm in the store. Surveillance video shows that Thompson immediately engaged Zehm from behind.
Thompson began striking Zehm with his police baton and shocked him with his Taser as Zehm held the soda bottle in front of his face. The struggle continued and eventually included six more officers who arrived to help Thompson restrain Zehm.
Zehm stopped breathing about three minutes after one of the officers obtained a plastic mask from a paramedic and placed it on Zehm's face. The mask was never attached to the oxygen tank for which it was designed, according to police reports. At the time, Zehm was lying on his stomach while officers kept his ankles and wrists bound with nylon straps.
After Zehm stopped breathing, paramedics rushed him to Deaconess Medical Center. He never regained consciousness, and he died two days later.
On May 30, 2006, Medical Examiner Dr. Sally Aiken ruled that Zehm died as a result of homicide.
She listed the official cause of death as "hypoxic encephalopathy due to cardiopulmonary arrest while restrained in a prone position for excited delirium." Zehm died from lack of oxygen to the brain caused by heart failure while being restrained on his stomach.
Spokane County Prosecutor Steve Tucker announced in October 2006 that he would not charge any of the seven officers – including Thompson – unless new information was revealed by the federal investigation. He said Monday his position hasn't changed.
"All I had was the information from the Spokane Police Department," Tucker said. "It wasn't because I failed to act. I never got a referral to charge."
Tucker said he did inquire Monday about what evidence the Federal Bureau of Investigation had used to gain the indictments against Thompson.
"They said the information was sealed," Tucker said.
Local journalism is essential.
Give directly to The Spokesman-Review's Northwest Passages community forums series -- which helps to offset the costs of several reporter and editor positions at the newspaper -- by using the easy options below. Gifts processed in this system are not tax deductible, but are predominately used to help meet the local financial requirements needed to receive national matching-grant funds.
Subscribe now to get breaking news alerts in your email inbox
Get breaking news delivered to your inbox as it happens.
---