Mead educators report to boot camp
Former student offers a taste of Marine life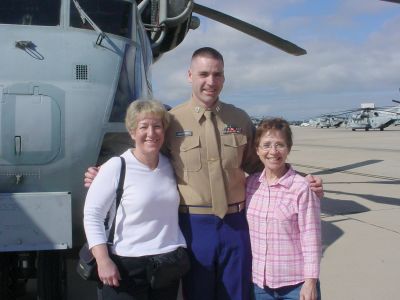 Mead High School teacher Kathy Carman reached a milestone in February. At 62, she completed Marine Corps basic training. Well, a portion of it anyway.
In her high school classroom, she proudly displayed a badge that read: "Honorary Marine Recruit: This is to certify that the bearer has successfully completed the first two minutes of the twelve weeks of Marine Corps boot camp at Marine Corps Recruit Depot, San Diego."
Carman and her longtime classroom assistant, Jeanine Munter, spent four days in San Diego as participants in the Marine Corps Educators Workshop. The program is designed to give teachers a firsthand look at the making of a Marine. After completing the workshop, educators should be better able to answer their students' questions about careers in the corps.
The invitation to participate in the workshop was delivered in person by former student Matthew Grabowski.
"We were sitting at our desks. The door opened and a tall military guy walked in wearing a full-dress Marine uniform, with his white hat tucked under his arm," Carman said.
"I didn't recognize him!" Munter said.
But Carman did.
Grabowski, a 1994 Mead graduate, is now a captain in the Marine Corps. He remembered Carman fondly.
"I gave her trouble," he said. "I was one of those kids who wanted to be a clown."
Carman is more generous in her recollection. "All sophomores are challenging," she said. "He was a good, fun-loving kid – very respectful." That "kid" now towers above his former teachers and is very serious about his career in the Marines.
"I wanted to show her (Carman) what I've done with my life since school," he said in a phone interview from his posting at Camp Pendleton. "I'm really proud of being a Marine."
As guests of the Marine Corps, both women experienced just a taste of what Grabowski endured to become a Marine, and they agree his pride is justified.
The two women, along with dozens of other educators from around the region, were treated like real recruits for four days. Carman recalled the dressing down she received from a sergeant who she said had her "quaking in her boots."
"He was intimidating," Carman said. "Scary. Very scary." Apparently, Carman forgot to count off when they were about to disembark from the bus. "I got yelled at," she said.
She then pointed out that Munter didn't escape unscathed. "Jeanine had to do jumping jacks because she lost her name tag."
Grabowski enjoyed seeing his former teachers on the receiving end of lectures for a change. "They put her (Carman) on the spot, right away on the bus," he said. "It was hilarious!"
The experience wasn't all fun and games, however. The group of educators attended classes on a variety of subjects, including Marine history and recruit training techniques. They learned about occupational opportunities available to those in the Corps, and experienced physical training and conditioning, as well as marksmanship qualification. Or, as Munter put it, "We got to shoot guns!"
They sobered as they recalled witnessing a group returning from the Crucible, the recruits' rigorous 54-hour final test. They must complete the Crucible with their platoon to earn the title of Marine. Both educators said watching the group return and attending their graduation ceremony was extremely moving.
"They have a right to be proud of what they accomplished," Munter said. "I felt like they were prepared to go to war."
The two said they came away from the experience with a greater understanding of what it takes to be a Marine and a deepened respect for those who serve. But the high point of the trip for them was watching Grabowski shine. "When you see his role in the military – he fits right in," Carman said. "This is where he's happy."
Munter added, "We have great pride in Matt for what he's accomplished. If I were 40 years younger, I'd join the Marines."
---