News > Idaho Voices
Outlet mall makeover
New mix could include offices
Sun., June 28, 2009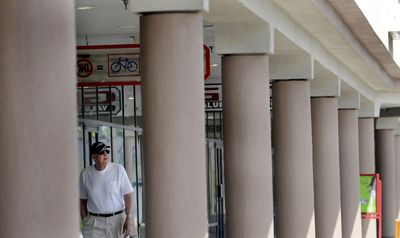 Driving past what were once prosperous outlet stores, the Post Falls Factory outlets look more like a ghost town.
Mike King and Paul Bielec with Coldwell Banker Schneidmiller Realty recently took over marketing the portion of the campus owned by Cotter Ranch Properties of Houston called the Post Falls Factory Stores, and are hopeful that by repositioning the property and offering "screaming deals," they will attract tenants and bring the place back to life.
"We've been working with a lot of start-ups," King said. "We'll do some good leases for people."
He said the owner is offering space at $10 a square foot annually – so for a basic 1,000-square-foot space, it would cost the tenant $10,000 a year plus utilities, insurance and upkeep for the common areas (similar to condo dues).
King said there is approximately 58,150 square feet of space plus a 2,000-square-foot area that's suitable for a restaurant or farmers market. Currently 17,000 square feet is occupied. King and Bielec are open to offices, classroom space – true mixed use. King said there is even a turn-key beauty salon ready to go.
King and Bielec recently attended the International Council of Shopping Centers meeting in Las Vegas to stir up interest in the building.
"We do have some interest – we're definitely working it," King said. "It's not going to happen overnight."
Across Interstate 90, Coldwell Banker is also marketing Expo at Post Falls, and has sold 10 acres to Love's Travel Center, a chain of upscale grocery store and fueling stations. It's currently in escrow, King said. Love's, based in Oklahoma City, has 200 locations in more than 30 states, and is expanding at a rate of about 15 stores per year.
"Basically it's a big travel center with food, gas, retail and various services," King said.
Chris Bell and Chris Siemens with NAI Black Commercial Real Estate Services have been working the balance of the outlet campus, called the North Idaho Outlets, for two years. Bell said the buildings are owned by a group of investors.
"We're trying to re-position the center and focus on the good work going on at The Pointe at Post Falls," Bell said.
The Pointe at Post Falls, also on the north side of Interstate 90, includes Cabelas' "destination store," and negotiations are under way with Wal-Mart, Sam's Club and Lowe's.
Bell said he's looking for flex-users for — office, retail or a combination — for the North Idaho Outlets, which contain 180,000 square feet of space. Currently about 30 percent is occupied.
"We've also been talking to technical-professional schools," Bell said. "The owners are patient – they want the right mix of users. In this current cycle it takes patience and perseverance."
There are a few holdover tenants from the old outlet days – Bass, GNC and Van Heusen to name a few – but Bell said it's a different ball game in the outlet world. Leases start at 40 cents a square foot and go up. Bell said the smaller the space, the more expensive it is.
Both King and Bell see a good future for Post Falls, especially if the I-90/Beck Road interchange project is built. Anticipating growth, the project involves a new interchange near State Line Road.
As required by the Federal Highway Administration, an interchange justification report is under way. Spokeswoman Lori Isenberg with Northwest Dynamics said the project was moving forward, but the project managers, HDR engineering, had to slow down and look at numbers regarding growth over the next 30 years.
The interchange is being privately funded by Foursquare Development, which hired HDR. City of Post Falls engineer Bill Melvin said the developer and HDR have completed the preliminary work such as environmental studies and traffic modeling.
Jeff Vitek of Foursquare said it's been a bureaucratic process. The project is the first in Idaho to utilize the STAR program (State Tax Anticipated Revenue) legislation, approved by the Idaho legislature in 2007.
STAR legislation provides reimbursement of private funding up to $35 million for project expenses incurred for the installation of approved transportation improvements.
Local journalism is essential.
Give directly to The Spokesman-Review's Northwest Passages community forums series -- which helps to offset the costs of several reporter and editor positions at the newspaper -- by using the easy options below. Gifts processed in this system are not tax deductible, but are predominately used to help meet the local financial requirements needed to receive national matching-grant funds.
Subscribe now to get breaking news alerts in your email inbox
Get breaking news delivered to your inbox as it happens.
---