Face Time: Tony Stewart
With a recent spate of racist activity in North Idaho, a longtime human rights activist says speaking up makes all the difference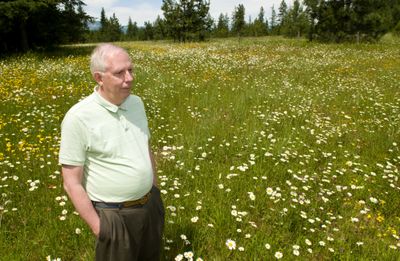 White-supremacist fliers have been distributed in several Coeur d'Alene-area neighborhoods over the past three months. The Aryan Nations, which was bankrupted in 2000 by a $6.3 million court verdict, has claimed responsibility. Law enforcement and human rights activists are monitoring the situation, and longtime North Idaho activist Tony Stewart shared his thoughts.
Q:Is this a resurgence of the Aryan Nations or something else?
A:I definitely think it's something else. It's not something to ignore, but for (those of us) who have been observing this for almost 30 years, there is no comparison. Richard Butler came here and created the compound and had all the buildings, and had both a political organization and a so-called religious organization, and had services there every Sunday. That is a major difference between what seems to be two men who have no facilities, and who … operate out of a post office box, who are trying to suggest that they're somehow significant compared with (Butler). There is no evidence they have any followers.
Q:What do you think people who get the fliers should do?
A:It's very productive when they publicly denounce it, just like our organization does. That really sends a message … that we're not going to accept the hate. Every time one of the neighbors speaks out … those are very powerful statements – that we're not that kind of community, we're not going to be recruited. That's the best thing you can do, because legally, there's not anything you can do.
Q:How does what's going on here fit in with what you're seeing on a national scale?
A:There are two factors explaining the escalation of hate crimes on a national level. Hate groups are desperate in the sense that the culture is changing, and they see that. We are becoming such an incredibly diverse society, with the great growth of the minority population. They don't want this cultural change. And secondly, to give an exclamation mark to that … they just can't comprehend that a man of color … would be elected president of the United States.
Q:Why did Butler's organization attract so much attention?
A:In the imprint of peoples' minds, what sticks … is the crimes and the cross burnings. It's much harder for them to remember the human rights banquets or the children's programs. Once that imprint is there, it is so hard for the news to come forward that there have been changes. There is progress, but the stain is so deep.
Q:What can this region do to shake that reputation?
A:All citizens … wherever they go (should) share the message of what we really are like. Every individual can play a role in that. The grapevine is wonderful. When people come here visiting us, tell the story. Don't ignore it. Be proud not only of the victories and the trials, but be proud of the laws that have been passed, be proud of the children's programs. How many communities have a human rights banquet every year?
---