News > Nation/World
Bunning becoming prickly case for GOP
Hall of Famer's reckless remarks put Senate seat at risk
Sun., March 1, 2009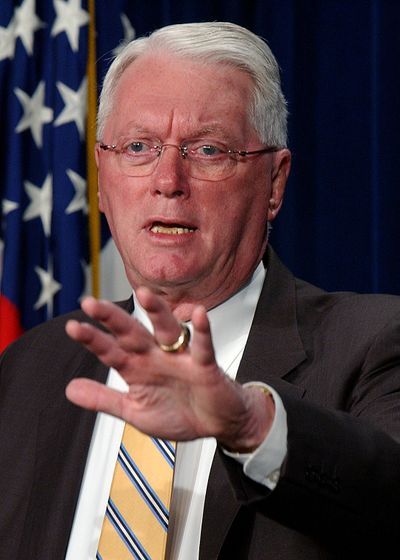 WASHINGTON – In just the past week, he clumsily pronounced a Supreme Court justice to be near death and threatened to sue a fellow senator and the Republican Party. He's raised almost no money for his re-election bid next year and remains in serious danger of losing his once-safe seat to the other party.
Party insiders are terrified practically every time he opens his mouth, but he seems determined not to go gently into the night.
What, and you thought Democrats had a problem with Roland Burris?
Burris, the freshman senator from Illinois, has something in common with Jim Bunning, the irascible Republican senator from Kentucky. Their parties seem inclined to move on without them – if only they would get out of the way.
Bunning is causing headache after headache for his fellow Republicans, who fear the ex-pitcher and Hall of Famer has lost his fastball. In fact, Republican strategists would love to find someone else to suit up for next year's election. But Bunning so far is refusing to come out of the game.
Enough with the baseball metaphors? The bottom line is this: Bunning, 77, said last week he isn't going anywhere.
Bunning says he has been clear that he is going to seek a third term. And yet in January, Sen. John Cornyn, the Texan who recently took the helm of the National Republican Senatorial Committee, which assists GOP Senate candidates, said he didn't know whether Bunning was running again. "That's up to Sen. Bunning," Cornyn said.
Asked about those comments last week, Bunning grew furious about what he perceived to be less than full support from his colleague.
"I don't believe anything John Cornyn says," Bunning said in a conference call with reporters. "I've had miscommunications with John Cornyn from, I guess, the first week of this current session of the Senate. He either doesn't understand English or he doesn't understand direct 'I'm going to run,' which I said to him in the cloakroom of our chamber."
His outburst came just days after he told a Republican dinner in Kentucky that Supreme Court Justice Ruth Bader Ginsburg, who has been diagnosed with pancreatic cancer, would be dead within nine months.
Ginsburg is back on the bench after surgery to remove a small tumor last month. Bunning soon apologized.
Bunning said he would sue Cornyn and the Republican Senate committee if they backed a challenger in a primary race against him next year, saying the organization is legally obligated to support incumbents.
"It's a pretty serious situation (for Republicans)," said John Geer, a professor of political science at Vanderbilt University. "They're trying to protect turf that is slipping away. Here is a seat they could probably hold if they had a serious candidate."
All of this has left Republican Sen. Mitch McConnell, Kentucky's other senator, in an unenviable position. He has referred to Bunning as his best friend in the Senate, but McConnell is also the Republican leader in the chamber.
Losing a once-secure seat in his home state would be a political black eye for McConnell, as well as a severe strategic setback.
Local journalism is essential.
Give directly to The Spokesman-Review's Northwest Passages community forums series -- which helps to offset the costs of several reporter and editor positions at the newspaper -- by using the easy options below. Gifts processed in this system are not tax deductible, but are predominately used to help meet the local financial requirements needed to receive national matching-grant funds.
Subscribe to the Coronavirus newsletter
Get the day's latest Coronavirus news delivered to your inbox by subscribing to our newsletter.
---