Sports
Huskies overwhelm Seattle U.
Schools hadn't met since 1980
Wed., March 4, 2009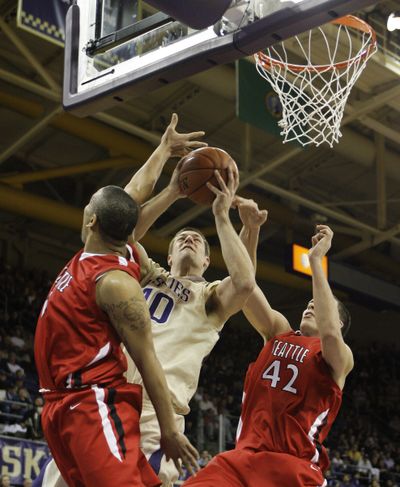 Joe Callero wanted to find out how much Seattle University's team needs to grow to compete with a Top 25 team playing in March.
The simple answer: a lot. But now Callero, the Redhawks' head coach, can use the fact that his program has played a highly ranked squad during college basketball's most exciting month in his pitch to help build the program as it returns to Division I.
"It's about eventually being in a position where the University of Washington is, and Selection Sunday is something to two schools in Seattle," Callero said.
Clearly overmatched and under-talented, the Redhawks were overwhelmed Tuesday night in an 87-60 loss to No. 16 Washington in Seattle.
Seattle (19-8) needed two perfect halves of play just to keep things close. Instead, the Redhawks slogged through a miserable first half of mistakes, sloppiness and awful shooting.
Once nerves calmed and adjustments were made to the Huskies' speed and aggressiveness, the Redhawks were far more respectable in the second half.
Freshman Aaron Broussard led Seattle with 13 points.
"It's a benchmark for our program. We'll always remember the first game we played coming back against the team on the other side of this hill," Seattle guard Shaun Burl said. "I don't think in any way this game has a huge impact on our season or tarnishes our season. We've had a great season."
The game was the renewal of a rivalry that's been on hiatus for 29 years after Seattle dropped from Division I competition following the 1980 season. The crosstown matchup was supposed to begin next season as part of a five-year contract that calls for three games on Washington's home floor and two games at KeyArena, the likely future home for the Redhawks.
But when Washington's game with Lehigh was canceled because of snow, the two schools decided to fill the opening by restarting the rivalry early and providing a capper on the Redhawks' first season of transition back to the top level of college hoops.
The timing couldn't have been worse for SU. The Redhawks played two games in the Dakotas last weekend – with a six-hour bus ride between games – returned home to play Washington and then head back to Grand Forks, N.D., for two games this weekend.
But Seattle received a cash guarantee plus a portion of ticket sales for squeezing the game into its schedule.
Perhaps more mentally fatigued than physically, the Redhawks made countless mistakes that were absent during much of a 10-game winning streak that encompassed most of January and February.
"There was an eight- to 10-minute period where you go, 'My Lord!' It went from a four-point game to an 18-point game," Callero said. "I think the part that really hurt us then was we started to look at the score.
"We tried to catch up and play more out of control trying to catch up."
A team that was shooting 45 percent for the season made just three of its first 21 shots and finished the first half a mere 6 of 29. The Redhawks finished shooting 38 percent.
Seattle also entered Tuesday night's game averaging just 11.4 turnovers per game, a needed skill for a team that cherishes each possession as part of its slower pace of play. But the Redhawks were sloppy and committed 12 turnovers in the first half alone and 21 in the game.
Still, no one in red regretted the opportunity.
"This is what you play for right here," Seattle's Austen Powers said.
"This is what we wanted."
Big Sky Conference
Weber State 84, Montana State 64: Freshman guard Damian Lillard scored a career-high 27 points and had seven assists to help the Wildcats (21-8, 15-1) avenge their only conference loss by beating the Bobcats (12-16, 6-10) at Bozeman.
Senior guard Kellen McCoy added 20 points for Weber State, the conference's regular season champion.
Sophomore guard Erik Rush scored 16 points and Will Bynum added 14 for Montana State, which had already secured sixth place and will play in a Big Sky tournament quarterfinal game against Montana on Saturday.
Local journalism is essential.
Give directly to The Spokesman-Review's Northwest Passages community forums series -- which helps to offset the costs of several reporter and editor positions at the newspaper -- by using the easy options below. Gifts processed in this system are not tax deductible, but are predominately used to help meet the local financial requirements needed to receive national matching-grant funds.
Subscribe to the sports newsletter
Get the day's top sports headlines and breaking news delivered to your inbox by subscribing here.
---