News > Spokane
Blazing trails to the future
Routes from Spirit Lake to Mount Spokane explored for tourism
Wed., March 18, 2009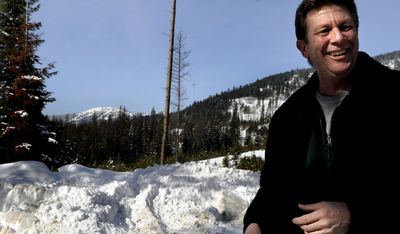 Miles of trails and logging roads meander through public and private land stretching between Spirit Lake and Mount Spokane State Park.
Now the small North Idaho city is eyeing those trails as the cornerstone of an economic development effort it hopes will capture more of the region's recreation-based tourism dollars.
A group would like to see a trailhead at Spirit Lake's city beach, shuttles to the top of Mount Spokane so people can bicycle down, and a lakeside shop renting bikes, canoes and kayaks. They envision signs explaining the history of the area to riders along the way.
"We're connecting the dots, basically," said Marc Kroetch, a member of the economic development group and of the city's first Parks and Recreation Commission, created to oversee the plan. The trails are "all existing right now, but there's (been) no concerted effort to link it all together and market it as something."
The idea is part of a larger economic development plan that includes improvements to the boat launch and swimming area, new sidewalks, streetlights and benches for the downtown and pedestrian paths from downtown to the lake, said City Councilwoman Shelley Tschida.
"I think we're at a point where our community is ready to thrive," Tschida said. "What we're trying to do is thrive in a manner that's pleasing to our residents. One of the things we've identified is recreation is important to the people who live in this community."
Last spring an economic development group called Creating a Value-Added Community polled residents to determine what features they wanted to see in their city. Kroetch said one message that came through clearly is how disconnected the residents feel from the lake.
In addition, almost 70 percent said they wanted to see a rejuvenated downtown; 67 percent said they wanted to see bicycle and pedestrian paths and 61 percent said they welcomed additional economic development, the survey of 381 people shows.
The existing trail system roams across land owned by Inland Empire Paper Co. and the Idaho Department of Lands. IEP, a subsidiary of Cowles Co., which also owns The Spokesman-Review, provides access to its property for recreation with day passes and year-round permits, $10 and $65, respectively. Paul Buckland, forest resource manager, said he was approached by Kroetch with the trail system idea last fall.
"I said, 'Put forth a proposal and I'll consider it,' " he said.
Steve Christensen, park manager at Mount Spokane, said he supports projects that increase recreational opportunities for the public. If a shuttle bus system were created to deliver mountain bikers to the mountain as a starting point, amenities like restrooms, trash bins and a parking area would need to be provided. However, he added, they already exist in the park's snowmobile parking area.
"It's just another opportunity to provide recreation for the public," he said. "That's what we're here for, to allow people to recreate, but also to protect the resource."
Kroetch said he'd like to see the city aim for summer 2010 to launch the shuttle-assisted mountain bike rides.
"I haven't run into any opposition to this plan from anybody," he said. "The only thing I've found is – 'I'll believe it when I see it.' "
Local journalism is essential.
Give directly to The Spokesman-Review's Northwest Passages community forums series -- which helps to offset the costs of several reporter and editor positions at the newspaper -- by using the easy options below. Gifts processed in this system are not tax deductible, but are predominately used to help meet the local financial requirements needed to receive national matching-grant funds.
Subscribe to the Coronavirus newsletter
Get the day's latest Coronavirus news delivered to your inbox by subscribing to our newsletter.
---