News > Nation/World
Chrysler future in limbo
Obama moves forward with Chapter 11 filing
Fri., May 1, 2009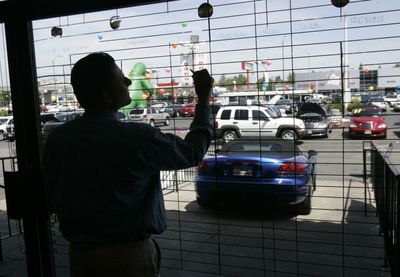 WASHINGTON – President Barack Obama's decision to save Chrysler by pushing it into bankruptcy Thursday puts the company in risky, uncharted territory for a major U.S. automaker and could portend a similar outcome for General Motors Corp. as it races to meet its own government restructuring deadline.
The administration is betting Chrysler's future on its ability to emerge quickly from what can be a complex and unpredictable legal process. Obama also is tying the company's fate to Fiat, an Italian owner that may not be able to crack the code of American car buyers.
The Chapter 11 filing in a New York court provides a high-stakes test of whether people will buy cars from a company in bankruptcy even if the government stands behind the warranties, as the president has promised to do.
Obama spoke about bankruptcy Thursday as an unfortunate but necessary step. He blamed the move on hedge funds and investment companies – already unpopular for their role in the financial crisis – that would not agree to sharply reduce what the automaker owes them.
"I know that there are some who will insist that bankruptcy, even for these limited purposes, is a step that should not have been taken," Obama said. "But it was unsustainable to let enormous liabilities remain on Chrysler's books, and it was unacceptable to let a small group of speculators endanger Chrysler's future by refusing to sacrifice like everyone else."
Some of the debt-holders blasted back, saying they had a responsibility to their shareholders to recover more of what they are owed. They complained of being treated worse than other creditors.
Obama's decision sends a sharp message to Chrysler's bigger rival, GM, and its stakeholders as their June 1 deadline looms: He is not afraid to go to bankruptcy if needed. GM has acknowledged it may have to restructure in court.
Administration officials said they were confident that the bankruptcy, which is necessary to pave the way for the Fiat alliance, would be completed in 30 to 60 days.
Some bankruptcy experts said that may be overly optimistic. The judge will have a host of competing constituencies to weigh, including dealers, parts suppliers, union workers and creditors.
Delays could prove costly to Chrysler workers and the struggling economy. Chrysler said it would shut down many of its plants Monday and keep them idle until the bankruptcy was completed. Some workers were sent home Thursday after some parts suppliers, spooked by the bankruptcy filing, stopped shipments to Chrysler.
The new Chrysler will depend on Fiat's technology and its small cars, which administration officials said would be available in U.S. showrooms in 2011 – much sooner than many experts had predicted. Still, the small cars may not sell with American consumers if gas prices remain low, and Fiat struggled in its past attempt at cracking the U.S. market, abandoning it in the 1980s.
But Fiat has undergone a dramatic turnaround under chief executive Sergio Marchionne, who will play an unspecified role in the new Chrysler. Chrysler chief executive Robert Nardelli said he would stay with the company through bankruptcy, then resign.
Fiat, with its cutting-edge technology, provides experience in building fuel-efficient engines, a focus of the Obama administration and an area in which Chrysler lags.
"I doubt that you can have massive demand for smaller cars in the U.S.," said Pierluigio Bellini, an IHS Global Insight analyst based in Italy. "But I think there could be demand for more efficient engines in larger cars."
Fiat also can provide a stronger presence in Europe and Latin America, where Chrysler's Jeep brand is particularly popular.
In March, Obama rejected Chrysler's restructuring proposal and set conditions for continued government aid. He said Thursday that the Auburn Hills, Mich., company had met those conditions, but that bankruptcy was needed to complete the deal. The U.S. government will provide $3 billion to $3.5 billion to keep Chrysler operating during bankruptcy and an additional $4.5 billion to help it exit bankruptcy in an alliance with Fiat. The money comes on top of $4 billion loaned to Chrysler in January. A senior administration official said the government stands to lose much if not all of that initial investment.
The government of Canada, where Chrysler also has operations, will provide $1 of financing for every $3 provided by the United States, administration officials said.
Also as part of the deal, GMAC Financial Services will receive additional U.S. funding to provide financing for the sale of Chrysler cars to consumers and dealers. Chrysler's financing arm, Chrysler Financial, did not warrant additional government money and will eventually go out of business, the administration said.
The U.S. government will get 8 percent of the new Chrysler, with the Canadian government receiving 2 percent. The Treasury Department will select four independent directors for the board, "but thereafter will not play a role in the governance or management of the company," the White House said.
The bankruptcy filing came after intense negotiations with some of Chrysler's smaller debt-holders broke down Wednesday. Obama had made reducing the $6.9 billion Chrysler owed its creditors a condition for continuing to extend government aid.
That agreement allows Fiat to obtain a 20 percent equity stake in Chrysler, with incentives to increase its share of the company to 35 percent. Fiat will be rewarded for providing distribution for Chrysler cars outside North America, introducing a fuel-efficient engine to be manufactured in Chrysler's U.S. factories and building, in Chrysler factories, a car that gets 40 miles per gallon.
Local journalism is essential.
Give directly to The Spokesman-Review's Northwest Passages community forums series -- which helps to offset the costs of several reporter and editor positions at the newspaper -- by using the easy options below. Gifts processed in this system are not tax deductible, but are predominately used to help meet the local financial requirements needed to receive national matching-grant funds.
Subscribe to the Coronavirus newsletter
Get the day's latest Coronavirus news delivered to your inbox by subscribing to our newsletter.
---
Subscribe and log in to the Spokesman-Review to read and comment on this story