News > Nation/World
Souter to step down in June, reports say
Fri., May 1, 2009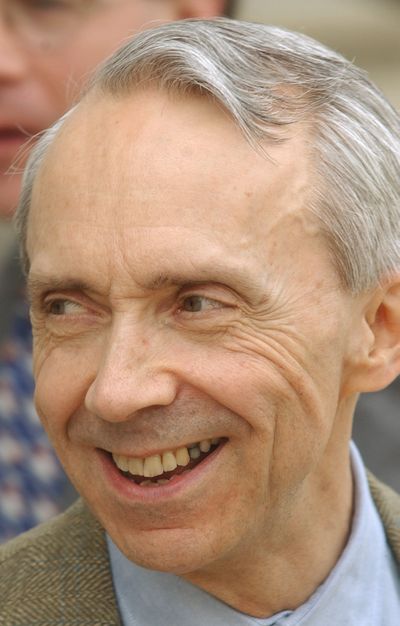 WASHINGTON – Justice David H. Souter, the Republican-appointed New England jurist who has become a reliable member of the liberal bloc on the Supreme Court, has told friends that he plans to retire, according to a government official.
Court spokeswoman Kathleen L. Arberg said Thursday night that Souter had no comment following reports that he plans to step down at the end of the court's term in June. Souter would be likely to stay on until a replacement could be confirmed. The court's next term starts in October.
A vacancy would give President Barack Obama his first chance to begin reshaping the court but would not likely change the dynamic on a bench that is often evenly split between the liberal and conservative blocs, with moderate conservative Justice Anthony M. Kennedy often holding the pivotal role.
While Obama's choice would probably be far different from the 69-year-old intellectual bachelor from New Hampshire, the replacement would almost surely have a similar ideological outlook. Most court observers also believe Obama would be likely to choose a woman as his first appointment, since Justice Ruth Bader Ginsburg is the lone female among the nine justices.
Most often mentioned as possibilities are two appeals judges, Sonia Sotomayor of New York and Diane P. Wood of Chicago, along with Obama's new solicitor general, Elena Kagan. After Obama's victory, the question quickly became who would be the first to leave the court, and all speculation revolved around the three longest-serving liberals. But Justice John Paul Stevens, 89, the longest-serving justice on the current court, gave no indication he was ready to leave.
Nor did Ginsburg, 76. Even after her pancreatic cancer was diagnosed this winter, she made clear her intentions to serve on the court until well into her 80s. The cancer was detected extremely early and successfully removed, she said, and she has undergone what she describes as a precautionary round of chemotherapy.
Souter was considered by some to be the most likely, because of his well-known disdain for the ways of Washington. The speculation has been fueled in recent weeks because Souter had not hired clerks for the term that begins in October. That was tempered by the fact that Souter traditionally is the last justice to hire for the coming term.
When the court is not in session, Souter is back home in Weare, a small town west of Concord where he has a modest 200-year-old farmhouse on eight acres.
A friend who ran into him last summer in Concord said he was surprised by just how strongly Souter spoke about wanting to leave Washington. "He said, 'If Obama wins, I'll be the first one to retire,' " said the friend, who spoke on the condition of anonymity because Souter had not yet announced a retirement.
White House advisers have been drafting lists of potential replacements virtually since Obama took office, and the list is said to also include Stanford University law professor Kathleen M. Sullivan, Kim McLane Wardlaw of the U.S. Court of Appeals for the 9th Circuit, Michigan Gov. Jennifer M. Granholm and former Georgia Supreme Court Chief Justice Leah Ward Sears. Souter, who has been on the court since October 1990, was nominated by President George H.W. Bush on July 25, 1990, to a seat vacated by William J. Brennan Jr. He was confirmed by the Senate on Oct. 2, 1990.
Another friend of Souter's, Concord lawyer Wilbur "Bill" Glahn, was not surprised by the reports of retirement. Glahn, who has known Souter for 35 years after working under him in the New Hampshire attorney general's office, said he had seen Souter several times in early April. He would not divulge the exact nature of their talks about Souter's plans but said it was clear for years what direction Souter was heading.
"I certainly have known it was something he had thought about for years," Glahn said. Glahn's feelings about a Souter retirement were mixed. "From my perspective and a lot of people in New Hampshire, if David decides to come back to New Hampshire, on the one hand he's our friend, but from the standpoint of the country he's done a good job where he's been."
Glahn said it was hard to know just what Souter's thinking was on the timing of a retirement. "Anyone's timing in this situation is their timing," he said. Glahn noted that Souter was such a committed New Hampshire-ite that he had climbed all 47 of the 4,000-foot peaks in the White Mountains. "He's beat me to it," Glahn said.
Local journalism is essential.
Give directly to The Spokesman-Review's Northwest Passages community forums series -- which helps to offset the costs of several reporter and editor positions at the newspaper -- by using the easy options below. Gifts processed in this system are not tax deductible, but are predominately used to help meet the local financial requirements needed to receive national matching-grant funds.
Subscribe to the Coronavirus newsletter
Get the day's latest Coronavirus news delivered to your inbox by subscribing to our newsletter.
---
Subscribe and log in to the Spokesman-Review to read and comment on this story