News > Spokane
Stark receives 50-year term
Judge rejects plea for leniency
Fri., May 1, 2009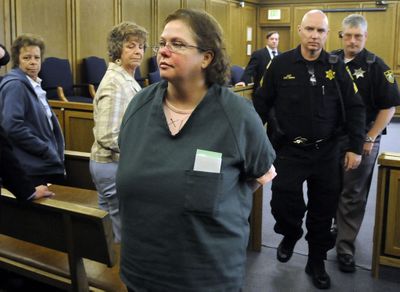 A murder that police say was committed for financial gain by a couple who met through prostitution has led to a prison sentence of nearly 51 years for the shooter.
Shellye L. Stark, 47, cried Thursday as she asked Spokane County Superior Court Judge Tari Eitzen for leniency and apologized for shooting her husband, Dale Robert Stark, 48, five times in a South Hill home in December 2007, reiterating what she said during the trial: She never meant to kill him.
"My husband had so many things about him that were truly wonderful," Stark said.
Eitzen showed no leniency, imposing the sentence requested by deputy prosecutors Larry Haskell and Mark Cipolla: 610 months in prison for first-degree murder and conspiracy to commit murder. The charges carried a sentence range of 540 to 680 months.
"There's no good that comes from this situation for anyone. I can't even imagine the pain that you're all feeling," Eitzen said to the Starks' friends and family sitting in court.
The sentencing came the same day Stark's married boyfriend, Brian L. Moore, appeared in an Orange County, Calif., courtroom, where he's facing extradition to Spokane to stand trial on the same charges. Spokane police arrested Moore, 42, in Anaheim on Monday, alleging he helped Stark plan the murder so they could control Dale Stark's finances and $400,000 life insurance policy after his death.
Shellye Stark contends the shooting was an act of self-defense triggered when her abusive husband threatened her.
Dale Stark's friends said he never abused his wife, and two childhood friends wrote letters to Eitzen urging her to impose the harshest sentence on his killer. At the authors' request, Eitzen read those letters aloud.
"Dale was never mean-spirited and always genuinely happy," wrote Jim Schneider.
Schneider lived near the Starks in Southern California heard less from Dale Stark after the couple moved to Spokane to be near Shellye Stark's family, he wrote.
Dale Stark wanted to attend their 30-year high school reunion together, but Schneider was too busy. "That is a regret I will carry to my grave," Schneider wrote, blaming "Shellye's selfish, murderous acts."
Stark was working as an online prostitute named Nikita Jennifer when she met Moore and moved in with a friend of his in California.
She traveled to Spokane days before Dale Stark's murder to obtain a temporary restraining order against him. There was to be a hearing on a permanent restraining order later that month.
"Even after Shellye assassinated Dale, she tried to assassinate his character," Schneider wrote, referring to Stark's allegations of abuse, including forced prostitution.
Dale's former boss, Michael Howe, told Eitzen in a letter that Dale "took a real sense of pride at telling people he'd been married for so many years" and often described his wife as his best friend.
"She snuffed Dale's life out, along with our friendship," Richard Terzieff told Eitzen. "To me, today is solely about Dale."
Shellye Stark's family members, including her 18-year-old son, also wrote letters to Eitzen, but none of those was read in court.
Stark wept as she stood at the podium and remembered her husband of more than 23 years while urging women in abusive relationships to seek help.
"It's from the bottom of my heart that I say I miss my husband," Stark told Eitzen. "I wanted him to be happy."
Stark and her lawyer, Julie Twyford, have 30 days to file an appeal the sentence.
After the March 18 jury verdict, Stark fired her defense attorneys, Russell Bradshaw and Bryan Whitaker, and hired Twyford.
Twyford unsuccessfully urged Eitzen to order a new trial Thursday because Stark wasn't taking her medications in jail, saying Stark had acted like "a raving lunatic" during testimony.
After her sentencing, Stark told family members she loved them as she was led out of the courtroom in handcuffs.
Local journalism is essential.
Give directly to The Spokesman-Review's Northwest Passages community forums series -- which helps to offset the costs of several reporter and editor positions at the newspaper -- by using the easy options below. Gifts processed in this system are not tax deductible, but are predominately used to help meet the local financial requirements needed to receive national matching-grant funds.
Subscribe to the Coronavirus newsletter
Get the day's latest Coronavirus news delivered to your inbox by subscribing to our newsletter.
---
Subscribe and log in to the Spokesman-Review to read and comment on this story