Sports
Jones has Fire in eyes
Trainer could have a Derby winner
Sat., May 2, 2009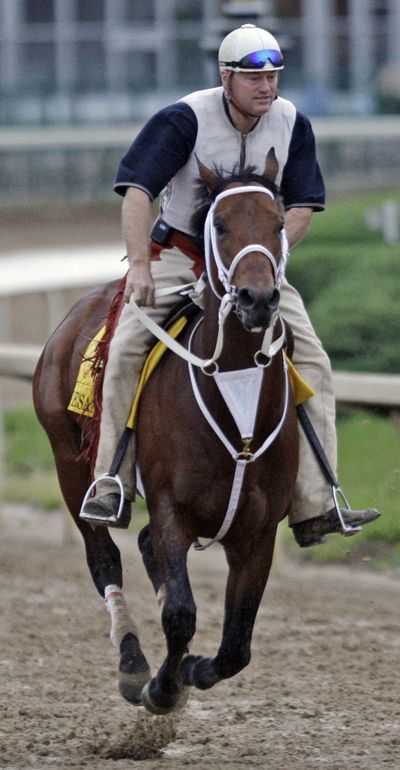 LOUISVILLE, Ky. – Larry Jones exchanged his cowboy hat for a helmet and then tightened the girth on Friesan Fire.
The rain restrained itself, although heavy, dark clouds hung so low in the sky the treetops seemed a threat to puncture them like so many pinatas. Any moment now, as the trainer prepared to gallop Friesan Fire, Walter Brennan was due to shuffle around the corner of the barn and exclaim something about the glimmer in the colt's eye and the look of a champion and, by golly, every day is a great day for racing.
It's that kind of story, very Hollywoodish. After sending out the runner-up in each of the last two Kentucky Derbies, Jones has one more chance to win the most famous horse race in America, if not the world. And he just might. Friesan Fire is among a handful of horses that have a genuine chance to win today. And if he does, his victory will be a happy ending that's rife with poetic justice.
Last year, Eight Belles' tragic breakdown put Jones in the vortex of controversy. People who mistakenly thought fingers are for pointing found him an easy target because he didn't run or hide or train incognito. He endured it all with gentlemanly poise.
Two years ago, after Hard Spun worked five furlongs in 57.60 seconds on the Monday before the Kentucky Derby, all the armchair trainers who never roll out of bed before sunrise and all the "experts" who confuse mathematics with sport said the colt went too fast and would be a monumental flop on Saturday. This farm boy from Hopkinsville, Ky., doesn't know how to train top racehorses, they said.
And, of course, Hard Spun finished second in the Kentucky Derby.
And so when Friesan Fire worked five furlongs here at Churchill Downs in 57.80 on Monday, the armchair trainers and "experts" remained quiet. It has taken a while, but they finally concede that the farm boy from Hopkinsville is a true horseman. And he has one more chance to win the Derby, for Jones has announced his retirement.
Although he's close to 6 feet tall, Jones often gallops the horses he trains, and Thursday he galloped Friesan Fire, who hasn't raced since winning the Louisiana Derby over a sloppy track seven weeks ago.
"When somebody questions the seven-week layoff," said Cindy Jones, while her husband was on the Churchill track with Friesan Fire, "they need to take a look at Larry."
In other words, with Jones galloping them, the horses get plenty of work even if they aren't running.
Back at the barn, as the rain started to fall, Jones expressed his confidence in the horse. Friesan Fire, he said, is just getting better and faster. That's why he worked so fast Monday – he's that good. And it's why he's among the horses with a chance to win today.
"I think he's ready to do whatever's necessary," Jones said about the son of A.P. Indy, comparing him to Hard Spun. "This horse is coming into the race (the Derby) very similar to the way Hard Spun did. Hard Spun was getting better all the time, and this colt is improving. He looks better and he's stronger than he was in New Orleans (when he won the Louisiana Derby)."
Friesan Fire has won three consecutive stakes races, but until recently Old Fashioned was the star of the Jones stable. Unbeaten and flashy, Old Fashioned was the early Derby favorite, but then an injury took him off the trail, forcing his retirement and shifting all the pressure to Friesan Fire.
"I'm not worried about the rain," Jones said, as he watched from his barn at Churchill and the rain began to fall. "We don't want rain, but if it rains, we're not concerned about it."
For the last four years, Jones has missed Christmas with his grandchildren. That's why at the end of the year he'll retire at 53.
Local journalism is essential.
Give directly to The Spokesman-Review's Northwest Passages community forums series -- which helps to offset the costs of several reporter and editor positions at the newspaper -- by using the easy options below. Gifts processed in this system are not tax deductible, but are predominately used to help meet the local financial requirements needed to receive national matching-grant funds.
Subscribe to the sports newsletter
Get the day's top sports headlines and breaking news delivered to your inbox by subscribing here.
---